1:10 pm: Jiri Prochazka survives the ground game and power punches of Glover Teixeira. Prochazka wins the title via fifth-round rear-naked choke.
12:30 pm: Jiri Prochazka and Glover Teixeira coming up next for the light heavyweight title.
12:16 pm: Valentina Shevchenko successfully defends the title against Taila Santos via split decision. Fans booing heavy. Santos won a lot of fans in the arena.
11:19 am: Spinning backfist knockout. Joanna is face first on the canvas. Zhang is a monster. Zhang via KO. Joanna hangs up the gloves after the fight. She is a legend and pioneer. Singapore really gave her a good farewell.
11:05 am: Joanna Jedrzejcyk and Zhang Weili up next. Joanna with a crowd-pleasing walkout but Weili gets a bigger pop.
10:50 am: Jake Matthews starched Andre Fialho. Matthews via TKO.
10:24 am: A lot of boxing exchanges. Emeev drags Della down and working. Anaconda choke and Della is out. That was close to finishing. Della clips him and finishes the fight. Comeback victory for Della via TKO.
10:13 am: Main card PPV curtain jerker. Josh Della and Ramazan Emmev up next.
9:35 am: Josh Culibao and Seung Woo Choi are up next. This is a banger. Culibao picks up the SD. That is one blind judge.
9:26 am: Brendan Allen is up for the post fight scrum. He said he is disappointed. He said he was being held by Malkoun and did not feel he took damage. He wants October 6 for his return against Fluffy Hernandez.
9:18 am: Maheshate and Steve Garcia next. A barnburner is anticipated. Counter right hand face plants Garcia. Maheshate via KO.
9:05 am: Allen gets the takedown but Malkoun is back up. Single leg attempt leads to a body lock. Single leg takedown by Malkoun. His top pressure is insane. Tries to take the back but loses position. Allen on top and rides out the round without doing much. Allen wins the UD. Boos all over the arena.
8:55 am: Malkoun is such a good grappler. The dedication to the ground game is commendable. He is on top controlling Allen. Allen back up but back down again. Malkoun dominating the second round. Allen reversed but too late. Round ends.
8:48 pm: They start out banging. Malkoun slows it down and is working the grappling. Allen hip tosses and lands in mount. Some fun grappling exchanges.
8:33 am: Kang is picking off Danaa with a diverse of strikes. He is gaining confidence with the counter shots and Danaa is showing the damage. Kang is running away with the round and looking crisp. Kang wins the UD. Brendan Allen and Jacob Malkoun up next in a middleweight bout.
8:23 am: Kang is a little more aggressive to start the second. Lots of kicks from both. The jab is working for Kang. Danaa has some serious damage on the lead leg. Looks like an illegal knee but it missed.
8:18 am: Very uneventful first round between Danaa and Kang. Not what I expected from the start.
8:07 am: Silvana Gomez Juarez says she is still nervous since it is her post fight scrum. She said her corner was yelling at her during the fight to be more aggressive.
8:05 am: Joselyn Edwards up first for post-fight interview. She stated that there was a lot to pressure to perform due to the two previous losses. She researched Pascual's older fights to work the game plan. Fighting at featherweight she had to gain some weight to compete at that weight. Batgerel Danaa and Kyung Ho Kang up next.
7:55 am: Little intermission here.
7:43 am: Liang Na and Silvana Gomez Jaurez in a strawweight bout next. Na gets sparked. Jaurez with the right hand bomb. KO finish for Juarez. Not a great start for the Asian fighters.
7:31 am: Joselyn Edwards just picked up a UD over Ramona Pascual. Edwards sets a new record for significant strikes landed. That is two losses in a row for Pascual.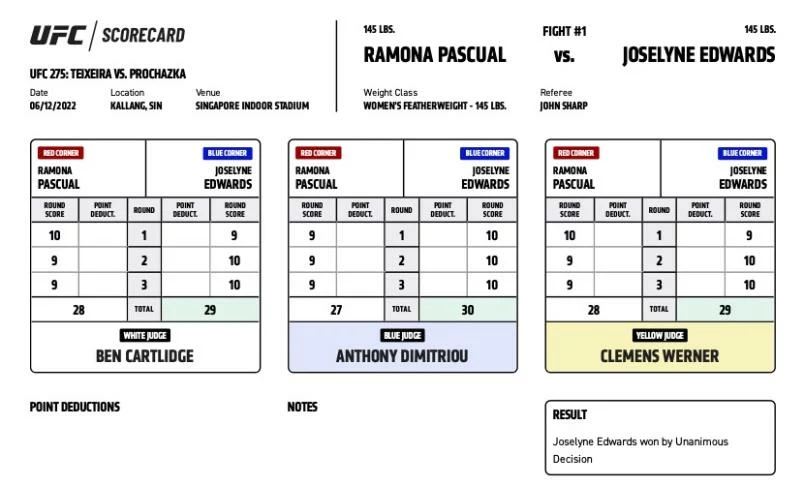 7:00 am: First fight kicks off. Ramona Pascual takes on Joselyn Edwards in a featherweight bout.