Julian Erosa is no stranger to the ups and downs that are part and parcel of the fight game.
The 33-year-old has been fighting professionally for north of a decade in a career that's seen him progress from the regional circuit to the Ultimate Fighter and into the UFC in 2015; only to be released after a painstaking loss at UFC 196 in just his second fight under the promotion a year later.
The savvy veteran returned to the regional promotions and within a few years clawed his way back into the big leagues through grit and determination. Now, with four victories in his last five fights, Erosa feels his entire career has been building towards redemption with a win over Hakeem Dawodu at UFC 279 – the first numbered card he will have competed on in six years.
"The last time that I fought on a pay-per-view in the UFC was when I fought [Teruto] Ishihara in my second UFC fight," Erosa told The AllStar. "And I ended up losing that fight – so I feel like this could be a story of redemption."
Oddly enough, the card Erosa references as his last PPV event was headlined by none other than Nate Diaz, when he shocked the world and submitted Conor McGregor at UFC 196. It may simply be a coincidence that the Stockton native is pulling main event duties as a heavy underdog once again, but 'Juicy J' feels he won't be the only fighter to beat the odds on October 10.
"Last time I fought on a PPV like this it was Diaz who surprised the world and beat McGregor – so maybe he'll do it again."
Though poetic as it all might sound, redemption is not a given for Erosa – he'll face a tough out in Dawodu; a keen striker with over half of his wins coming via knockout.
Erosa understands the danger his opponent presents, but says it's his willingness to take risks and make the fight ugly that gives him an edge.
"I think he's a good striker, I think he's got some good power, but I've noticed he seems like a guy that's willing to be okay with winning kind of a boring decision on the feet. Like tit for tat. Not really get super down and dirty like I did with [Steven] Peterson. Me and Peterson or Nate Landwehr – us kind of guys are willing to risk getting knocked out and make it a little bit dirty in there.
"I think Hakeem is great when he can keep it clean, and be a clean striker. But I can be as dirty as it comes."
The Xtreme Couture product referenced a phrase his coach is fond of that he believes relevant for the looming bout: 'Sometimes a fight breaks out in an MMA match.'
"And that's so true," he added.
"So many guys try to be clean and just work their gameplan 100%, but every once in a while a fight's gonna break out, and you wanna be the guy that has that experience; and for me, I think that if it possibly happens, that could be my advantage – being willing and able to have an all-out scrap with somebody who's a bit more technically clean and make him have to think, and frustrate him a bit more than he's used to."
---
Fighter profile
Julian "Juicy J" Erosa is a 33-year-old male fighter from the United States with 27 pro wins and 9 losses. Erosa is scheduled to fight Hakeem Dawodu at UFC 279: Chimaev vs. Diaz on Saturday, September 10, 2022.
Julian Erosa's recent form coming into this matchup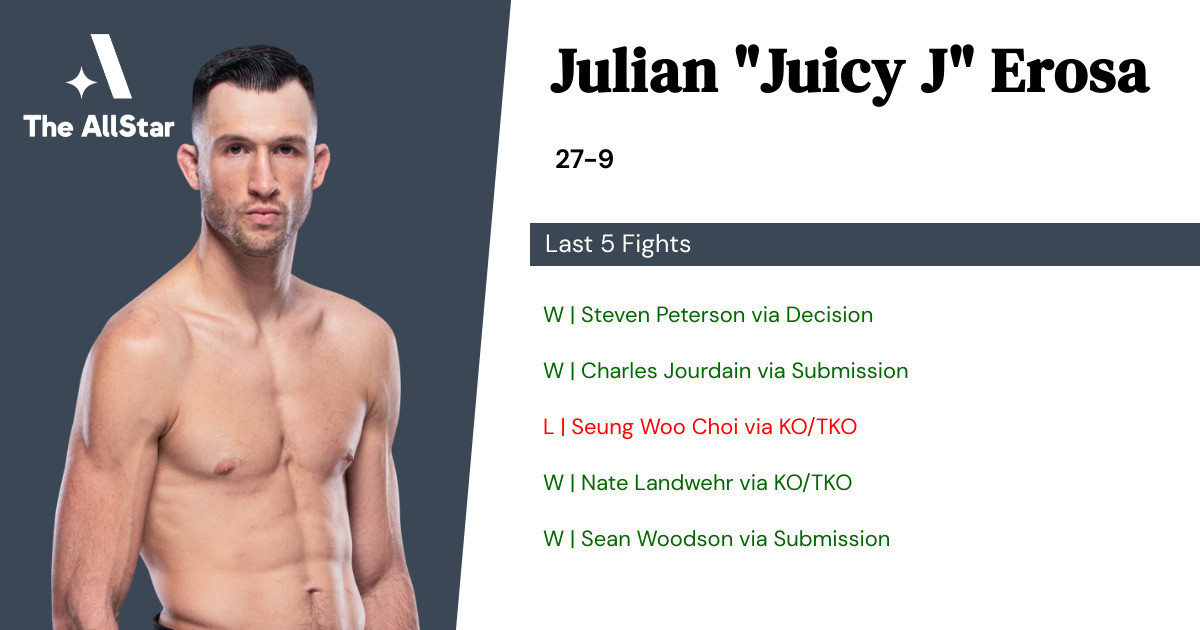 Julian Erosa has gone 4-1 in the last 5 professional MMA fights.
Win vs Steven Peterson • Decision R3 5:00 • 2022-02-05
Win vs Charles Jourdain • Submission R3 2:56 • 2021-09-04
Loss vs Seung Woo Choi • KO/TKO R1 1:37 • 2021-06-19
Win vs Nate Landwehr • KO/TKO R1 0:56 • 2021-02-20
Win vs Sean Woodson • Submission R3 2:44 • 2020-06-27
Julian Erosa's next opponent: "Mean" Hakeem Dawodu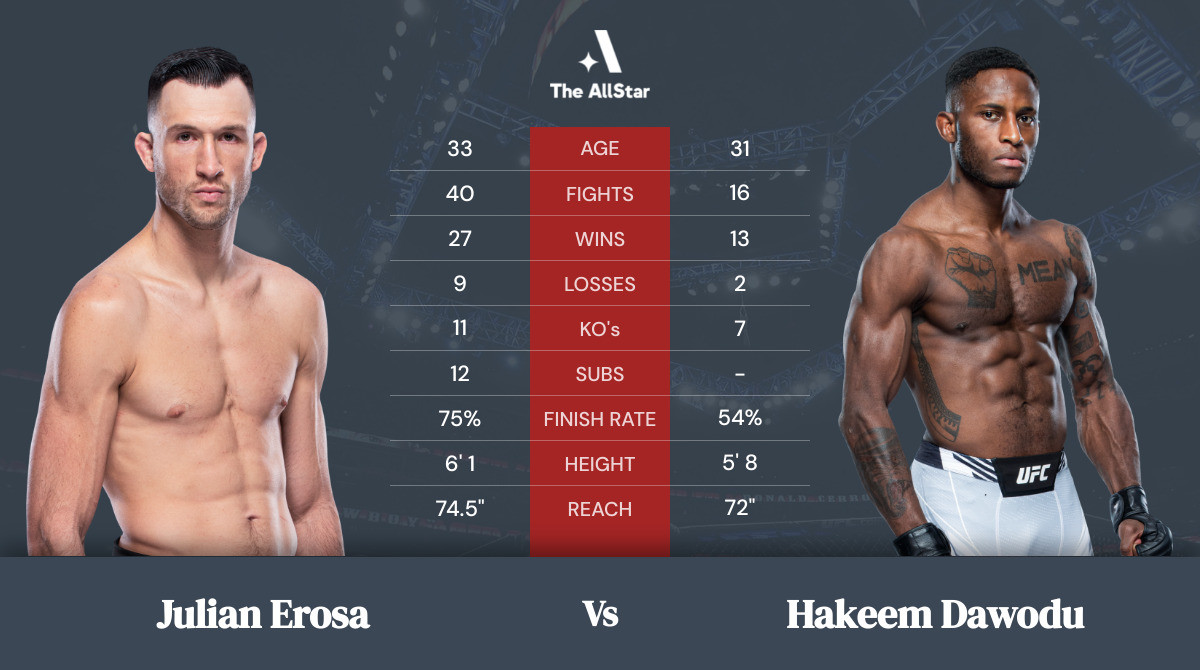 "Mean" Hakeem Dawodu's recent form coming into this matchup
"Mean" Hakeem Dawodu is a 31-year-old male fighter from Canada with 13 pro wins and 2 losses. Dawodu is scheduled to fight Julian Erosa at UFC 279: Chimaev vs. Diaz on Saturday, September 10, 2022.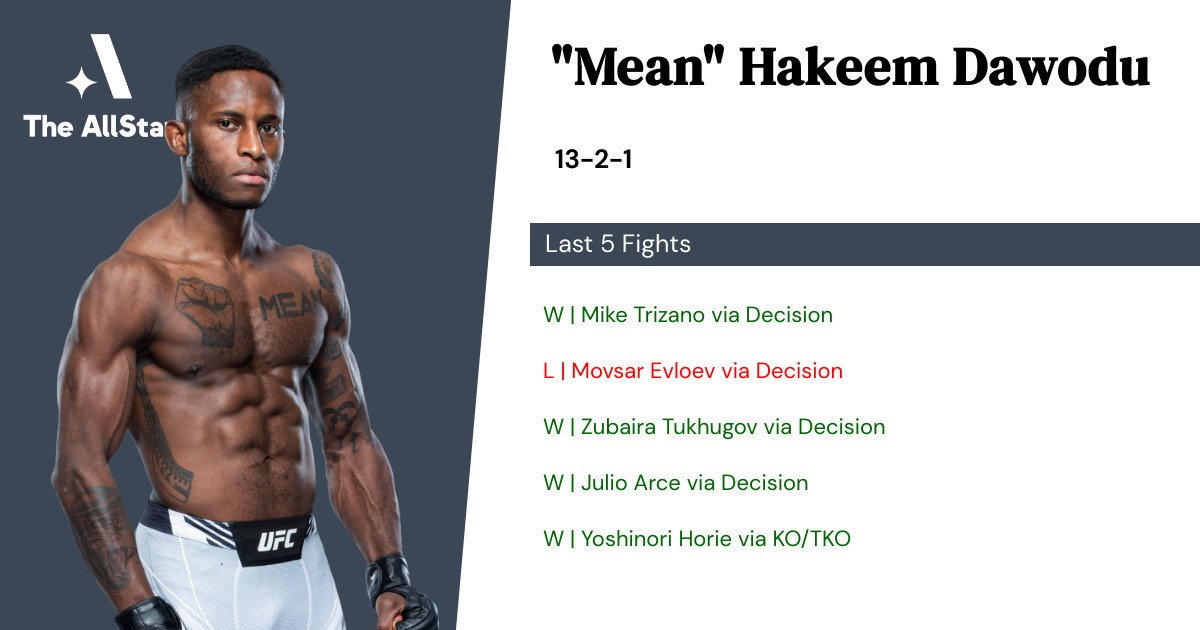 Hakeem Dawodu has gone 4-1 in the last 5 professional MMA fights.
Win vs Mike Trizano • Decision R3 5:00 • 2022-02-05
Loss vs Movsar Evloev • Decision R3 5:00 • 2021-06-12
Win vs Zubaira Tukhugov • Decision R3 5:00 • 2020-09-26
Win vs Julio Arce • Decision R3 5:00 • 2019-11-02
Win vs Yoshinori Horie • KO/TKO R3 4:05 • 2019-07-27
How to watch and bet on Julian Erosa vs Hakeem Dawodu