Muhammad Mokaev is the real deal.
That's the opinion many mixed martial arts insiders have of the 21-year-old Dagestani-Brit, who has been signed to make his debut at UFC London against Cody Durden. He's a legitimate blue-chip fight prospect, with a 5-0  win record as a pro. Now, he's getting ready to shake up the flyweight division.
It's no surprise that young fighters look to him for advice on how to make it to the highest levels of the sport – and more importantly, how to avoid flaming out prematurely.
The advice Mokaev offers is something more suited coming from a 10-year veteran than a youngster about to embark on a UFC career: Don't rush. Get ready for everything. Then take the plunge.
Mokaev's own path to the UFC came after accumulating a 22-0 amateur record including years competing in the International Mixed Martial Arts Federation.
"You get mentally ready," Mokaev told The AllStar. "You get to understand your body more, weight cuts, preparations, everything. It's so many things you have to get used to before you go to the big leagues. And if you don't do this in amateurs, I won't suggest you to go [pro]."
Specifically, Mokaev recommends the IMMAF path. "Compete as much as possible. Compete in jiu-jitsu tournaments, wrestling tournaments. Nobody cares if you lose or win."
"You're traveling, you're getting those experiences. You see different hotels. That's what you're getting ready for. Different countries, different people. A lot of pressure. And when you go to professionals, you commit and you just have one fight and that's it. You have to put everything into one fight. In IMMAF, you have to save up for the finals.
There are some who accuse fighters of padding their records against lower-level opposition in the amateurs. Mokaev answers that challenge by pointing to the toughness of IMMAF, in which he is a multiple world champion.
"If I wanted to build my record, I wouldn't go to IMMAF," Mokaev said. " I'm going to do it in the UK, 20-30 and I'm gonna stay in the UK. But I choose the harder way. I choose where actually I can say I'm a world champion. Not just British champion."
---
Fighter profile
Muhammad "The Punisher" Mokaev is a 21 year old male fighter from United Kingdom with 5 pro wins and 0 losses. Mokaev most recently fought Blaine O'Driscoll at BRAVE CF 54 on Saturday September 25, 2021.
Mokaev's recent form coming into this matchup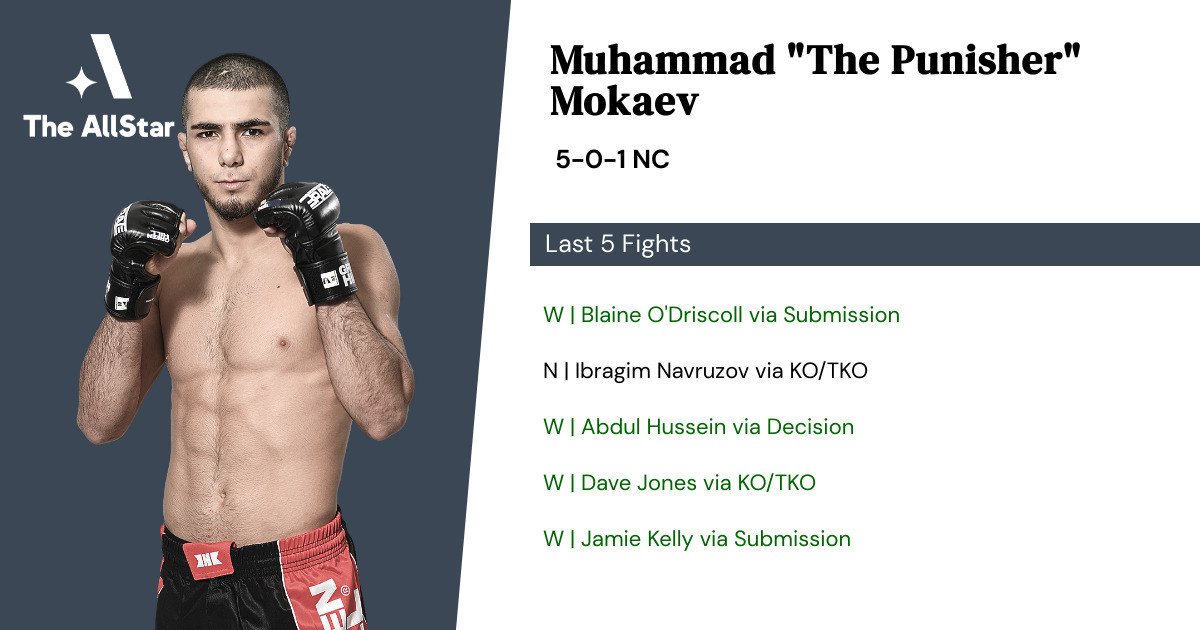 Muhammad Mokaev has gone 4-0 in the last 5 professional MMA fights.
Win vs Blaine O'Driscoll • Submission R2 1:36 • 2021-09-25
No Contest vs Ibragim Navruzov • KO/TKO R1 2:34 • 2021-06-04
Win vs Abdul Hussein • Decision R3 5:00 • 2021-03-25
Win vs Dave Jones • KO/TKO R1 1:27 • 2020-11-22
Win vs Jamie Kelly • Submission R3 2:11 • 2020-10-01