In this week's "Understanding the Undercard", we preview the prelims for UFC Vegas 38: Santos vs Walker. UFC Vegas 38 takes place on Saturday, October 2nd, 2021. The preliminary card begins at 4:00 PM EST on ESPN+.
Joe Solecki vs Jared Gordon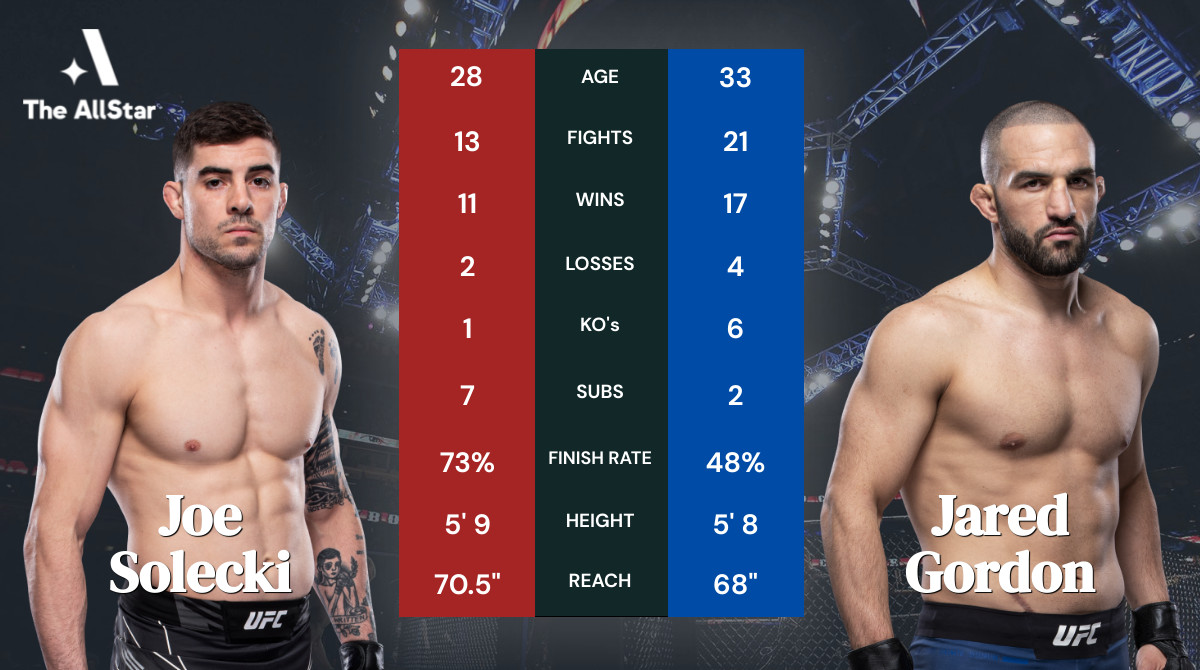 The Skinny
Since coming to the UFC, Joe Solecki has shown off a really impressive top control game. He immediately made use of it against Matt Wiman, who be beat to a pump over their 15-minute match. He followed that up by doing the same, only getting a rear-naked choke finish, over Austin Hubbard. Even after those two fights, people had questions as to whether he could do that to every opponent or not. He responded by blanketing Jim Miller and leaving no doubts that this style can work against even high-level grapplers.
Another high-level grappler is exactly what Solecki is getting. Jared Gordon got his jiu-jitsu brown belt from John Danaher. Gordon has won two in a row on the heels of some really sharp grappling. He's scored a takedown in all but two of the eight bouts he has so far in the UFC, and in more than one case, it has been the catalyst for the win.
The Final Word
While I really respect the ground game of Gordon, I'm not sold that it's any better than Jim Miller's. He may have slightly better defensive wrestling, but the difference is not significant enough for me to have a reasonable belief that this will take place on the feet – where I do think he has a chance. Instead, I think Solecki takes this to the ground and grinds his way to another win. Gordon has never been subbed, so I expect that trend to continue. Solecki by decision.
Antonina Shevchenko vs Casey O'Neill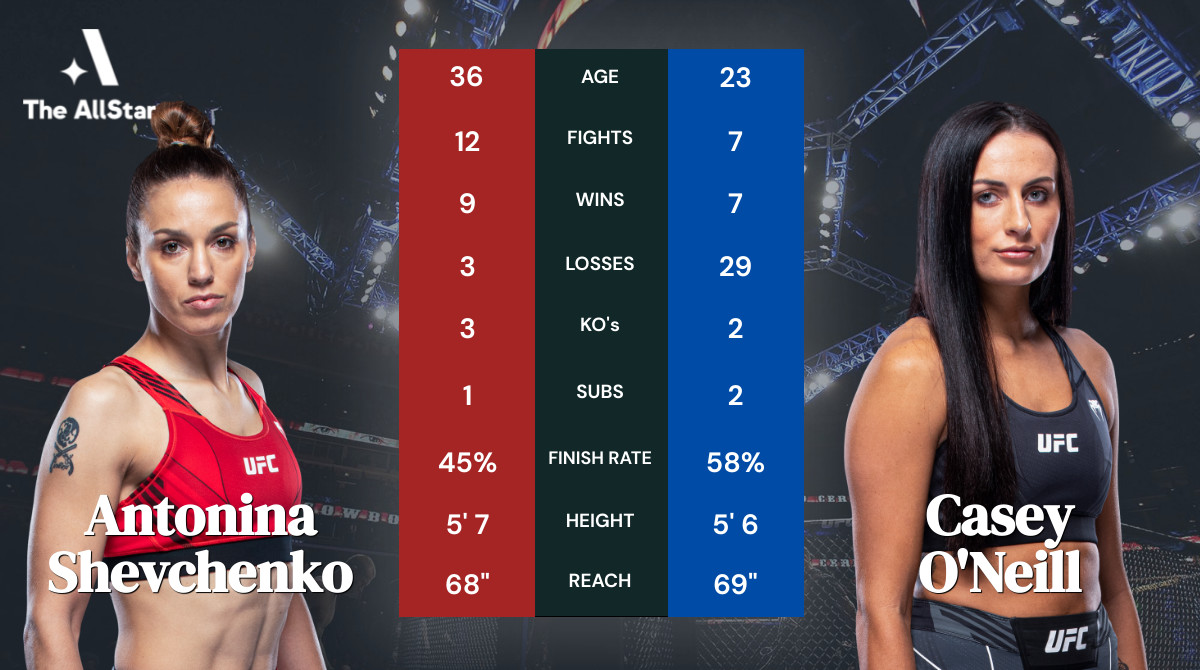 The Skinny
Antonina Shevchenko, much like her sister, has been billed as this stand-up wizard. Thanks in part to her longer frame, a lot of people enjoy talking about the knees she throws and her clinch work. However, if we look simply at the results she's had, apart from the Contender Series, she simply isn't winning fights on the feet. Her last two victories come from finishes on the ground – one of which by submission and one by ground and pound. Conversely, that has been her bane as well. When her opponents have been able to take her down and stay out of trouble, she's typically rendered ineffective for the entirety of the fight.
O'Neill similarly has been using the ground game to pick up wins. Both of her UFC fights have been finished using her grappling – also one TKO and one submission. If she isn't able to bring the fight there, she is quite a bit less polished on the feet. Her shots come in bunches but tend to leave herself a bit open to the counters. Some of that seems to be by design as when her opponent counters, that's when she shoots her takedown attempt.
The Final Word
While this fight takes place on the feet, Shevchenko should find a good amount of success. However, I think the pressure of O'Neill will begin to cause her to back up or perhaps even just clinch up. Both of those options play right into what O'Neill is looking for and would lead it to the mat. Once there, O'Neill has enough abilities to put in the work and avoid sweeps and submissions, which should lead her to a fairly one-sided victory. O'Neill by decision.
Karol Rosa vs Bethe Correia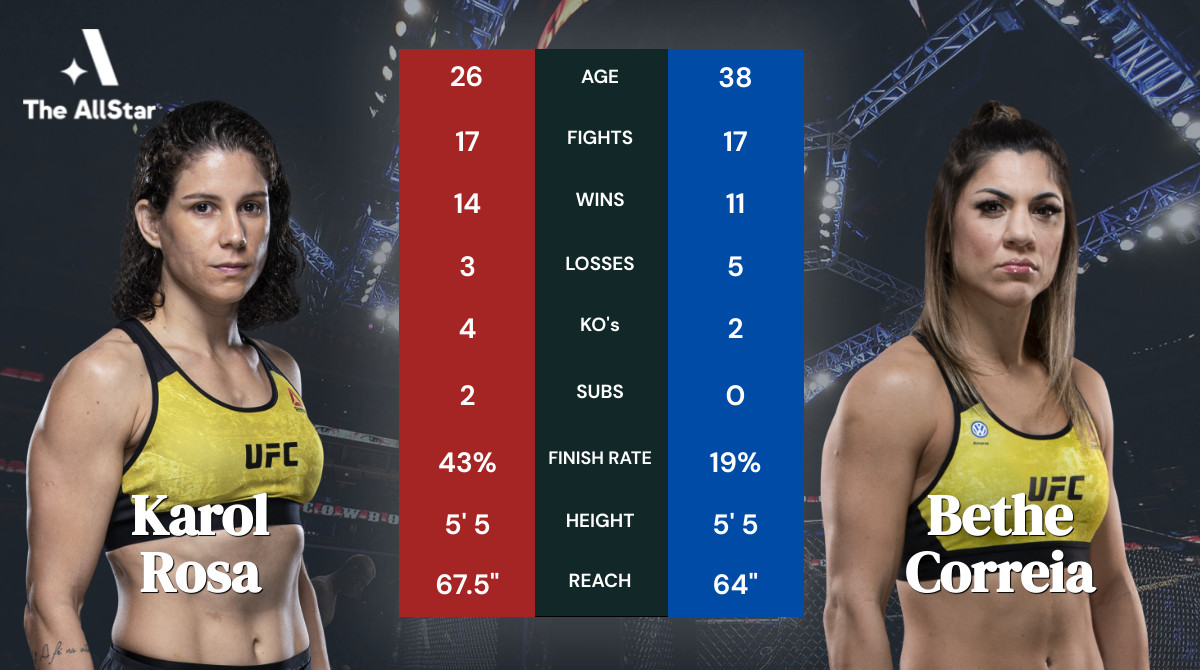 The Skinny
Karol Rosa has kicked off her UFC career by going 3-0 – granted fighting just once a year at this point. All three of those victories came by decision and were largely due to the same factor. Rosa's abilities to put together extended combinations when she's landing and stay in her opponent's face are essential to what she does. Not only does it allow her to rack up a ton of strikes (and her output is incredible), but it also opens up takedowns. When her opponents engage in the longer combinations, they tend to overextend themselves while trying to match her pace. This lets her add another avenue of attack and has lent itself to her success.
Bethe Correia has made her career out of being a feared puncher. In fact, it's what the UFC sold fans on as they made her the villain to Ronda Rousey for their UFC 190 headliner. However, her punching prowess is mostly limited to power, especially as she fades towards the end of her career. She typically does not put together combinations and when she does they seem more like two single punches than something intentionally weaved together at this point.
The Final Word
Rosa is the perfect counter to what Correia is doing at this point in her career – and maybe even before that as well. She starts and remains accurate through extended combinations and stays right in the face of her opponent. Her cardio holds up and her wrestling is more than adequate. I expect her to simply outwork Correia here en route to a decision. Rosa by decision.
Devonte Smith vs Jamie Mullarkey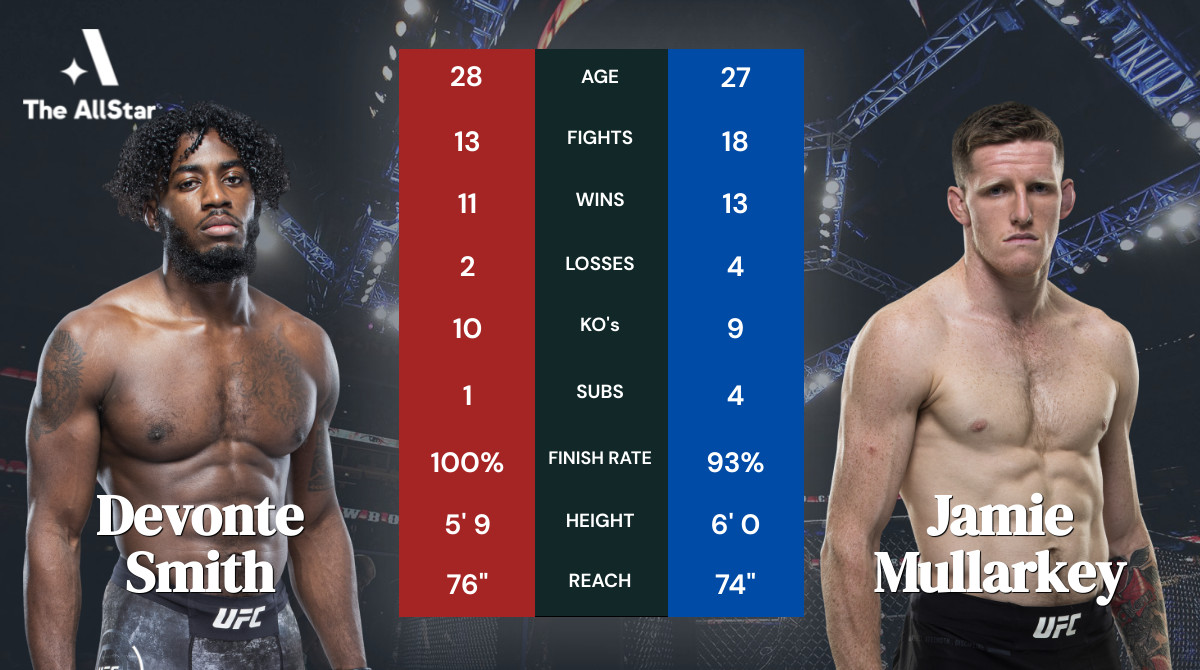 The Skinny
One of the more highly touted prospects in the division, Devonte Smith has a 100% finishing rate. In his thirteen-fight career, which includes eleven wins, he's only won once by submission. The rest are KOs with the hands or vicious ground and pound. His success when on the feet is partially due to his smooth feeling out process. He pumps a jab and a low kick early on until he starts finding the range. Then he starts backing it up with a big right hand. While he was brought up through high school wrestling, it isn't where he goes first. It does become a weapon when others initiate an attempt though, as it did against Justin Jaynes last time out.
Jamie Mullarkey snagged a big KO victory last time out against Khama Worthy in just 46 seconds. While that lets us know that he has the power to turn the lights off. However, that is not typically the mode that Mullarkey likes to operate in. Take his bout with Fares Zaim for instance. After having some difficulty working around the jab of Zaim, he tried his best to turn it into a grappling match. His trips against the cage are decent and he lands a good amount of damage from those positions.
The Final Word
Mullarkey likely isn't going to want to stand and trade with Smith. Despite the success he had last time out, he will be facing another dangerous striker who fights long – which hasn't gone well for him in the past. If he does decide to wrestle, I expect Smith to be able to flip the switch as he has in the past and wind up on top. Bottom line is that Smith should be better just about anywhere. Smith by (T)KO.
Douglas Silva de Andrade vs Gaetano Pirrello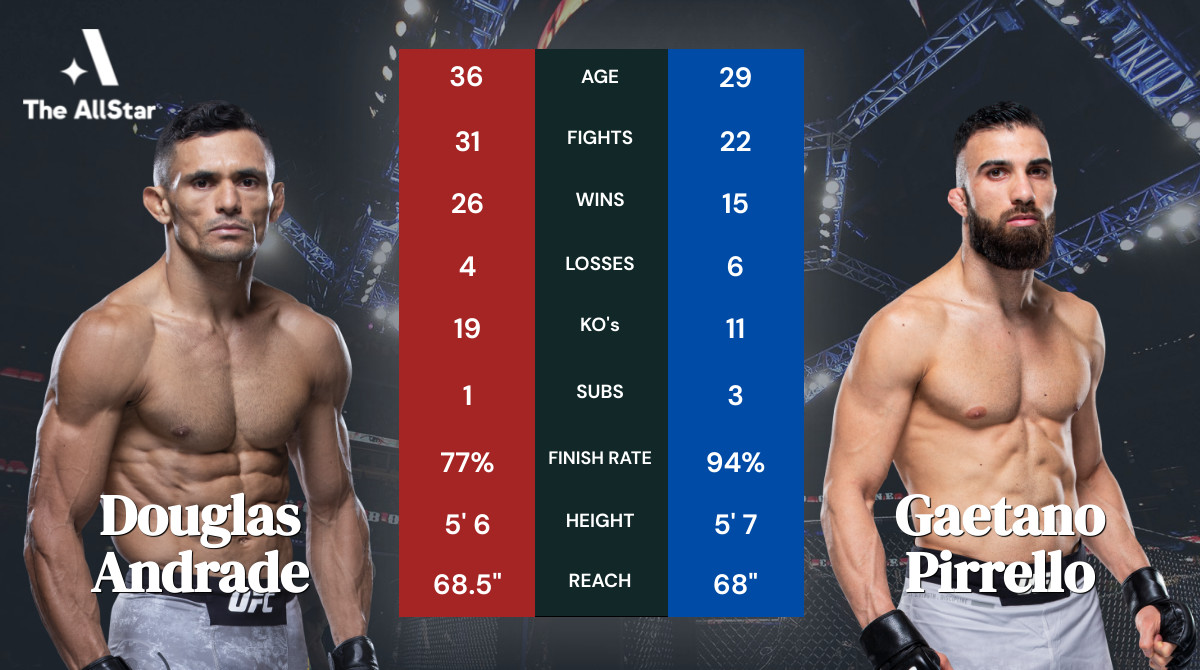 The Skinny
The strength of schedule is a thing to behold for Douglas Andrade. Since coming to the UFC in 2014, he's fought the likes of Petr Yan, Rob Font and Marlon Vera. As you can imagine, that resume contains it's ups and downs. The alarming part of it, though, is how infrequent it is. In those seven years, he's fought just eight times. This includes only once in the last two years, a January loss to Lerone Murphy. In that fight, we saw a shell of what Andrade had looked like in the past. Typically aggressive and with fast hands, he seemed reluctant to engage at times and quite a bit slower. Similarly, with his takedowns, he seemed less able to get in on them and less effective when he did.
Pirrello, on the other hand, had a very tough debut. He took on Ricky Simon on short notice and had a lot of his grappling weaknesses exposed. He showed that he really isn't ready for the high level of grappling you see in the top 15, or even just outside of it, in the bantamweight division. However, if you've seen his regional action, he is an aggressive and effective striker. He especially looks good in the clinch and with knees and elbows – even at distance.
The Final Word
Should Andrade decide that he wants to wrestle early and often, I expect him to be able to with little issue. The problem is that I think he won't come out that way. He lets the much younger and faster Pirrello start to work, he may find himself moving backwards for most of the fight. This could make some of those takedowns, which I mentioned already look laborious, look even worse. As a result, I'm going to take the newcomer with an upset here. Pirrello by (T)KO.
Shanna Young vs Stephanie Egger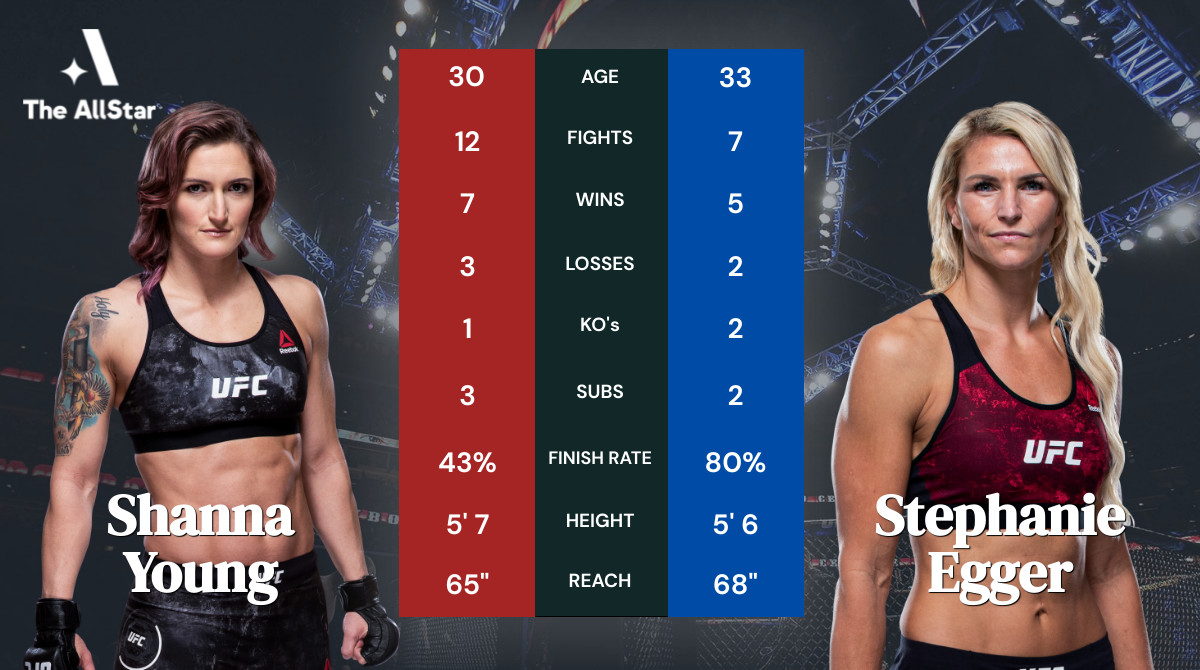 The Skinny
Shanna Young made her debut in the UFC up at 135lbs (which is where this fight will take place), despite being a 125-pounder for Invicta. The most obvious asset to Young is that she is a sparkplug. As the nickname "The Shannimal" would suggest, she is a tad on the wild side and just throws punches on top of punches. If she starts to land in exchanges, she refuses to leave it until she's missed numerous times or her opponent has backed off. That can be an admirable trait, but can also get people in trouble. What it also does is get her into a number of clinch situations. This happened quite a bit in her tussle with Macy Chiasson and, for the most part, she held her own there.
Stephanie Egger also wound up taking a short notice fight to make her debut. It is clear by that fight with Tracy Cortez that Egger is the much more composed of the two fighters in this match-up. She is patient from the onset and looks to find range with her jab. Defensively she is much more sound as well. She has better head movement and isn't willing to be part of dangerous exchanges. This goes for the clinch as well, where she tries not to stick around for too long. Some of that may be due to her somewhat suspect takedown defense. Tracy Cortez used her superior physicality in that fight to take Egger down and get some work done there.
The Final Word
While Egger is the cleaner striker on the feet, I'm not sure that'll matter here. She tries to stay out of extended exchanges, but usually, that's not an option when fighting Shanna Young. Young turns everything dirty and should have the advantage in the clinch or on the ground as well. Egger's best hope here is to bring it into deep waters and hope Young doesn't have the cardio to swim – I think she does. Young by (T)KO.
Alejandro Perez vs Johnny Eduardo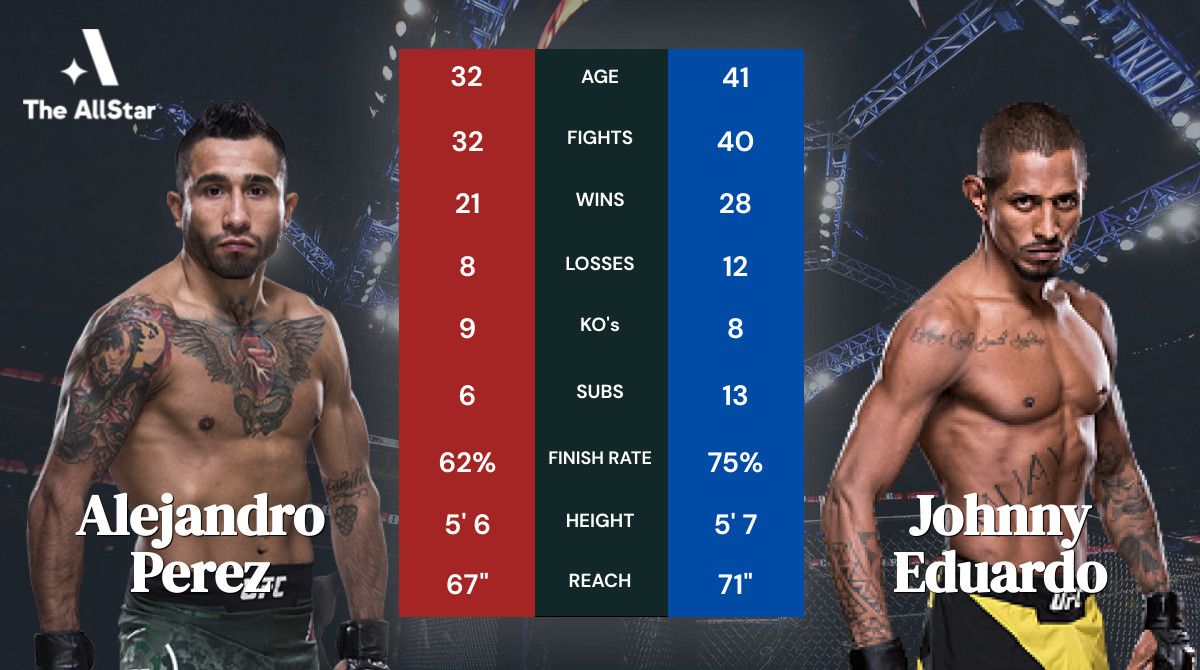 The Skinny
The most obvious narrative to this fight is the extended time off. At one point in time, each of these two fighters was a ranked member of the bantamweight division. Each of them fell on some hard times and are both now on two-fight losing streaks. Perez's last win comes all the way back in July of 2018. Not to be outdone, Eduardo last won in November of 2016. Both of their list of losses come against a very high level of opponents.
If we can assume they are similar to the last version of themselves that we saw, which we cannot reasonably, they both have solid striking games. Both use the leg kicks to set things up and are reasonably fast. The thing that really differentiates them is that Perez can bring some wrestling in a surprising fashion. When he was fighting Cody Stamann, he caught a kick, turned it into a single leg, and lifted Stamann up for a slam.
The Final Word
This is a particularly hard fight to call, but it really comes down to diversity of attack. Eduardo does not want to bring this to the mat and isn't good at stopping it from going there. Perez can bring it there. I also am given a small amount of confidence by Perez being more active recently, albeit not by much. Perez by decision.