Coming off a championship campaign for the ages, the depleted Milwaukee Bucks floundered throughout the early season in what has been a largely imperfect 2021. A slew of injuries almost completely derailed any semblance of continuity in their on-court play after a show of dominance against the Brooklyn Nets to start the year.
Yet even then, they now enter the New Year possessing sole ownership of the third seed in a hyper-competitive Eastern Conference. With things going the way they are, it's frankly difficult to expect a "new year, new me" mentality from the team because the truth is that they've been getting by just fine.
At the same time, the changing calendar still brings a chance for a fresh start to a largely imperfect season. Champions don't rest on their laurels, and "just fine" simply won't cut it in a league with the Golden State Warriors or the Chicago Bulls gaining ground on the horizon.
Here are a few things the defending champs would do well to focus on heading into the new year.
Settle into their weight class
It's tough to expect the defending champions to still consistently punch above their weight class. Beyond the litany of injuries and safety protocol entries, the core team also went through a rather short off-season after 2/3 of the Big 3 flew straight to Japan for the Olympics post-Finals. Their movement thus far this season has been perfectly understandable.
As it currently stands, though, the Bucks stand sixth in the league in win percentage. Nobody can blame a team for the hand it's dealt when it comes to their strength of schedule (.468 as of this post, good for 11th in the league). Neither can a ball club be faulted for floundering against league titans without their core suited and ready to play.
But at the same time, they also have the fewest wins against teams over .500 in the league's top ten seeds. Possibly through no fault of their own, they simply aren't seen by many as the title contenders they should be as the defending champions. Whether this is founded or not is neither here nor there; this is simply just to say that the Bucks should be heading into next year looking to dominate their more competitive counterparts in the championship derby — as they should.
At this point in the season, the defending champions still very much have kinks in their armor that they need to work out. Though the team is still very much stabilizing after first reeling from an injury-riddled start, the stats don't paint the most flattering picture of their play even if they have been winning. As of this writing, the Bucks are eighth in both offensive rating (110.8 points per 100 possessions) and defensive rating (107.1) while their net plus-3.7 rating remains seventh in the league.
The three-point shot — both making it and defending it — also remains to be a consistent problem for Budenholzer's Bucks despite their defensive talent. Their 6th-ranked 33.6 percent opponent three-point percentage belies how vulnerable they've been to random explosions from beyond the three-point line as of late. And though the Bucks are fourth in three-point attempts, they've only been tenth in percentage from deep with 35.6 percent efficiency in their past ten games. A significant reason for this is the drop-off of their principal sharpshooter in Grayson Allen, which isn't what you want when you trot out an interior talent like Giannis Antetokounmpo creating opportunities on the perimeter.
Those top-ten marks are not unsatisfactory by any means, but other title contenders like the Warriors, Suns, and Nets are firmly ensconced shoulder-to-shoulder in the top 5. Getting closer to their peers puts them in a much more comfortable position come playoff time.
Find their best selves on the basketball court
Naturally, individual development is just as much a priority, especially for a team like the win-now Bucks. Bobby Portis began his campaign for his first All-Star plum just recently, and anyone paying attention knows that a selection would not at all be undeserved. Jrue Holiday is growing into a more consistent offensive threat within Budenholzer's system, while Khris Middleton remains rather streaky. Donte DiVincenzo, too, is finally back from injury after months of sitting on the sidelines. Can he get back to the player he was before and more importantly, eclipse that level in his fourth year with the Bucks?
What about their less-than-satisfactory performers as of late? Allen, as mentioned, is shooting below 34 percent from beyond the arc in his last ten games after starting the season with numbers well above 40 percent. Considering 48.2 percent of his attempts from beyond the three-point line are wide open, there's really no reason a shooter of his caliber shouldn't make his shots with more regularity. He's still a competent defender, but it's becoming clear that when his shot isn't falling, the rest of his game is affected, too. As a result, the Bucks are a net minus-1.3 when Grayson has played in the past ten games while outscoring the opposition by 10.0 points when he sits. He just doesn't provide much to the team outside of being a lockdown shooter.
Will Semi Ojeleye be able to break out of Budenholzer's dog house and evolve into the Tucker replacement the team was hoping for? He certainly showed promise much earlier on in the season, and though he's substantially dropped off as of late, he'd still be a better matchup than any of the Bucks not named Giannis against the league's more sizable superstars on paper.
And if finding their best selves means acquiring new pieces ahead of the trade deadline, then so be it. The Bucks are relatively stacked at the wings now, and general manager Jon Horst could be looking at moving a combination of Ojeleye, Nwora, and Hood for another big man to hold down the paint in Lopez's absence. If anything, such a move would at the very least fulfill a more pressing need for the contending Bucks.
The time to experiment is now, but the Bucks have to do so with haste — all while shaking off their injury-induced rust and settling back into championship contender form.
Overcome lineup instability
Finding their best selves also includes determining just who those selves are. How do they, for example, address the redundancies they have at the wing position? They have depth, but only five players can share the court at one time. For a team that won it all off a shortened rotation, the Bucks may have to be more decisive about who gets minutes this season. Everyone from Donte DiVincenzo to Wesley Matthews to Jordan Nwora has shown they can provide quality minutes under the right circumstances. Now it's all a matter of making sure it all flows together seamlessly, with each one understanding and compliant with their assigned roles.
This also means that the Bucks will have to find ways to deal with the injuries that might still lie ahead. Brook Lopez might still be injured by the time the post-season comes around. They've been doing well with their Portis-Cousins rotation at the frontcourt, but will their playoff defense be able to adjust sans its former anchor? After all, Cousins is still rather slow-footed, while Giannis can only play the center position for so long and against certain matchups. They've recovered from the loss of their lumbering seven-footer, but at times, it's still clear that there's a Lopez-sized hole sticking out like a canker sore in their frontcourt defense, particularly when it comes to rim protection.
With the league very clearly deciding it would rather co-exist with COVID-19 instead of taking a quick halt to stave it off, the onus is placed on teams and their management to keep players healthy. And when you have a host of competent characters like the Bucks do, the luxury of depth is as much a blessing as it is a curse.
A litany of playoff contributors coupled with sudden entries into the league's health and safety protocols are the clear culprit behind the Bucks' 14 different starting lineups thrown out this early on. But moving forward, the pandemic-induced rotation chaos will need a more intentional sifting through as the playoffs draw closer.
Build good habits and systems
The Stoic philosopher Epictetus said that one's capacity for choosing well eventually comes to define who they are as a person. His point was simple: beautiful people are the way they are because they make beautiful decisions.
Winning an NBA title necessitates doing all the little things to deserve it. There's a price to pay before you earn the title of champion. More than anything else, the 2021 champions — who no longer have that title in 2022 — should look to enter the year with a clean slate after a relatively rocky start. In truth, it wasn't all that arduous, to begin with, as evidenced by their third-seed positioning to begin the year. But with the new year coming, it's probably time to leave the past behind: both the good and the bad. They're no longer this year's champions, but neither are they the sickly team missing nearly half its roster. How do they respond?
For this writer, there's always been something to be said about the team's Stoic approach to the drudgery of the regular season. An 82-game spell has always been a marathon, not a race, as the Bucks learned in their first two years of regular-season dominance only to fall flat in the end. After twin heartbreaks to begin the Mike Budenholzer era, the Bucks seemed to be acutely aware of this for the entirety of their championship-winning season.
Game in and game out, they preached building good habits and controlling the things you can control. That means putting in the work, keeping your head down, playing as a team, and giving it your best shot every single time. The team's defense-first mindset has always been one that necessitated maximum effort and motor every time down the floor.
Building good habits and finding their best selves also very much means building a good scheme that maximizes every piece's talents on the basketball court. American writer James Clear perhaps modernizes Epictetus' quote thusly: "You do not rise to the level of your goals. You fall to the level of your systems."
Mike Budenholzer recognized that the endurance test of the regular season was the perfect time to tinker and recalibrate with the team's schemes a year ago. They traded in a nearly exclusive drop coverage in the pick and roll for a more versatile regimen that included switching, blitzing, and hedging, which all worked out in their favor come playoff time.
Could Allen have a more intentional role carved out for him by the Bucks coaching staff? Of late, it seems he's being relegated more and more to being a catch-and-shoot player instead of a scoring threat whose gravity is used to contort opposing defenses.
What about the loss of Brook Lopez? DeMarcus Cousins and Bobby Portis simply don't have the rim protection that he provides in the paint. They've gotten by on their 2-3 zone for brief stretches, but how will they maximize their new frontcourt rotation in a playoff setting? They're actually fourth in the league in opponent points in the paint (42.4), but it remains to be seen if their frontcourt defense can withstand slower and more controlled playoff offenses.
For a team that relies on getting middle penetration to create opportunities, they're also fourth in isolation frequency (9.0 percent of offensive possessions) despite being just in the 65th percentile on those plays. Isolation plays aren't necessarily something to avoid when you have the slashing of Antetokounmpo and the shot-creation of Khris Middleton. But upping their efficiency on those plays could be something to pay attention to, either with better spacing and positioning, or more reps moving forward.
Staying healthy for the NBA Finals
At the end, it's really that simple, isn't it? With 2022 on the horizon, the aforecited injury bug still remains top concern for the Bucks. For professional athletes, the best ability is availability. The Bucks got through a finals run without their starting shooting guard just fine a year ago, but they may not be so lucky this time around against their usual Eastern Conference rivals.
The Bucks haven't looked as dominant as they have in years past, but they simply just haven't been whole for much of the season so far. Staying healthy means taking care not to overplay their stars ahead of the playoffs. Images of a gassed Giannis limping down the court in the NBA Finals might still be fresh in the minds of Bucks fans. Ensuring the Big 3 — with whom the Bucks sport a 14-2 win-loss record when they all play — stay fresh for the playoffs will be of paramount importance and should be the main resolution moving forward after a regular-season so full of injuries. Right now, Giannis' 32.4 minutes per game rank sixth out of his nine seasons in the league, possibly as a result of his hyper-extending his knee against the Atlanta Hawks in the playoffs.
When your team is as deep as the defending champions, going back to the Finals should rightfully be the end goal. Compounding the long road back to the Finals is the fact that the sleeping giant Bucks also aren't favored to win the title in a league of superstar trios.
If the season ended today, they would be pit against the Philadelphia 76ers in a matchup that simply favors them. That they've gotten to this position despite the injuries they've faced speaks to their cohesiveness and mentality as a team.
As they say, you don't need to get ready if you stay ready. If the Bucks build good habits, stay healthy, and find their best selves, the rest should follow. After all, that's how they found themselves at the top in 2021.
---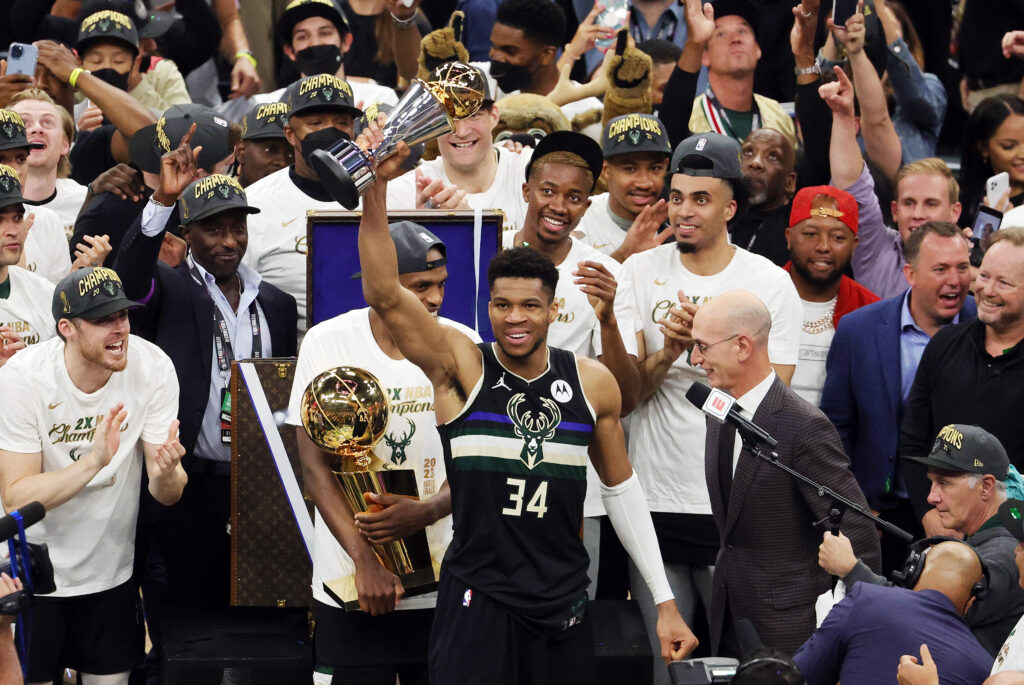 NBA Championship Betting
Who will win it all?
Brooklyn and Golden State are frontrunners to win the Championship but what about Milwaukee?
See where the Bucks rank.
---