Draws are scarcely witnessed in mixed martial arts. Last year, just 13 UFC fights ended with the spoils shared, no competitor leaving with their hand raised. One of these contests featured Alatengheili, a Mongolian bantamweight making his fourth promotional appearance.
"The draws because I made a mistake" he explained to The AllStar.
"I grabbed the fence and [got deducted] one point. If I didn't do that I'm pretty sure I'd win that fight, it's only because of that mega-mistake."
With his fight against Gustavo Lopez being ruled a draw, Alatengheili has his sights set on re-entering the win column and removing the sour taste that sits in his mouth; over a half a year on the sidelines has made him eager for battle.
Training at Fight Ready in Arizona, the 30-year-old feels well accustomed to life in the United States entering his second training camp with the gym. Home for the likes of Henry Cejudo and The Korean Zombie, the talent and experience swarming its halls is priceless for fresh UFC alumni.
"Because I had my last fight camp at Fight Ready, I feel that everything is well there – good coaches, good training [partners]. It's perfect [for] me. Now that I've got a new fight I decided I [wanted to] come back to Fight Ready and do fight camp here again," Alatengheili said.
"The biggest difference is I feel more comfortable in the overall environment whilst in the United States. Last time was my first time having my fight camp in the US, so everything was foreign to me. But this time I've been here for months, so I'm familiar with everything.
"Fight Ready is my team [and] home in the US. Because now we have two other Chinese fighters there, a Korean fighter – we have friends here and training partners here, it feels like home."
One man he regularly trains with is The Korean Zombie, who's currently preparing for a featherweight title bid at UFC 273. Trading blows with a top-ranked contender has gifted "The Mongolian Knight" a wealth of knowledge as he recognizes the level it takes to become a title challenger.
"I train and spar with him, I know he's such a high-level guy because I have experienced that. His striking and everything is a very high level."
As well as now knowing what an elite combatant looks like, Alatengheili feels more equipped for April 16, where he'll meet gritty veteran Kevin Croom.
Previously a featherweight, the Glory MMA representative enters the bout with both experience and size on his side, though the latter is something that may work against him.
"I've watched all his fights in the UFC and think when he was fighting at featherweight, he was big for [the weight class]," Alatengheili stated. "To be honest, I'm not even sure if he can make [weight] this time. It's a big one.
"It's good for me. I'm not a big guy for 135 so I don't cut too much. That [helps my] performance so I can have strength on fight night. But for him, he's a big 135-pounder, he cuts a lot and I don't know if he can recover well [come] fight night. It's interesting."
Styles make fights, after all, and with Croom often marching towards his opponents in an attempt to enter the pocket, the fight is expected to be a compelling one.
"His style is my favorite. I like those guys that come forwards towards me [as] I can throw my counters and play my game," Alatengheili said.
"I think it's going to be an exciting fight and it's very likely I'll finish him. I want to finish him. It's a better way to win a fight."
---
Fighter profile
"The Mongolian Knight" Heili Alateng is a 30 year old male fighter from China with 14 pro wins and 8 losses. Alateng is scheduled to fight Kevin Croom at UFC Fight Night: Luque vs. Muhammad 2 on Saturday April 16, 2022.
Heili Alateng's recent form coming into this matchup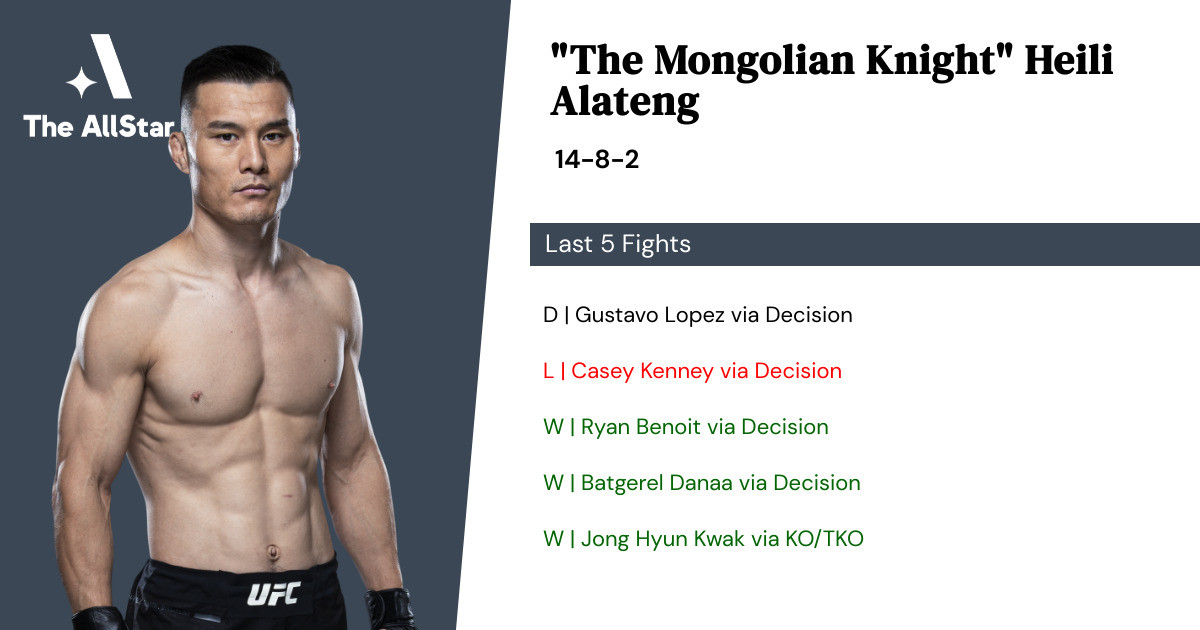 Heili Alateng has gone 3-1-1 in the last 5 professional MMA fights.
Draw vs Gustavo Lopez • Decision R3 5:00 • 2021-09-18
Loss vs Casey Kenney • Decision R3 5:00 • 2020-10-03
Win vs Ryan Benoit • Decision R3 5:00 • 2019-12-21
Win vs Batgerel Danaa • Decision R3 5:00 • 2019-08-31
Win vs Jong Hyun Kwak • KO/TKO R2 2:40 • 2018-05-12
Heili Alateng's next opponent: Kevin "Crash" Croom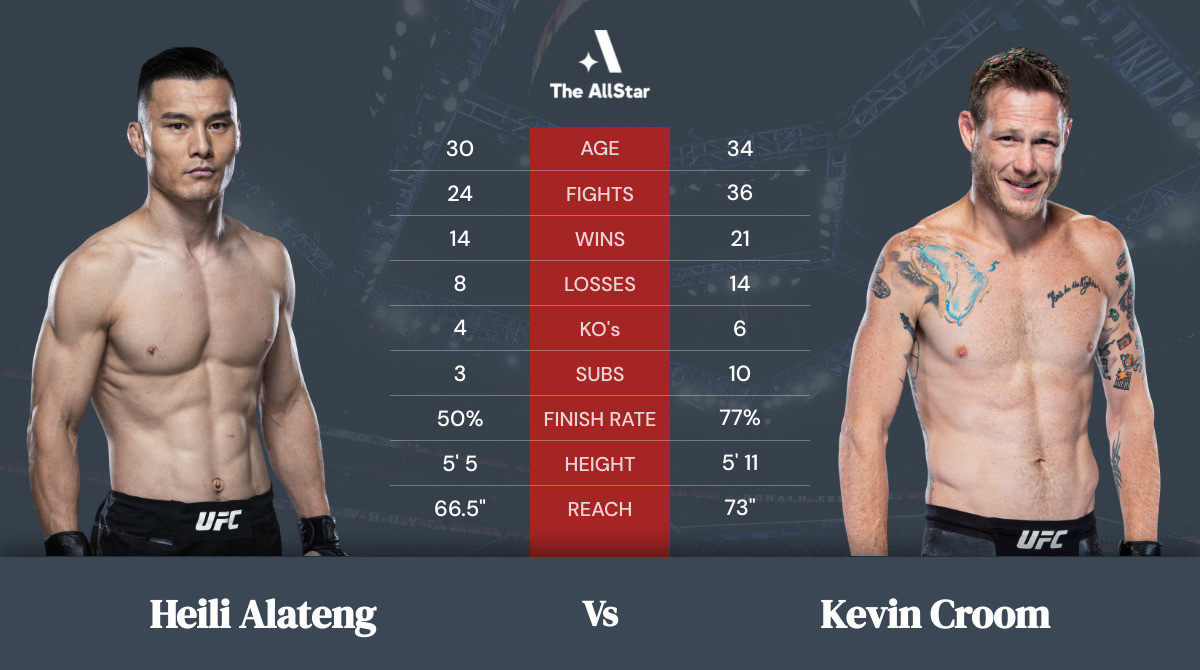 Kevin "Crash" Croom's recent form coming into this matchup
Kevin "Crash" Croom is a 34 year old male fighter from United States with 21 pro wins and 14 losses. Croom is scheduled to fight Heili Alateng at UFC Fight Night: Luque vs. Muhammad 2 on Saturday April 16, 2022.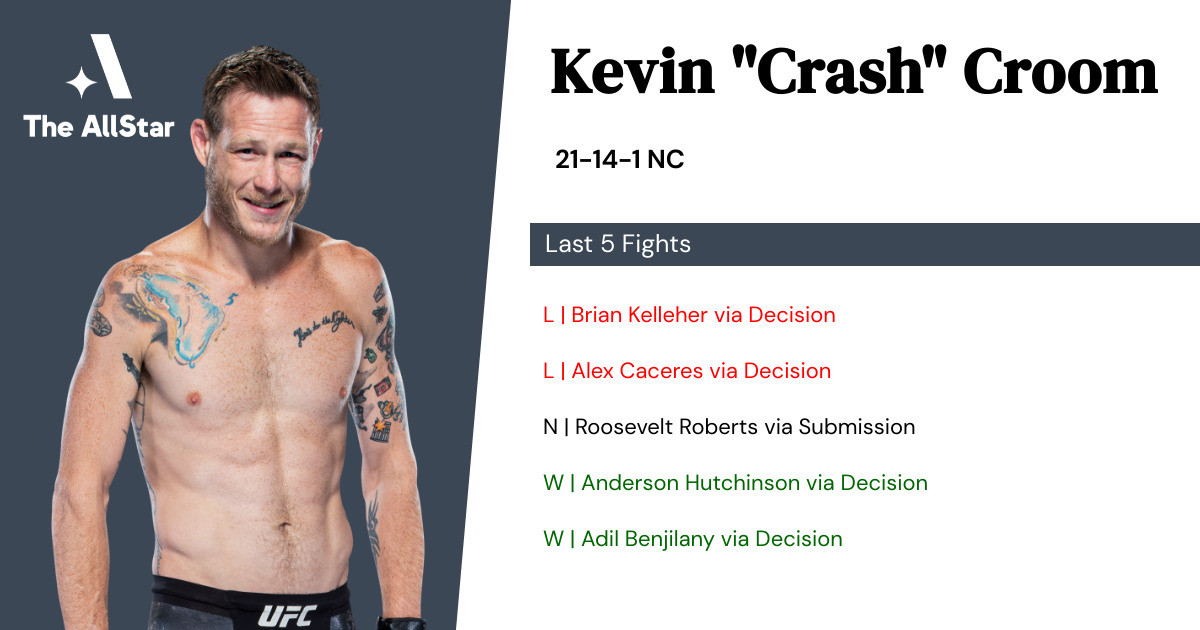 Kevin Croom has gone 2-2 in the last 5 professional MMA fights.
Loss vs Brian Kelleher • Decision R3 5:00 • 2022-01-15
Loss vs Alex Caceres • Decision R3 5:00 • 2021-02-27
No Contest vs Roosevelt Roberts • Submission R1 0:31 • 2020-09-12
Win vs Anderson Hutchinson • Decision R5 5:00 • 2020-08-14
Win vs Adil Benjilany • Decision R3 5:00 • 2020-02-21
How to watch and bet on Heili Alateng vs Kevin Croom
Keep track of all the latest odds and line-movements at our bout page for this matchup.