Freestyle MMA head coach Joe Lopez is lapping up the sun this week in Phuket, Thailand, for the grand opening of the Bangtao Muay Thai and MMA training facility that he and UFC featherweight champion Alexander Volkanovski have partnered in.
The martial arts veteran is taking a short, well-deserved break following an intensive fight camp in the build-up to Volkanovski's deconstruction of 'The Korean Zombie' Chan Sung Jung at UFC 273.
In the weeks since that featherweight championship bout, there's been increasing chatter regarding the Australian 145-pound king making the jump to lightweight to challenge for a second UFC belt.
It's a prospect the Aussie's coach is certain Volkanovski will succeed in, given the chance.
"He'd do good at that," Lopez told The AllStar.
"A lot of his fights were at 155, even his first fight in the UFC was at that weight."
Confident as he is, however, he's not inclined to hold his breath for the opportunity to present itself.
"Whether the UFC wants to make that happen…" he continues before trailing off, giving a sense the idea's been met with resistance from UFC brass.
"I think Alex will probably have to have a fight before that and put on another great performance and I'm sure that'd be on the cards."
Quizzed on whether he sees a potential weight division jump for the 33-year-old champion as a permanent fixture, Lopez was hesitant and believes it's something they'd both have to discuss – adding "I like Alex to not come in as heavy."
In his opinion as head coach, he believes the champ "probably performs better" in the lighter weight class – citing a slight drop in Volkanovski's speed in the heavier divisions.
"For me, he fights better when hes sitting around the 74kg [163lb] mark [after rehydrating]… when he gets anything over that, for me personally, I think he's a little bit slower than he normally is."
Regardless of the weight class Volkanovski fights at next, both he and his coach are intent on staying active throughout the remainder of 2022; anticipating a total of three fights in the calender year.
Lopez is eyeing a return to action in August for the champ, hopeful that an Australian UFC event is on the cards, but admits that's up to the "guys on the bigger pay brackets" than himself to decide.
As for the opponent, that's clearly yet to be seen, though he claims the UFC have reached out to ask who Volkanovski would like to face next – a change from previous interactions with the organisation during the Australian's title run.
"They're normally throwing someone at us… Like Alex said it's more up to who's ready for it."
With no word from Max Holloway about a potential return date, and no clear cut number one contenders in the featherweight division at present, Lopez explains now is the best time for one of the lower ranked contenders to stake their claim.
"I'd like to see some of these guys have a fight within the next few weerks, or the next month or so, so they can be ready around August."
"I know Alex was really looking forward to fighting Max again – but at the moment we're just looking for anybody."
---
Fighter profile
Alexander "The Great" Volkanovski is a 33-year-old male fighter from Australia with 24 pro wins and 1 loss. Volkanovski most recently fought Chan Sung Jung at UFC 273: Volkanovski vs. Korean Zombie on Saturday April 9, 2022.
Alexander Volkanovski's recent form coming into this matchup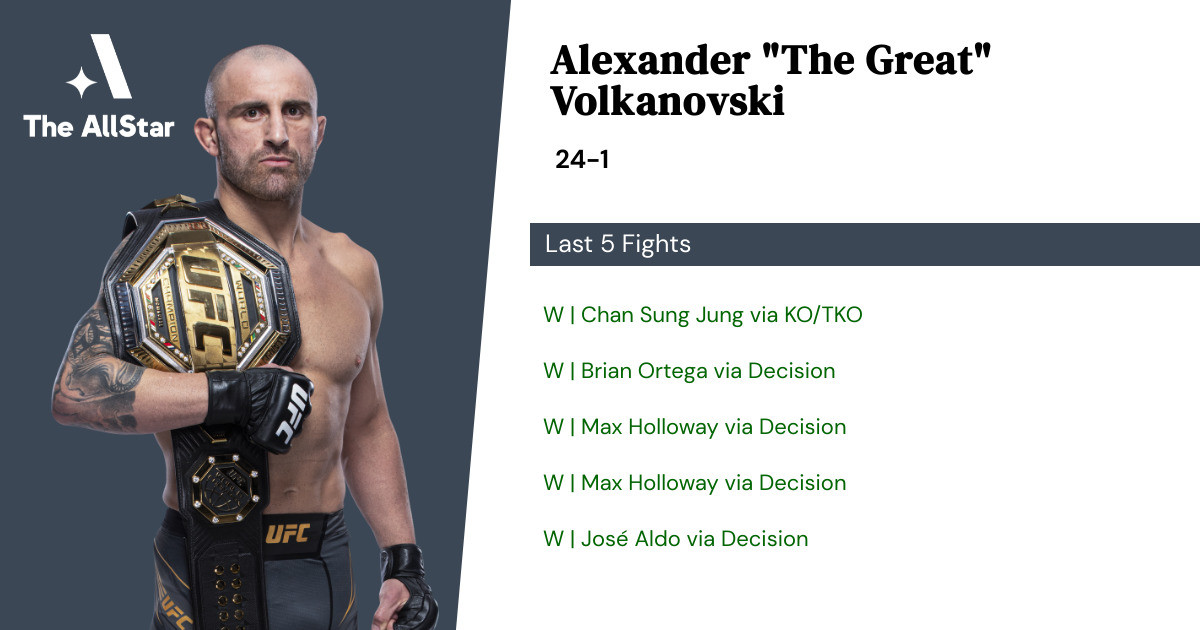 Alexander Volkanovski has gone 5-0 in the last 5 professional MMA fights.
Win vs Chan Sung Jung • KO/TKO R4 0:45 • 2022-04-09
Win vs Brian Ortega • Decision R5 5:00 • 2021-09-25
Win vs Max Holloway • Decision R5 5:00 • 2020-07-11
Win vs Max Holloway • Decision R5 5:00 • 2019-12-14
Win vs José Aldo • Decision R3 5:00 • 2019-05-11