It was early 2020, and Ali Motamed's world was in disarray.
The ONE Championship featherweight had been in training in Phuket for a fight when Covid struck, shutting the organization down for the foreseeable future. His fight canceled, Motamed returned to Iran with uncertainty swarming in his head.
The gym his only sanctuary, he found all facilities in his home country temporarily closed. For some fighters, it would have been easy to use Covid as an excuse to stop working out. With limited resources and a little ingenuity, Motamed went in the opposite direction.
"I opened a little gym in my basement, just 3 meters by 3 meters," Motamed told The AllStar. "It was tough because I couldn't fight but it was good. I focused on my training. I focused on some of my weaknesses. I worked on my wrestling a lot. It turned out to be so good for me. I leveled up so much in the last year. I'm a completely different fighter.
"There wasn't a coach. I just asked two of my friends. We trained together every day. Morning, evening, morning, evening. I knew some stuff and just tried to work them all day, every day. One technique. Drill, drill, drill. Spar, spar, spar. Just like that."
The circumstances were getting worse around the world and it took a toll on many people mentally. Motamed did not let that mindset creep in and settle.
"There is nothing that can stop me. I will find a way to train. There were so many fighters that stopped training since the pandemic started. They found the excuse. It could be a good excuse. But I can't make that excuse. I have to work on something.
"I can't have the best thing. I can't have this kind of gym. Ten other fighters. Still, I can have 1 or 2 and train on my weaknesses. Train on what I have to do. Get better every day. It's all about the journey, it's all about getting better. That was my mentality."
The stigma of being a striker dabbling in MMA has followed the 28-year-old Iranian for many years. The past two years have unlocked the other aspects of his game.
This year, he was back in Thailand, at Phuket Fight Club. The training has allowed him to implement and test all the new tricks he has learned.
"I can say now I'm a complete MMA fighter," Motamed said with certainty. "I just got my purple belt in jiu-jitsu. I worked a lot on my wrestling. I've done everything. So I'm not a striker anymore.
"Striking is one part of my weapons. I want to take people down. I want to submit them. I feel I'm there. I feel like I'm way stronger mentally, physically. I'm just way better, so much better."
Watch this interview on The AllStar's Youtube channel.
---
Fighter profile
Ali Motamed is a 30 year old male fighter from Iran with 7 pro wins and 5 losses. Motamed most recently fought Rui Chen at ONE Championship: Big Bang 2 on Friday December 11, 2020.
Motamed's recent form coming into this matchup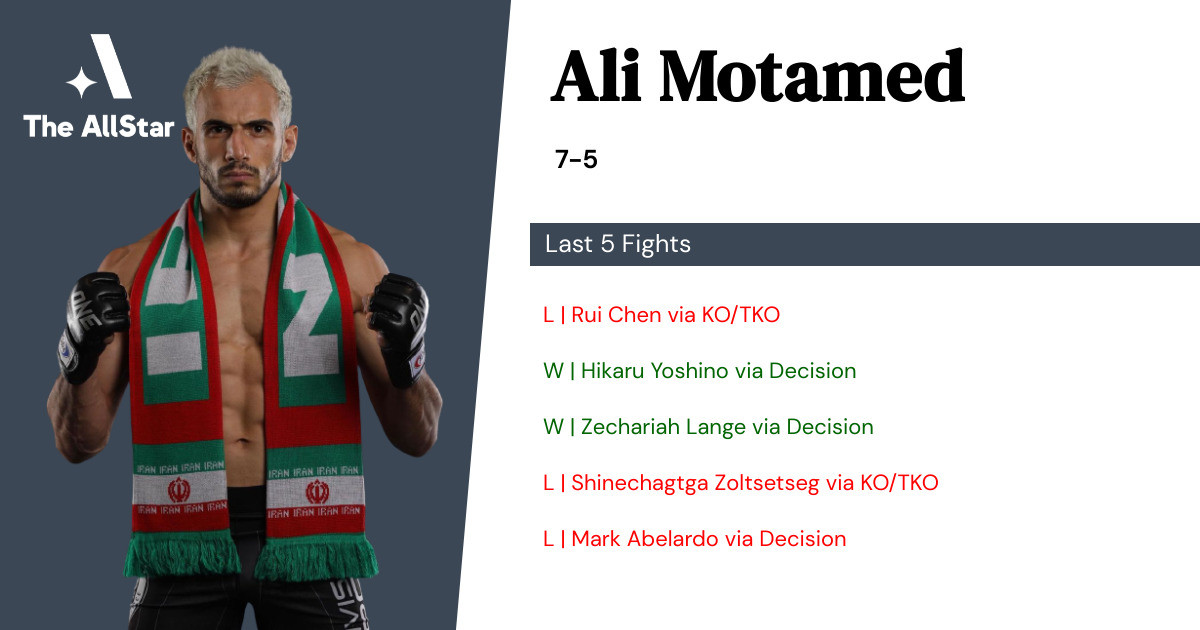 Motamed has gone 2-3 in the last 5 professional MMA fights.
Loss vs Rui Chen • KO/TKO R1 1:56 • 2020-12-11
Win vs Hikaru Yoshino • Decision R3 5:00 • 2019-12-04
Win vs Zechariah Lange • Decision R3 5:00 • 2019-08-06
Loss vs Shinechagtga Zoltsetseg • KO/TKO R2 2:05 • 2019-02-28
Loss vs Mark Abelardo • Decision R3 5:00 • 2018-07-19