Battling through life-threatening ailments is nothing new to Amr Maher.
As a young man in Egypt, Maher overcame cancer after many years of treatment as well as the depression that followed. During a trip to Germany to recuperate, he started his mixed martial arts journey with kickboxing.
Fast forward to August 2020 and his ONE Championship debut was on the horizon. During the pre-fight medicals, 'The Falcon' was diagnosed with compartment syndrome in his leg, a rare condition that blocks the blood supply to a particular area of the body, and was rushed to surgery three days before the scheduled event.
"I had no idea," Maher told The AllStar. "I thought it was fatigue because I kept on working throughout all of the pandemic like the lockdown. I just pushed, pushed, pushed hard just because once we come out of the pandemic that people will look for fights basically. The show will never stop.
"The doctor looked at my leg and said there's something really wrong, it's really swollen. Of course, I did the stupid thing of being a fighter and begged him to fight but it was the opportunity of a lifetime. He said you can lose your leg if you don't operate now so he had to go through my leg and cut about 1.8 kilograms of my quad."
Just like with any major surgery, the recovery is a long road back, especially for a fighter. It took a physical and mental toll on the 31-year-old Phuket Fight Club representative.
Maher added, "To reach that point of your career and that you came here, sacrificed everything for like four years. And you worked so hard to get someplace and you're finally there. You're seeing your opponent, you're doing the hydration tests, you're ready. Name is there, everything is there. You're ready to go. It's your time. All of a sudden, boom. It gets taken away from you like that.
"That's not my first rodeo when it comes to recovering from something major when it comes to the body. But it was more of a mental thing coming back because something really dear to my heart got taken away from me that I worked so hard for.
"Once your body [went] through what my body went through, it's a long road to come back. If you even become the better man again. The man that you used to be physically and mentally."
Even with doubt storming in his head, Maher built back up against the odds and made weaknesses into strengths. The importance of an experienced and well-educated coach can never be understated in the harsh world of combat sports.
"It's God and him that got me through all of that," Maher said about his Muay Thai coach back in Chiang Mai. He's super-educated. He has a master's [degree] in sports psychology and anatomy.
"He walked me through the process. Made me do the runs. Made me do the stairs. Got my leg back together. He actually trained me in a different stance just to protect my leg. He did all the things right."
After the proper adjustments and five Muay Thai fights later, Maher reclaimed the Thapae Stadium title in Thailand earlier this year in February.
"I felt really proud," Maher added. "This is one of the proudest moments of my life. The road that it took for me to stand on my leg again and be able to look an opponent in the face and fight for my life. It was brutal.
"Suffering is suffering. It's different degrees. We've all been through something. But to have the choice to fight back and try to own what you used to be. It is the hardest thing you will ever do. You can just surrender to the process because it's not your choice. I didn't choose for that to happen but I didn't surrender so I was so proud of myself."
Earlier this year, Maher joined the newly-established MMA team at Phuket Fight Club. He has been working tirelessly with the elite coaching staff consisting of head coach Leo Elias, grappling coaches Silvio Braga and Alisson Barbosa, and wrestling coach Che.
ONE Championship will kick back into gear in early 2022 and Maher is more than ready to finally make that walk again.
"I will enjoy my time, enjoy the crowd, enjoy wearing the gloves. I'm gonna perform. I'm gonna raise my flag. And whether I finish the fight, whether I get finished, whether I put on the most awesome performance, whether I get knocked out in 30 seconds. I don't care. It's just I'm there and I'm gonna put 100%. I'm gonna do my best.
"My best is enough. I know my best is enough. It got me through a lot of things, tough things in life so what is a fight? What is a fight?"
Watch this interview more on The AllStar's Youtube channel.
---
Fighter profile
Amr "The Falcon" Maher is a 32 year old male fighter from Egypt with 8 pro wins and 2 losses.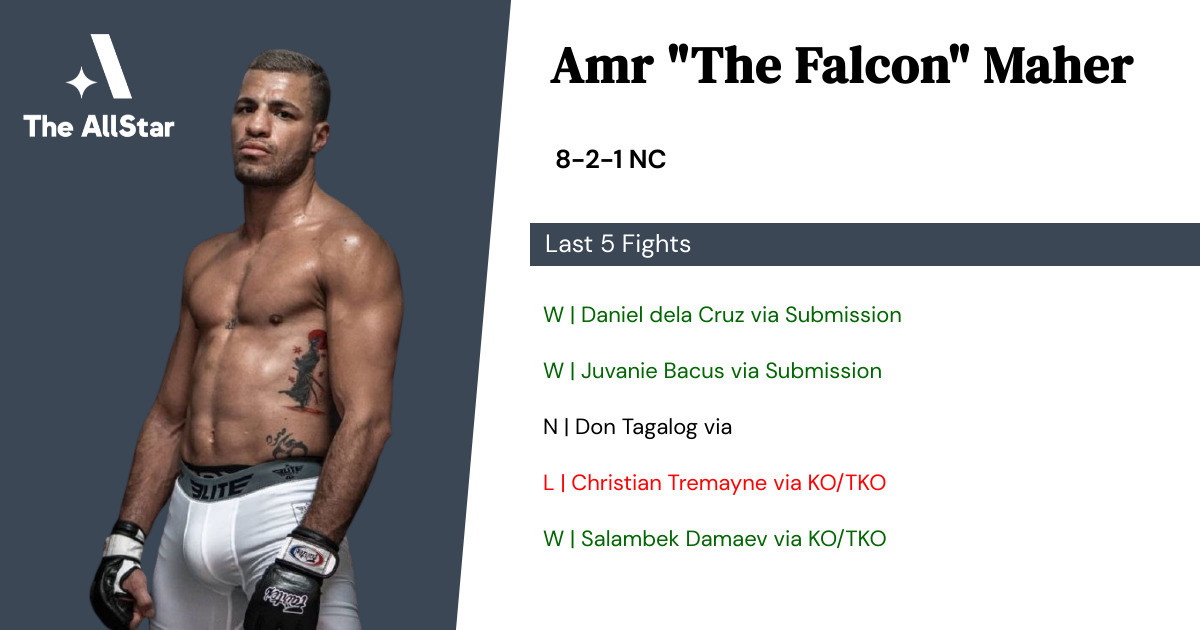 Amr Maher has gone 3-1 in the last 5 professional MMA fights.
Win vs Daniel dela Cruz • Submission R1 2:27 • 2018-10-13
Win vs Juvanie Bacus • Submission R1 4:04 • 2018-07-20
No Contest vs Don Tagalog • R3 5:00 • 2017-11-03
Loss vs Christian Tremayne • KO/TKO R1 • 2016-01-10
Win vs Salambek Damaev • KO/TKO R1 1:35 • 2015-12-16