Sitting on the shelf isn't fun for any athlete. Whether it's miscommunication with the promotion, personal troubles, or a plague of injuries, all have the potential to cause a lengthy hiatus. In the case of middleweight Anthony Hernandez, the latter rung true in 2021.
Scheduled to face Punahele Soriano in June, Hernandez was forced to withdraw due to a hand injury. Though he'd make a full recovery, he'd once more find himself pulling out in December.
Speaking to The AllStar, the 28-year-old California native opened up about his recent injuries and the emotions when preparing to fight a friend.
"I had to have stem cells done, that shit hurt like a bitch. I had this fat ball on the nerve, and every time I was hitting people I was getting stingers all the way up to my neck and my hand would go numb. [One] time I slammed someone and I got a stinger in my whole hand, the ball swelled up again and it was bad. It was pushing on a nerve basically. They [done] the stem cell [procedure] and the ball went away, so that helped.
"I wouldn't want to fight [Soriano], but if I had to, so be it. It is what it is. Let the best man win, I don't think it would change our friendship. It's part of the fucking game we're in. A lot of these motherfuckers are cool as shit, but we're just trying to do better for ourselves. And we're trying to be the baddest motherfucker in the world, who doesn't want that title?"
At UFC 258, "Fluffy" burst into the spotlight of casual viewers as he committed arguably the biggest upset of the year, submitting five-time jiu-jitsu world champion Rodolfo Vieira in a shocking turn of events. Receiving 'Performance of the Night' honors, he had just changed his career for the better, with many now aware of his name.
"I've believed in myself the whole time. It was news to the world, it wasn't news to me" Hernandez explained.
"I'm just trying to get better, I've tried to fight twice [since] and have gotten hurt both times. I was focusing on lots of technique, recovery, family and kids. Now I'm good to go, nothing hurts. I can't wait for the night. I get to show where I left off."
With his original opponent, Albert Duraev, suffering a rib injury, Hernandez was recently matched with surging contender Dricus du Plessis who was also in search of a battle partner. He too was left opponent-less a number of days ago following a withdrawal from Chris Curtis, therefore the only logical step was to pair the two middleweight bangers.
"Albert [Duraev] is good, he ties his grappling together very well," Hernandez said "But now this is a striking fight, now I don't have to focus so much on the ground stuff. I get to go show what I can fucking do, I'm excited.
"It kind of worked out great, not for Chris Curtis, I hope he gets better too. But me and Du Plessis, we get to [fight on] the same date. Nothing really changes for us except we're fighting each other."
Facing one of the division's more exciting combatants, Hernandez is keen to show off his fresh set of skills against a big name. What he won't do, however, is get in a slugfest with a man as powerful as du Plessis.
"Obviously I think I beat him, but from what I've seen he's a power thrower," he revealed. "Everything he throws [has] power. I've never seen him go to a third round so I kind of want to see what his gas tanks like. I'll pretty much figure it out [during] the first minute – the timing, the speed, that's kind of what I'm going off of. If I'm quicker than him, don't stand and trade. If I feel like he's faster and longer, then we'll just adjust from there. I fucking love to fight. No matter where it goes I'm comfortable. I can't wait to show you guys what I've been working on.
"I'm gonna test him. I'm gonna be his kryptonite, make him go all three [rounds] and we'll go from there. Like I said, the fact that he's all in makes it a fun fight. Worst case I've got to bite down and we're throwing. I'm very confident in my chin [though]. I want to go out there and be smart and be a technician. Obviously, I can bang, I love fighting, but it doesn't always go your way when you're being reckless. The biggest thing for me is staying calm and make him work. He's never been to the third [round], so I want to see what happens in the third."
Currently splitting his time between MMA Gold with head coach Jim West and Team Alpha Male in northern California, Anthony feels prepared for just about anything on April 9. With a wealth of high level training partners and coaches at his disposal, he's sure he'll leave UFC 273 the victor.
"I hop between both," Hernandez said. "We're pretty much sister schools now so we cross-train all the time, I'll go there [to] get a look, come back to home base and adjust."
"They have a lot of good bodies that come in there, a lot of good grapplers," he said, "I've just got to be smart and not get caught by one of his big, loopy shots."
---
Fighter profile
Anthony "Fluffy" Hernandez is a 28 year old male fighter from United States with 8 pro wins and 2 losses. Hernandez is scheduled to fight Dricus Du Plessis at UFC 273: Volkanovski vs. Korean Zombie on Saturday April 9, 2022.
Anthony Hernandez's recent form coming into this matchup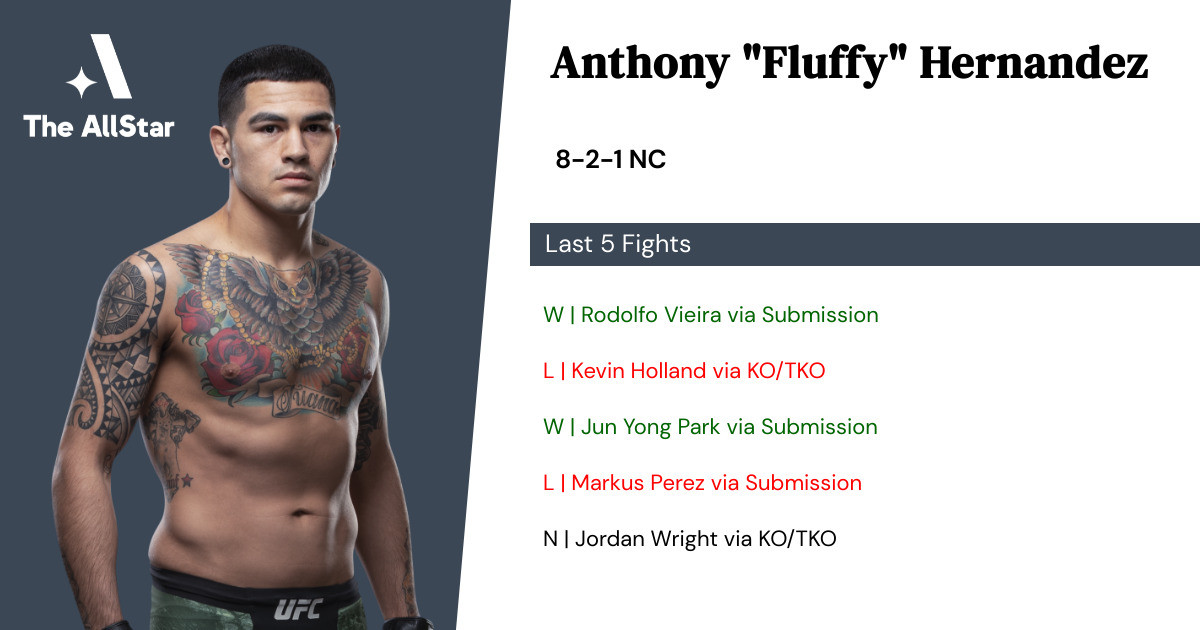 Anthony Hernandez has gone 2-2 in the last 5 professional MMA fights.
Win vs Rodolfo Vieira • Submission R2 1:53 • 2021-02-13
Loss vs Kevin Holland • KO/TKO R1 0:39 • 2020-05-16
Win vs Jun Yong Park • Submission R2 4:39 • 2019-08-31
Loss vs Markus Perez • Submission R2 1:07 • 2019-02-02
No Contest vs Jordan Wright • KO/TKO R1 0:40 • 2018-06-19
Anthony Hernandez's next opponent: Dricus "Stillknocks" Du Plessis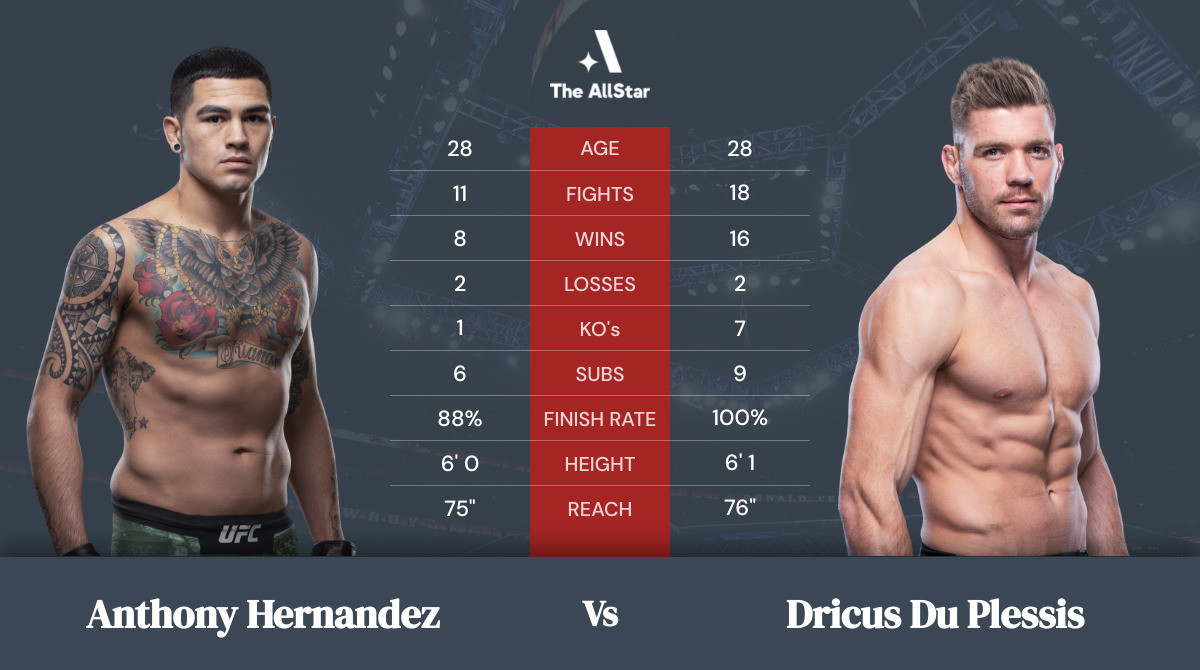 Dricus "Stillknocks" Du Plessis's recent form coming into this matchup
Dricus "Stillknocks" Du Plessis is a 28 year old male fighter from South Africa with 16 pro wins and 2 losses. Du Plessis is scheduled to fight Anthony Hernandez at UFC 273: Volkanovski vs. Korean Zombie on Saturday April 9, 2022.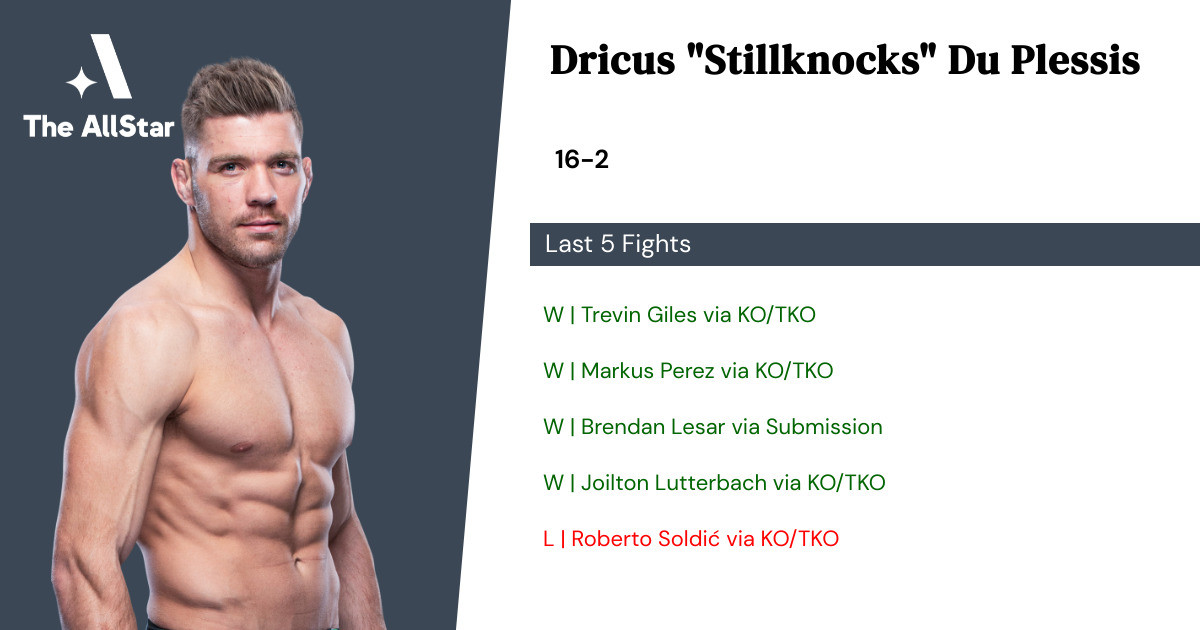 Dricus Du Plessis has gone 4-1 in the last 5 professional MMA fights.
Win vs Trevin Giles • KO/TKO R2 1:41 • 2021-07-10
Win vs Markus Perez • KO/TKO R1 3:22 • 2020-10-10
Win vs Brendan Lesar • Submission R1 4:15 • 2019-12-14
Win vs Joilton Lutterbach • KO/TKO R2 3:04 • 2019-09-14
Loss vs Roberto Soldić • KO/TKO R3 2:33 • 2018-10-06
How to watch and bet on Anthony Hernandez vs Dricus Du Plessis
Keep track of all the latest odds and line-movements at our bout page for this matchup.