Balajin shouldn't be fighting this weekend – and yet he is.
The talented Chinese Mongolian is due to compete in a non-tournament bout at this weekend's Road to UFC in Abu Dhabi. It's a fight he got invited to, even after Covid-19 forced him to drop out from the series' Singapore edition earlier this year.
It was a low point and yet another setback in his MMA career. He returned to his adopted home of Arizona, optimistic that another chance would present itself.
Perhaps the bright side of so many unfortunate delays is an extended season to continue to hone his craft. Arizona's Fight Ready MMA is a solid fit for Balajin, because of the training environment in the company of fellow Mongolians Alateng Heili and Aoriqileng. Balajin has been working hard on his boxing and dedicated attention to his strength and conditioning.
Soon enough came the call to fight Keisuke Sasu this weekend. In spite of his dropout in Singapore, the call-up was a recognition of Balajin's popularity in China, where he has dominated the JCK Night Cage series, and his current 15-fight win streak. His last loss was five years ago. Now he gets another chance to prove that he belongs at the top.
"I just want to showcase a little bit of everything in the fight and let UFC know I should be there," Balajin explained in an interview with The AllStar.
Speaking candidly, Balajin revealed the depths he sank to after his heartbreaking dropout from the Road to UFC lightweight tournament in June. Feeling sick prior to leaving Arizona, he took a Covid test that came up negative.
He flew to Singapore, but it was clear that something was wrong when he arrived. He put in two rounds of sparring with ONE Championship featherweight champion Tang Kai and looked fatigued and pale. His coach called off the session.
"I think I trained two times there and then I feel worse," Balajin said. "I tested again and it was positive. It was about one week, six days before the fight."
Covid test
Stuck between his positive Covid test and the opportunity of a lifetime, he was tempted to pretend like everything was fine.
"I was even thinking about should I just don't tell UFC and take the risk to fight because I want it so badly, it's a good opportunity to get into the UFC," Balajin said. "But I discussed with my team, so still think I should not take this risk to fight, not only for myself, for everybody. So then we just decided to pull out from the tournament."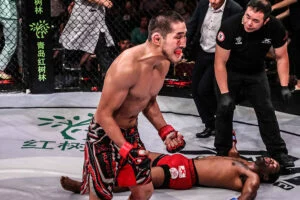 After making the test result public, Balajin was moved out of the UFC hotel and quarantined in another hotel. He spent the entire fight week in isolation, alone with his thoughts. His feelings, unsurprisingly: "Try disappointed and emotions very low."
"I was very, very low at that point so because I prepared for this fight, this Singapore fight very hard, for very long time, and had to pull out at the last minute."
On his return to Arizona and his team, Balajin resumed training and tried to remain positive. He was rewarded with the bout against Sasu. He says those unfamiliar with the changes he has made in his time off will be shocked to see his new form.
"I want to show an evolved version of myself," Balajin said. "Before…people think I am a wrestler, so all my fights, I just wrestle, wrestle, wrestle. This time I want to show that I'm a more well-rounded fighter right now."
---
Fighter profile
"The Snow Leopard" Balajin is a 30-year-old male fighter from China with 23 pro wins and 3 losses. Balajin is scheduled to fight Keisuke Sasu at Road to UFC: Abu Dhabi – Episode 5 on Sunday, October 23, 2022.
Balajin's recent form coming into this matchup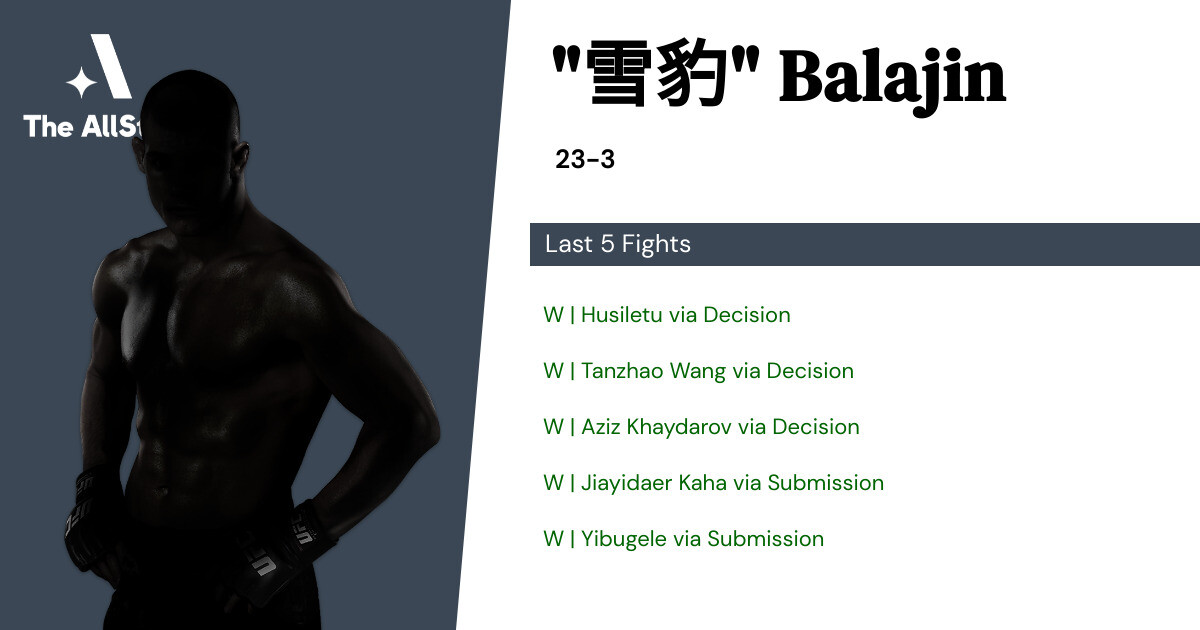 Balajin has gone 5-0 in the last 5 professional MMA fights.
Win vs Husiletu • Decision R3 5:00 • 2021-08-07
Win vs Tanzhao Wang • Decision R3 5:00 • 2021-06-26
Win vs Aziz Khaydarov • Decision R3 5:00 • 2020-12-12
Win vs Jiayidaer Kaha • Submission R1 2:03 • 2020-11-21
Win vs Yibugele • Submission R2 3:30 • 2020-10-31
Balajin's next opponent: Keisuke "SASUKE" Sasu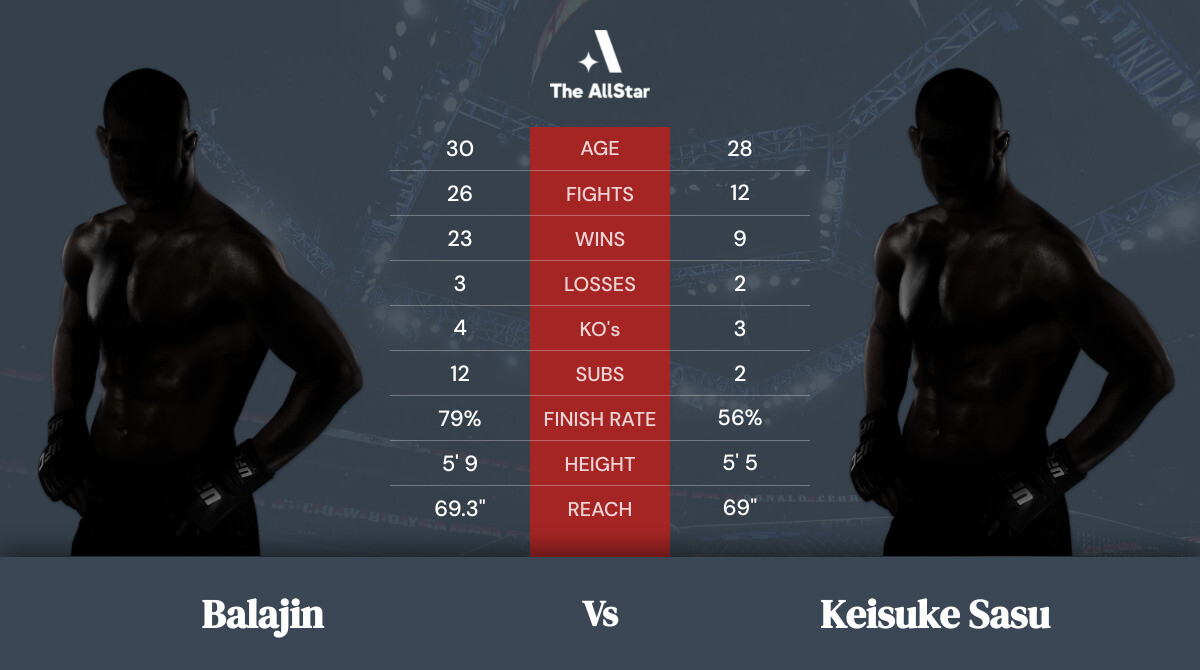 Keisuke "SASUKE" Sasu's recent form coming into this matchup
Keisuke "SASUKE" Sasu is a 28-year-old male fighter from Japan with 9 pro wins and 2 losses. Sasu is scheduled to fight Balajin at Road to UFC: Abu Dhabi – Episode 5 on Sunday, October 23, 2022.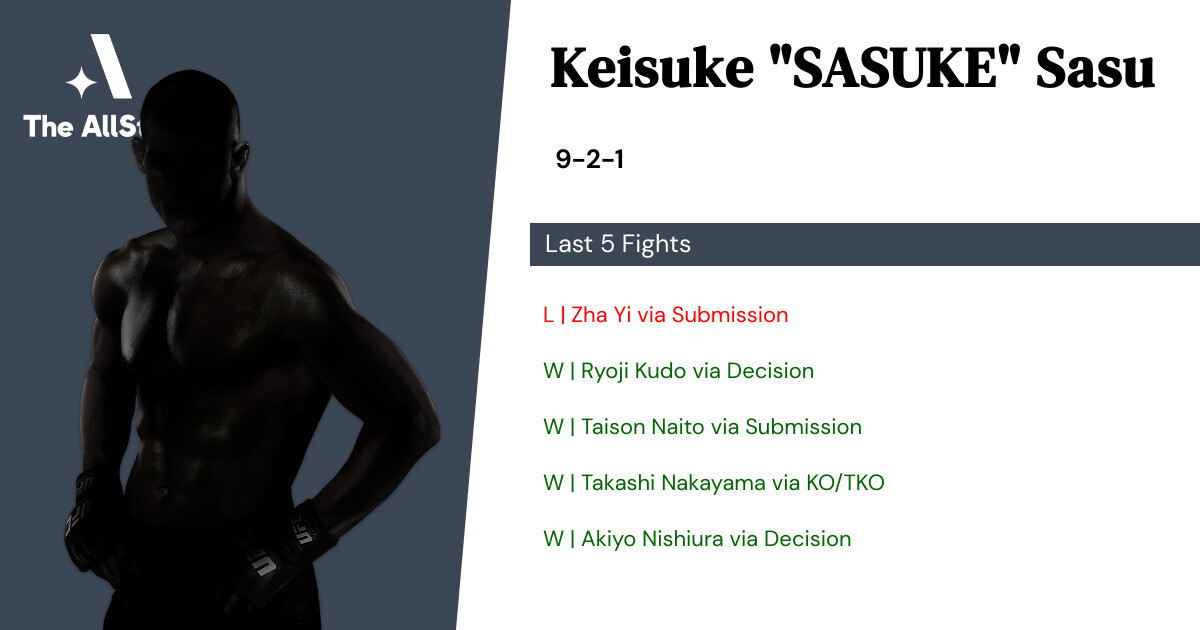 Keisuke Sasu has gone 4-1 in the last 5 professional MMA fights.
Loss vs Zha Yi • Submission R1 2:14 • 2022-06-09
Win vs Ryoji Kudo • Decision R5 5:00 • 2021-07-25
Win vs Taison Naito • Submission R2 2:34 • 2021-01-30
Win vs Takashi Nakayama • KO/TKO R2 2:05 • 2020-09-19
Win vs Akiyo Nishiura • Decision R3 5:00 • 2020-05-31
How to watch and bet on Balajin vs Keisuke Sasu