Ben Parrish carries a chip on his shoulder heading into his next fight for Bellator against Sullivan Cauley.
Coming off a massive upset victory over Christian Edwards in his promotional debut a few months back at Bellator 266 via first-round knockout, Parrish expected a big jump up in competition and more security with the organization.
He got neither but it is not a shock.
"It was just disappointing," Parrish told The AllStar. "I wanted to be a true kinda thing but I'm not surprised. Nothing surprises me anymore. I'm happy they're bringing me back. It hurt my feeling they didn't give me an exclusive contract right off the bat. I'm having to pull 40 hours and stuff still. This kid's probably spending all day training. He's got a leg up on me so I see why they put me as the underdog again. Imagine if Bellator takes me out of work and I'm able just to focus on training. I know that I could really do something special man because this is all I've done since I was 15.
"I'm on the must-win feeling. Everybody's like, 'we don't need to think about that and the pressure.' Nah, it does matter. I didn't spend my whole life giving everything to this to let some other young new kid who was given his first and second fight straight into the promotion. He got to go straight there. Cut the line. Where[as] I had to spend blood, sweat, tears, money, everything else in between to get here. And it took me this long and I have people try to keep me from doing it, talk me out of it, and hate on me. Just try to discourage me.
"I come on and win and then here I am not on an exclusive deal and I'm fighting a guy more dangerous than half the people on the lower top ten. I feel like he's more dangerous than [Alex] Polizzi and Grant Neal, for sure. They're considered more dangerous I guess since they got more fights. What's the deal with that? It was the most boring fight on the card the last show. I can see this guy has got the total package. He's got a good look. Good standup, good wrestling. But I gotta win this. Even if he was to try and eek one out on me, I'm gonna bring it to him in such a manner that nobodies gonna be able to deny me again."
Big Tuna
Just like his debut, the 29-year-old Parrish is pitted as the underdog. His opponent, Cauley, touts an undefeated record at the ripe age of 25 and trains alongside the current heavyweight champion Ryan Bader.
This is a sink or swim moment for the young prospect Cauley.
"I think we're gonna engage in the kick-off of a fight of the year," Parrish revealed. "I just got a bad feeling about it. I'm ready to go, I'm ready to take'em there. Everybody wants to see if he can go and we're going to hold hands and go together.
"Take him that place. And where I'm from, where Big Tuna's from, when you go out in that deep water, the last thing you put on is a pair of concrete shoes."
---
Fighter profile
Ben "Big Tuna" Parrish is a 29 year old male fighter from United States with 5 pro wins and 1 losses. Parrish is scheduled to fight Sullivan Cauley at Bellator 273: Bader vs. Moldavsky on Saturday January 29, 2022.
Parrish's recent form coming into this matchup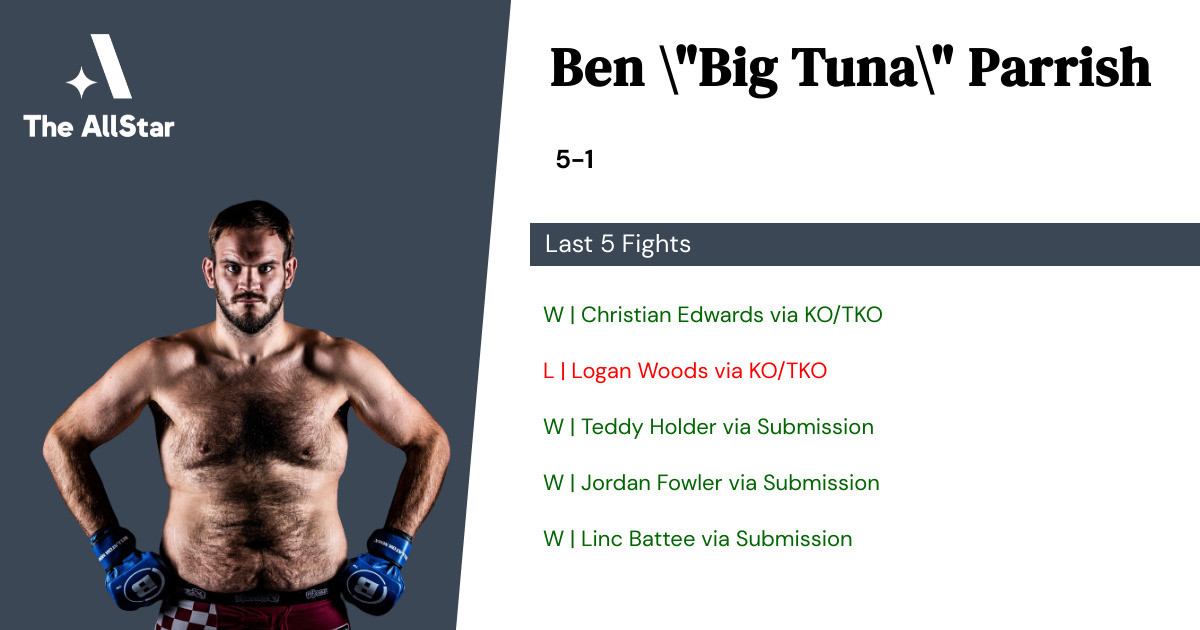 Parrish has gone 4-1 in the last 5 professional MMA fights.
Win vs Christian Edwards • KO/TKO R1 0:38 • 2021-09-18
Loss vs Logan Woods • KO/TKO R1 • 2019-11-02
Win vs Teddy Holder • Submission R1 1:46 • 2019-08-03
Win vs Jordan Fowler • Submission R1 • 2019-03-09
Win vs Linc Battee • Submission R2 4:16 • 2017-03-04
Ben Parrish's next opponent: Sullivan Cauley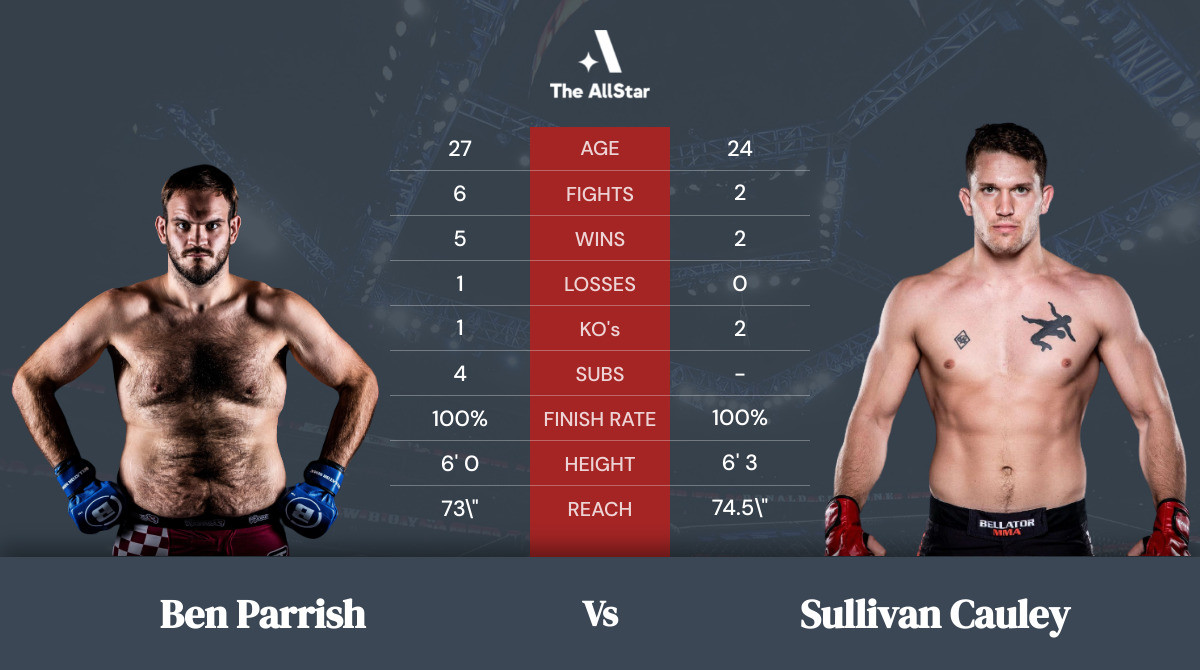 Sullivan Cauley's recent form coming into this matchup
Sullivan "Sully" Cauley is a 25 year old male fighter from United States with 2 pro wins and 0 losses. Cauley is scheduled to fight Ben Parrish at Bellator 273: Bader vs. Moldavsky on Saturday January 29, 2022.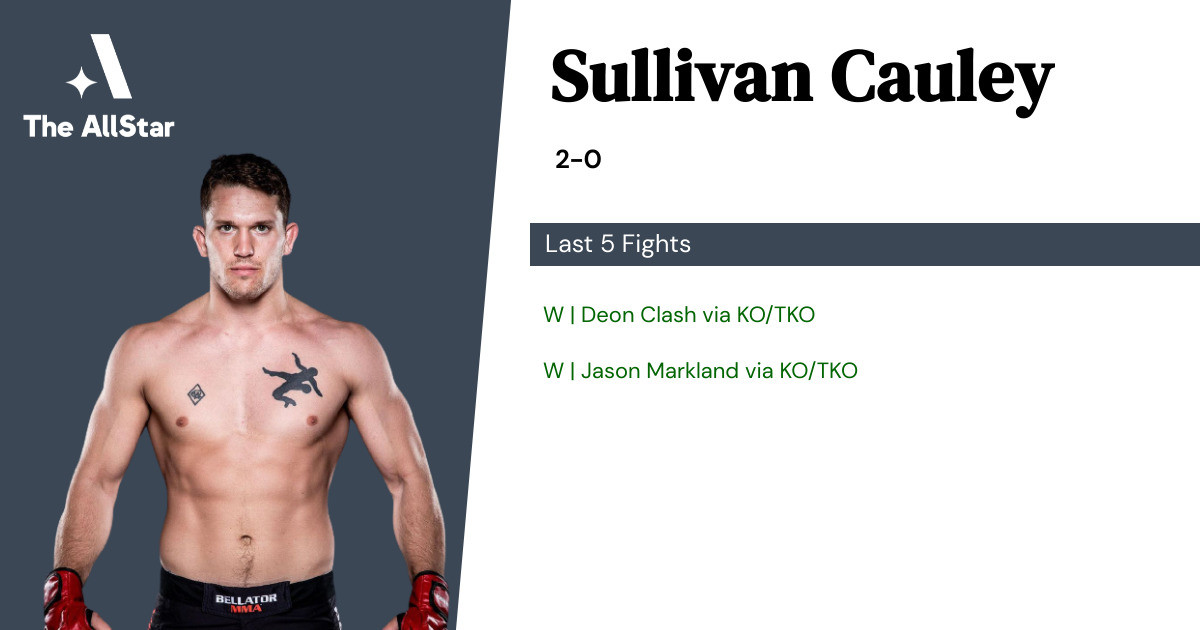 Cauley has gone 2-0 in the last 5 professional MMA fights.
Win vs Deon Clash • KO/TKO R1 4:59 • 2021-10-16
Win vs Jason Markland • KO/TKO R1 0:28 • 2020-11-19
How to watch and bet on Ben Parrish vs Sullivan Cauley