What's it like to fight professional mixed martial arts with just one functioning knee? Ask Brandon Davis.
Davis is on the card for UFC Vegas 62 this month after a three-year odyssey: An odyssey during which he tore his right ACL, learned how to fight with his one good knee because he couldn't afford surgery, and scrapped his way back into the UFC.
Four successful fights on the regional circuit – 35 minutes of cage time – and untold hours retooling his skillset to fight around his damaged knee. All while Davis' shin bone was essentially detached from his femur. It's an unimaginable task for some, but Davis did it, and won himself a ticket back to the Big Dance in 2021.
It wasn't a fairy tale return, unfortunately: A first-round loss to the heavy hands of Batgerel Danaa – with a silver lining. He could now afford surgery and time to recover. A year later, the Mississippi bantamweight is preparing to face Mana Martinez at UFC Vegas 62. And it will be his first time in the Octagon with both knees intact in over two years.
"It actually made me a better fighter," the 32-year-old said of the injury in an interview with The AllStar. "I knew I was good enough to make it back to the UFC, so I was gonna bide my time and [get] that good paperwork."
Initially entering the UFC via The Contender series in 2017, Davis had a spotted, though exciting early run. Following a string of split decision losses opposite elite talent such as Zabit Magomedsharipov and Giga Chikadze, he was released in 2019 with a record of two wins and five losses in the promotion. He wasn't deterred though.
Davis was certain he'd claw his way back to the big leagues – but what wasn't apparent at the time was the fact that he'd be doing so at a handicap. It was during his first fight camp outside of the promotion when he tore his right ACL. Without the income and perks that come with being a UFC fighter, surgery was out of the question.
No left kicks
But he needed to win fights to secure a new contract; no easy feat with one good knee. Davis' only options were to adapt and evolve, so he got to work retooling every weapon in his arsenal to accommodate his bad knee.
"I had to make sure I didn't throw any left kicks – I could throw the right leg because you can kick with it, but if you try to balance or stabilize on it that's when it gives. So no left kicks, and then I had to not pivot too hard so it took away some of my power off my right hand and I started going a little more southpaw. I started training a lot of southpaw then so that I could pivot and throw hard straight left and left hooks."
"It made me get better at a lot of stuff because I had to practice just on that stuff for that time period."
After a successful first fight back with Gulf Coast MMA, Davis bet the house, and his health, on himself. It took a further three wins with the same promotion all within the space of a year to earn him a recall to the UFC in 2021, against Danaa.
Following the loss to the Mongolian and his subsequent surgery, Davis has spent the last year focusing on recovery and honing his weapons, new and old. He's eager to showcase the progression he's made come October 15.
And his goal is clear:
"I'm going in there and I'm trying to finish this fight, I don't care about having fun. What's fun is staying in the UFC [so I can] keep getting paid."
---
Fighter profile
Brandon "Killer B" Davis is a 32-year-old male fighter from the United States with 14 pro wins and 9 losses. Davis is scheduled to fight Mana Martinez at UFC Fight Night on Saturday, October 15, 2022.
Brandon Davis's recent form coming into this matchup
Brandon Davis has gone 4-1 in the last 5 professional MMA fights.
Loss vs Batgerel Danaa • KO/TKO R1 2:01 • 2021-10-16
Win vs Josh Huber • KO/TKO R1 1:31 • 2021-08-14
Win vs Rey Trujillo • Decision R3 5:00 • 2021-03-20
Win vs Jonathan Eiland • Submission R2 4:00 • 2020-11-21
Win vs Brad Kelly • Decision R3 3:00 • 2020-09-26
Brandon Davis's next opponent: Mana "Manaboi" Martinez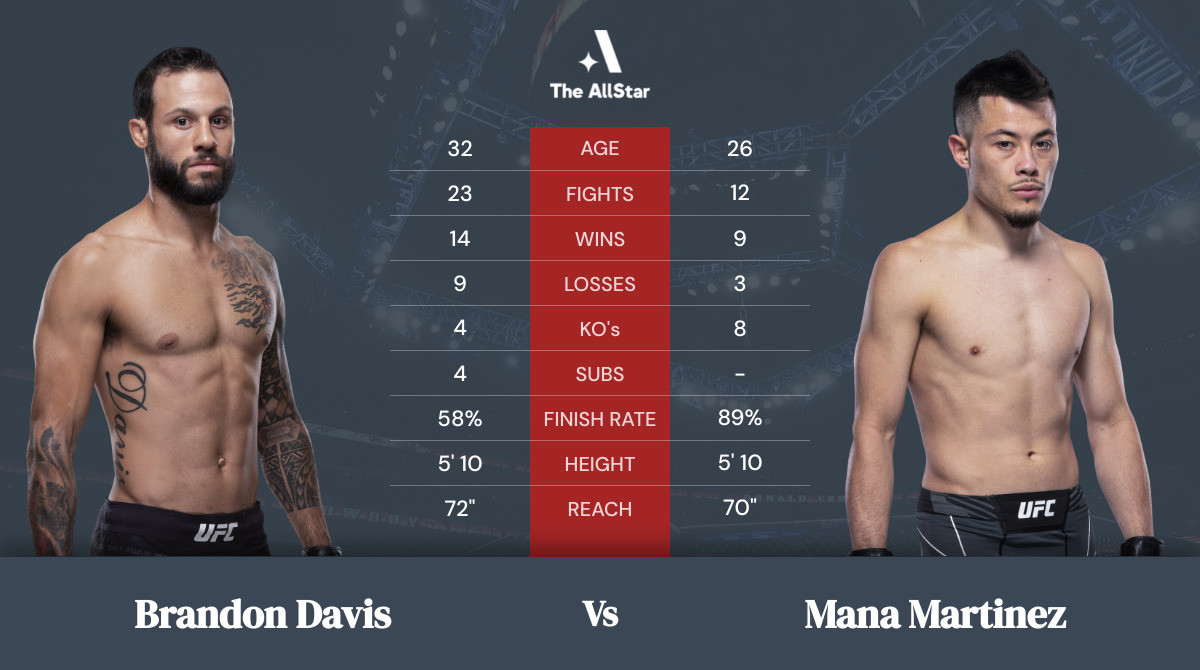 Mana "Manaboi" Martinez's recent form coming into this matchup
Mana "Manaboi" Martinez is a 26 year old male fighter from United States with 9 pro wins and 3 losses. Martinez is scheduled to fight Brandon Davis at UFC Fight Night on Saturday October 15, 2022.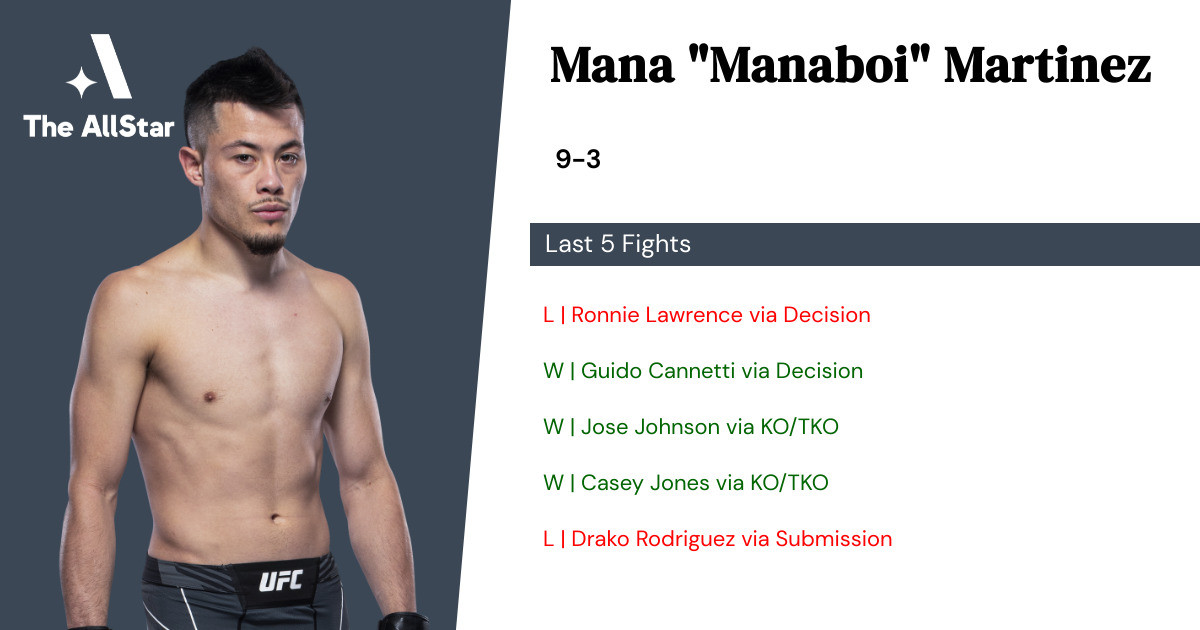 Mana Martinez has gone 3-2 in the last 5 professional MMA fights.
Loss vs Ronnie Lawrence • Decision R3 5:00 • 2022-02-12
Win vs Guido Cannetti • Decision R3 5:00 • 2021-08-28
Win vs Jose Johnson • KO/TKO R1 0:32 • 2021-05-16
Win vs Casey Jones • KO/TKO R1 1:00 • 2021-03-06
Loss vs Drako Rodriguez • Submission R1 2:22 • 2020-09-08
How to watch and bet on Brandon Davis vs Mana Martinez
Keep track of all the latest odds and line-movements at our bout page for this matchup.