The momentum in a fight can change instantly. Brandon Royval learned that lesson in a painful loss to Alexandre Pantoja at UFC Vegas 34 last summer.
Betting Odds
Does Royval get the job done?
Feeling confident going into the second round, the No. 5-ranked UFC flyweight saw an opportunity to end the bout early and preserve his reputation as a finisher. He missed it and ended up getting choked out. It was the Factory X staple's second straight loss inside the Octagon.
"I rushed things," Royval told The AllStar. "I walked into a mistake. I had a Pantoja that I could easily beat at that moment.
"We were two different levels of energy and cardio at that moment. I felt like I was ready to capitalize on it. And then I just saw the finish and I went for it. And I just over-went for it. I made a mistake and just let myself spin out of control and lose that fight."
Months later, the loss still rankles. Since joining the UFC in May 2020, Royval has put on action-packed performances with no scorecards being read, win or lose. It's time to rethink his fight strategy, he says.
"I don't need to go out there and finish a fight," Royval said. " I don't need to go out there and get 50G's every time I fight. I want to be the most exciting fighter in the flyweight division. But I also want to be the best fighter in the flyweight division. Being the best fighter sometimes isn't being a fighter all the time.
"Sometimes it's just being sophisticated, being a little knowledgeable. Knowing when to chill. I don't need to go out there and fucking go one hundred miles an hour the whole entire time because I'm capable of doing something like that.
"For me, it's just a lot about slowing things down. I realized that's been a cardinal mistake of mine since I was a little kid. I would write something out real quick and then spell it wrong or mess up. It has always been a constant lesson in life. If I don't master it now as an adult, I'm never gonna master it and I will never master this life ever. If I don't get this figured out or if I'm not learning my lesson here, then there's no other time I'm gonna learn it."
With this revamped mindset, the 29-year-old Colorado native enters a pivotal fight with No.7-ranked flyweight Rogerio Bontorio on January 15 at UFC Vegas 46. It is a matchup that Royval sees many scenarios where he can capitalize on.
"He's a fun one to think about because he's a little bit wild but he's very counter," Royval revealed about Bontorin. "I see a fight that I can win, I can win a lot of different ways.
"I think I can out-cardio him, I think I can outpace him but that's not necessarily how I want to win this fight. I want to outsmart him, I want to outthink him, I want to out-position him, and I want to beat him in a chess match. I want to start beating all these guys in chess matches in comparison to a game of who's more manly, who's bringing the bigger set of nuts to the table. I want to quit doing that."
"I see myself just being calculated. I want to pick him apart and I want to make him make dumb choices. If he wants to grapple, I want him to exhaust him there. I also just found out [when] my 23andMe came back I'm 2% Russian. I'm probably gonna fucking stuff that takedown and shoot on him."
Watch this interview more on The AllStar's Youtube channel.
---
Fighter profile
Brandon "Raw Dawg" Royval is a 29 year old male fighter from the United States with 12 pro wins and 6 losses. Royval is scheduled to fight Rogério Bontorin at UFC Fight Night: Kattar vs. Chikadze on Saturday January 15, 2022.
Royval's recent form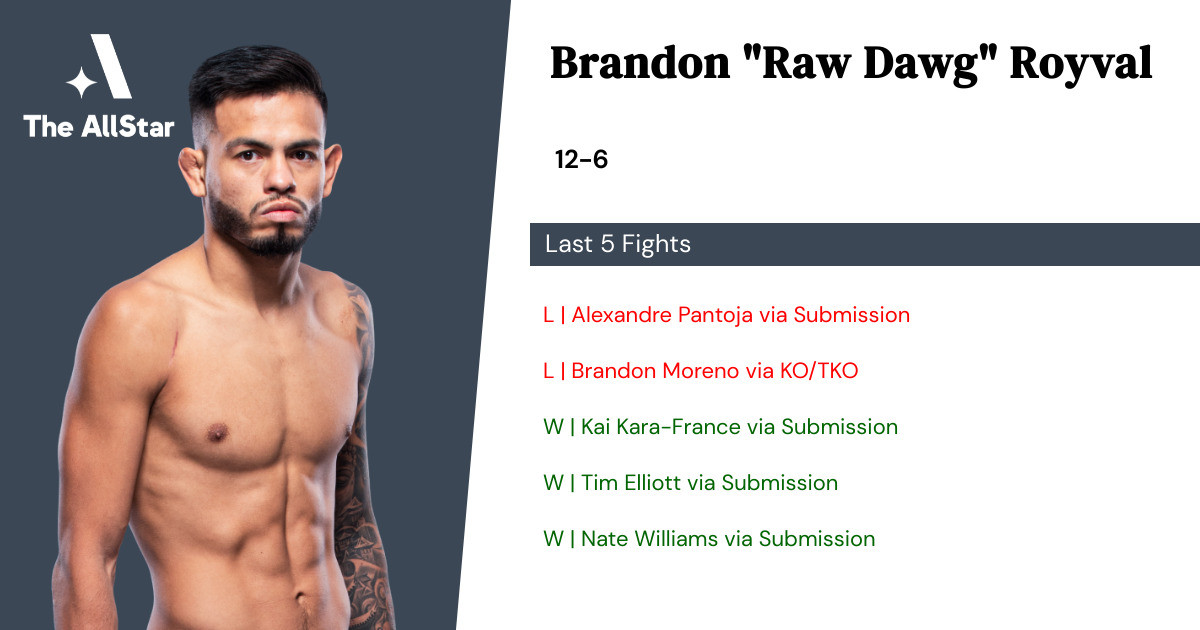 Royval has gone 3-2 in the last 5 professional MMA fights.
Loss vs Alexandre Pantoja • Submission R2 1:46 • 2021-08-21
Loss vs Brandon Moreno • KO/TKO R1 4:59 • 2020-11-21
Win vs Kai Kara-France • Submission R2 0:48 • 2020-09-26
Win vs Tim Elliott • Submission R2 3:18 • 2020-05-30
Win vs Nate Williams • Submission R1 0:23 • 2019-11-22
Next opponent: Rogério Bontorin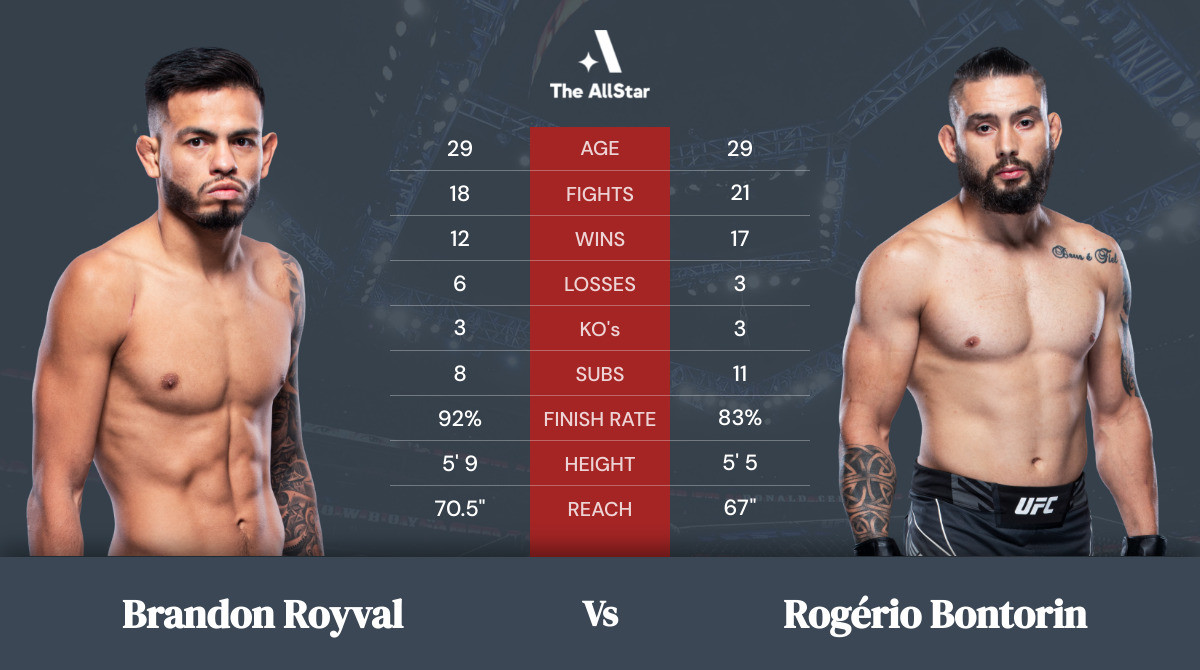 Bontorin's recent form
Bontorin is a 29 year old male fighter from Brazil with 17 pro wins and 3 losses.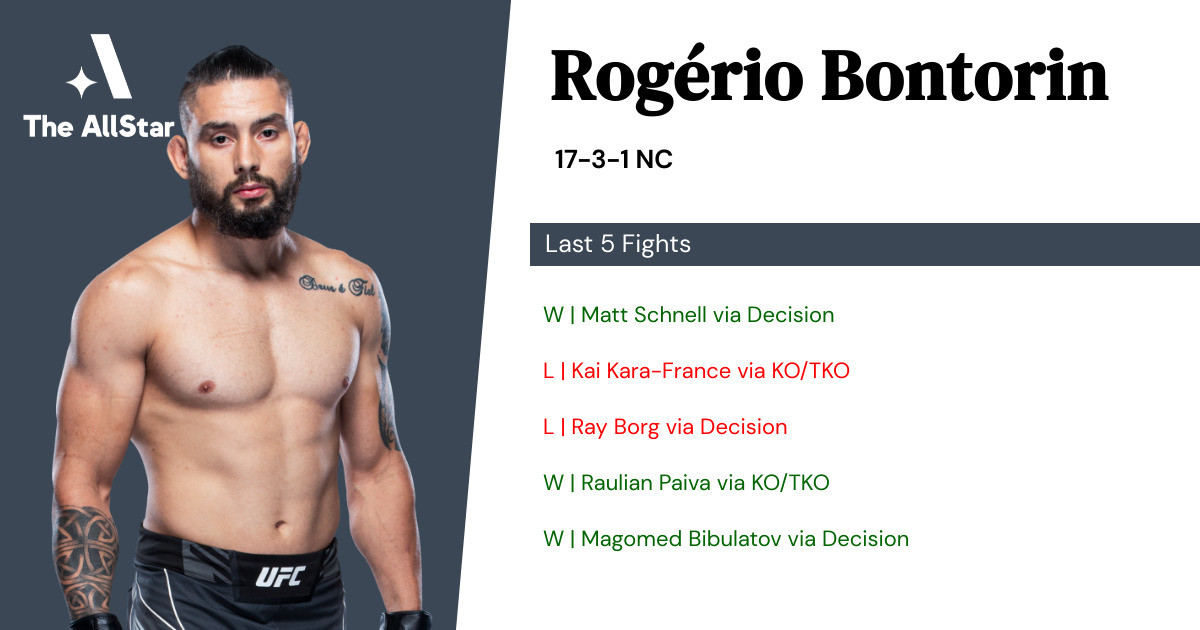 Bontorin has gone 3-2 in the last 5 professional MMA fights.
Win vs Matt Schnell • Decision R3 5:00 • 2021-05-15
Loss vs Kai Kara-France • KO/TKO R1 4:55 • 2021-03-06
Loss vs Ray Borg • Decision R3 5:00 • 2020-02-15
Win vs Raulian Paiva • KO/TKO R1 2:56 • 2019-08-10
Win vs Magomed Bibulatov • Decision R3 5:00 • 2019-02-02
How to watch and bet on Brandon Royval vs Rogério Bontorin