Since winning Season 29 of The Ultimate Fighter earlier this year, Bryan Battle has seen his life completely change.
From fighting in relative obscurity to now being able to completely reorder his life to unlock the best athlete that he can be, he's still proud of all the changes that he's been able to undergo this year. He will be taking on the biggest test to date in Takashi Sato at UFC Vegas 59 this weekend in a totally different weight class.
Following in the footsteps of other TUF winners like Julianna Pena, TJ Dillashaw, and Kamaru Usman, Battle sees the trophy as a gateway to a larger calling in MMA. Of that opportunity, Battle told The AllStar, "I think those other guys that went on to become champions realized that winning was this golden opportunity, you gotta make the most of it. And that's definitely what I'm trying to do, I'm trying to make the most of this opportunity and all the opportunities that have opened up to me since this show and eventually work my way to a title."
One immediate reward of being a TUF champion is the freedom to invest in himself and upgrade his performance. He's dropping down to welterweight for his fight this Saturday as the pounds kept coming off with his improved nutrition and training.
Battle's weight isn't the only part of his life to radically change in the last year. His family has grown quickly, bestowing a greater seriousness to his work: "What coincided with the show was me and my wife, we got guardianship over my thirteen-year-old nephew, he's fourteen now. So he moved in with us, our baby was born in October. So my life just really flipped upside down really quick. I won TUF, my nephew came to live with us, we had a baby, so…you can't live life like you did when you were single.
"You have to, you know, kinda look in the mirror sometimes you know cuz you get frustrated. There's definitely times when you have to change, and you don't want to change. You look at yourself and think about what you're doing and why you're doing it…Overall it's made me a better person, it's made me more focused. I've always known I was a hard worker, but it's ratcheting up to a new level, I feel like a real man."
Facing Sato this weekend, Battle is looking forward to testing himself against an international talent for the first time to see if he belongs in the next tier of UFC fighters. While he has an attack plan for the Japanese welterweight, he also plans on staying flexible to feel out his opponent's speed and strength.
Commenting on how he plans to use his strength from his days at middleweight, Battle said, "If I have an advantage over him, I'm gonna use it, you know what I'm saying. That's the name of the game, we're all looking for an edge that's not illegal…If I go in there and feel like I'm way stronger than him, then you know, the whole gameplan may just go out the window and I may just straight up try to manhandle him."
As far as a prediction for the fight, Battle wouldn't reveal how he sees himself taking out Sato, but he did have this to say: "I see a lot of opportunities for myself on the outside, in clinch range and grappling…I do think that I'll be able to get him out there in two rounds."
---
Fighter profile
Bryan "Pooh Bear" Battle is a 27-year-old male fighter from the United States with 7 pro wins and 1 loss. Battle is scheduled to fight Takashi Sato at UFC Fight Night: Santos vs. Hill on Saturday, August 6, 2022.
Bryan Battle's recent form coming into this matchup
Bryan Battle has gone 5-0 in the last 5 professional MMA fights.
Win vs Tresean Gore • Decision R3 5:00 • 2022-02-05
Win vs Gilbert Urbina • Submission R2 2:15 • 2021-08-28
Win vs Andre Petroski • Submission R2 2:05 • 2021-05-20
Win vs Kemran Lachinov • Decision R3 5:00 • 2021-05-06
Win vs Ben Fowler • Submission R2 1:02 • 2021-02-06
Bryan Battle's next opponent: Takashi "Ten" Sato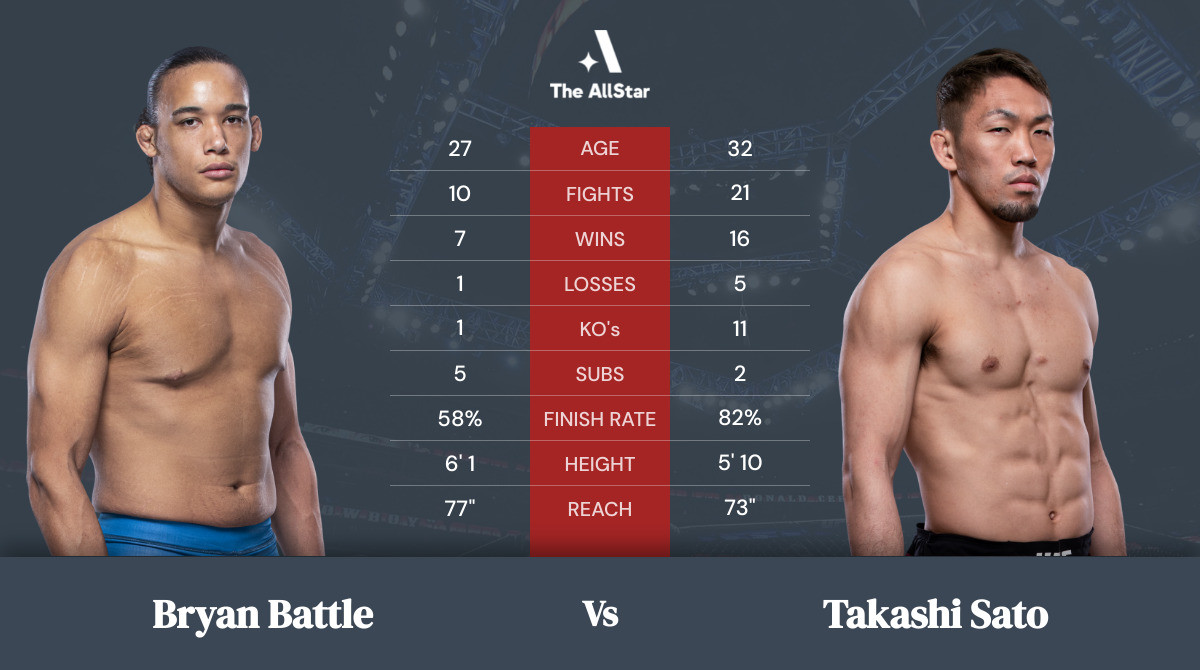 Takashi "Ten" Sato's recent form coming into this matchup
Takashi "Ten" Sato is a 32-year-old male fighter from Japan with 16 pro wins and 5 losses. Sato is scheduled to fight Bryan Battle at UFC Fight Night: Santos vs. Hill on Saturday, August 6, 2022.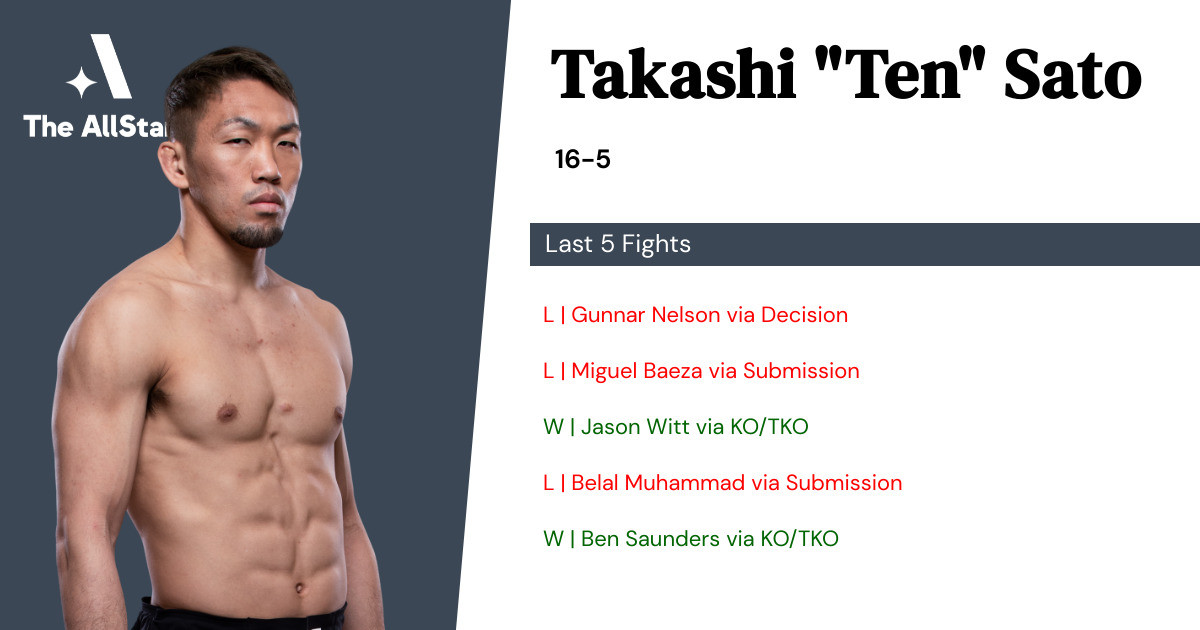 Takashi Sato has gone 2-3 in the last 5 professional MMA fights.
Loss vs Gunnar Nelson • Decision R3 5:00 • 2022-03-19
Loss vs Miguel Baeza • Submission R2 4:28 • 2020-11-28
Win vs Jason Witt • KO/TKO R1 0:48 • 2020-06-27
Loss vs Belal Muhammad • Submission R3 1:55 • 2019-09-07
Win vs Ben Saunders • KO/TKO R2 1:18 • 2019-04-27
How to watch and bet on Bryan Battle vs Takashi Sato
Keep track of all the latest odds and line-movements at our bout page for this matchup.