When Carlos Candelario learned that despite his loss on Dana White's Contender Series, that the UFC had broken the precedent to offer him a contract, he felt plenty of chaotic emotions.
Candelario explained the complicated experience of simultaneously dealing with a loss and a UFC contract at the same time.
"It was the weirdest thing, Candelario told The AllStar. "I felt like I was mad and I was in shock, you know what I mean, I'm kind of celebrating a loss in a way, because I still lost, you know what I mean…it's a big mix in a way, I don't know how to explain it."
White awarded him a UFC contract due to the razor-close outcome of his split decision loss to Victor Altamirano, as well as the entertaining, gutsy show that he performed on short notice. Candelario was undefeated in his pro career prior to the loss.
Fortunately, Candelario said the public reception towards the UFC's decision to give him a contract was mostly positive as many fans and media scored the fight for him. Although he was proud to give fans a show, he doesn't see himself chasing finishes as desperately as he did that night going forward.
Now preparing for his UFC debut on April 30th at UFC Vegas 53, he's excited to finally show what he can do when he fights consistently and off a full training camp.
"I didn't really fight for four years, and this is my first year being really, really active….People didn't see me fight for four years, and now they're gonna see me fight in like four times [in a year], because I'm pretty sure I'm gonna have another one after this," Candelario said.
Candelario's opponent is another debuting prospect, Tatsuro Taira of Japan. The 30-year-old is eight years older and sees the difference in experience as the X-factor in their upcoming fight.
"If anything…He will be fearless to try anything on the ground, you know, because he's young," Candelario said. "I remember being that age and having no type of fear that I could get caught with anything at the time."
"The Cannon" believes that in Taira's efforts to finish the fight that he'll be able to exploit his relative inexperience.
"I definitely see myself catching with something if he gets a little bit desperate, if it's either a choke or a strike. I can desperately see myself flustering him a little bit," Candelario said.
---
Fighter profile
Carlos "The Cannon" Candelario is a 30 year old male fighter from United States with 8 pro wins and 1 losses. Candelario is scheduled to fight Tatsuro Taira at UFC Fight Night: Font vs. Vera on Saturday April 30, 2022.
Carlos Candelario's recent form coming into this matchup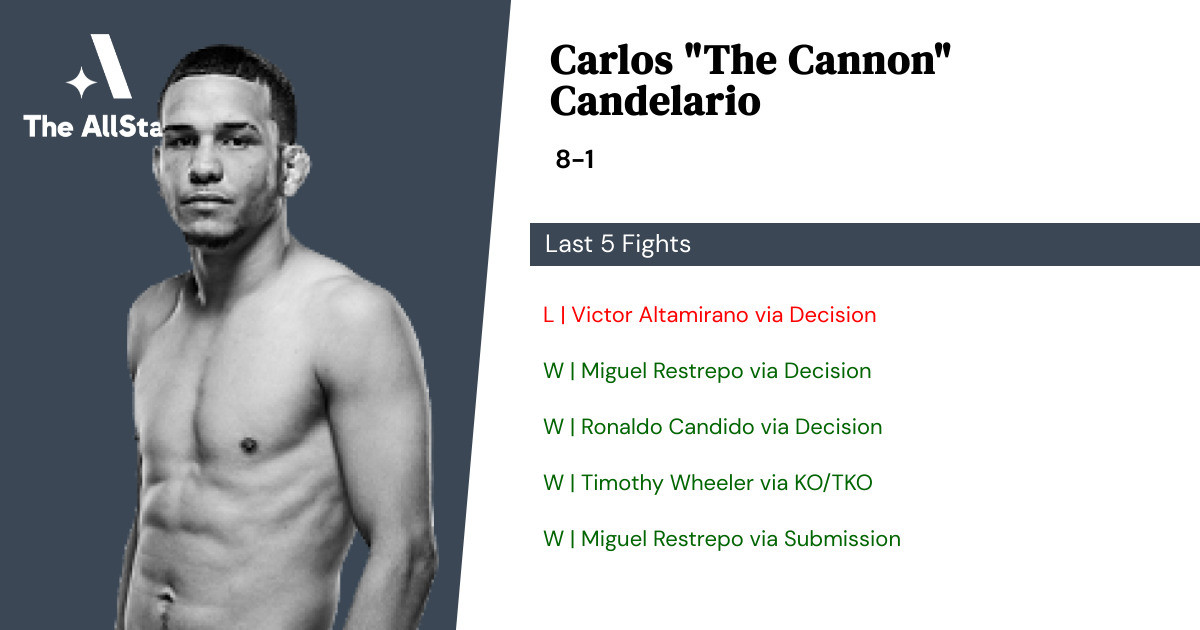 Carlos Candelario has gone 4-1 in the last 5 professional MMA fights.
Loss vs Victor Altamirano • Decision R3 5:00 • 2021-08-31
Win vs Miguel Restrepo • Decision R3 5:00 • 2021-08-06
Win vs Ronaldo Candido • Decision R3 5:00 • 2017-08-01
Win vs Timothy Wheeler • KO/TKO R1 1:12 • 2017-05-12
Win vs Miguel Restrepo • Submission R2 2:11 • 2017-01-27