Chase Hooper undoubtedly noticed the headlines recently about the UFC making Raul Rosas Jr its youngest-ever signing.
That's because Hooper used to be Raul Rosas Jr. At 18, Hooper won his bout on Dana White's Contender Series, just as Rosas did last month. Unlike Rosas, Hooper didn't earn a contract straight away. It took another year and an unbeaten three-fight streak in the pros to get UFC brass to reconsider.
Chase 'The Dream' Hooper was finally offered a ticket to the Big Dance, at 19 years of age. That was three years ago. Now 23, with five UFC featherweight bouts (3-2) under his belt, the still fresh-faced Hooper is no longer the baby of the promotion.
Hooper's last outing against Felipe Colares was his most dominant, and in his opinion, best UFC win to date. It was a turning point, the Washington-born fighter shared with The AllStar's John Hyon Ko recently.
"I've had a lot of fights where I felt like you're being walked to your execution," Hooper said. "That type of thing, you don't feel any confidence at all. But honestly, this last one, that was really the first time I was super confident and ready to go out there and just get it done and really trust in my abilities, rather than just be like 'Alright, well we'll see what's gonna happen".
While young signees in the world's biggest combat organization can be hit or miss, Hooper is most certainly the latter. What was apparent at his debut outing at UFC 245 was that he wasn't your average teenager: He captured Daniel Teymur in a triangle while in full mount, raining down punches and elbows on the helpless Swede until the inevitable stoppage.
Confidence
Now in his 20s, Hooper is still learning and growing at a rapid pace. Only it is now with a more established roster spot and an improved stand-up game – and lots of confidence to boot. Hooper believes that the person who controls the mental aspect of the battle sets himself up for success in the other domains of the fight game.
"If you are the one who is more confident, more willing to put it on the line there, and to take some risks, then a lot of the time that ends up getting you the win."
Hooper today is currently sleeping in an altitude tent. This is in order to help build red blood cells and better cardio than most of us sea-level folks. It is a trick that has been used since the days of Tito Ortiz, who was famous for training at altitude in Big Bear, California.
Hooper uses it on the advice of Stephen "Wonderboy" Thompson, who seems like the fighter most likely to give good advice to a young up-and-comer, such is his nature.
While primarily still located at Combat Sport and Fitness, Hooper has trained occasionally with Thompson and his father Ray at Upstate Karate. It is a relationship that Hooper is keen to continue fostering, due to the marked improvements in his stand-up.
Wonderboy
"I went once so far this camp and I'm actually heading back out there next week. I feel like twice in eight weeks is always good. Getting higher level striking, like just in the sparring partners, plus they have really good wrestling out there too."
He adds that it's good to mix things up, not only for himself, but the diverse skillset he brings himself to challenge the gym regulars. When asked about Wonderboy's coaching, it was made well and truly clear that the elder Thompson is still in charge.
"His Dad still runs the show, and he is super underrated for sure. He is an old-school karate guy, a real drill instructor-type personality to him. I've always gravitated to that type of guy, whose only goal is to just make the team stronger."
Hooper has never sounded more confident as he heads into his next bout, with Steve Garcia at UFC Fight Night on October 29. Bearing in mind his record-setting age when entering the UFC, and the progress he's made so far, his prime could still be another seven or so years away. That's a frightening prospect for both the featherweight and lightweight divisions of tomorrow.
---
Fighter profile
Chase "The Dream" Hooper is a 23 year old male fighter from United States with 11 pro wins and 2 losses. Hooper is scheduled to fight Steve Garcia at UFC Fight Night: Kattar vs. Allen on Saturday October 29, 2022.
Chase Hooper's recent form coming into this matchup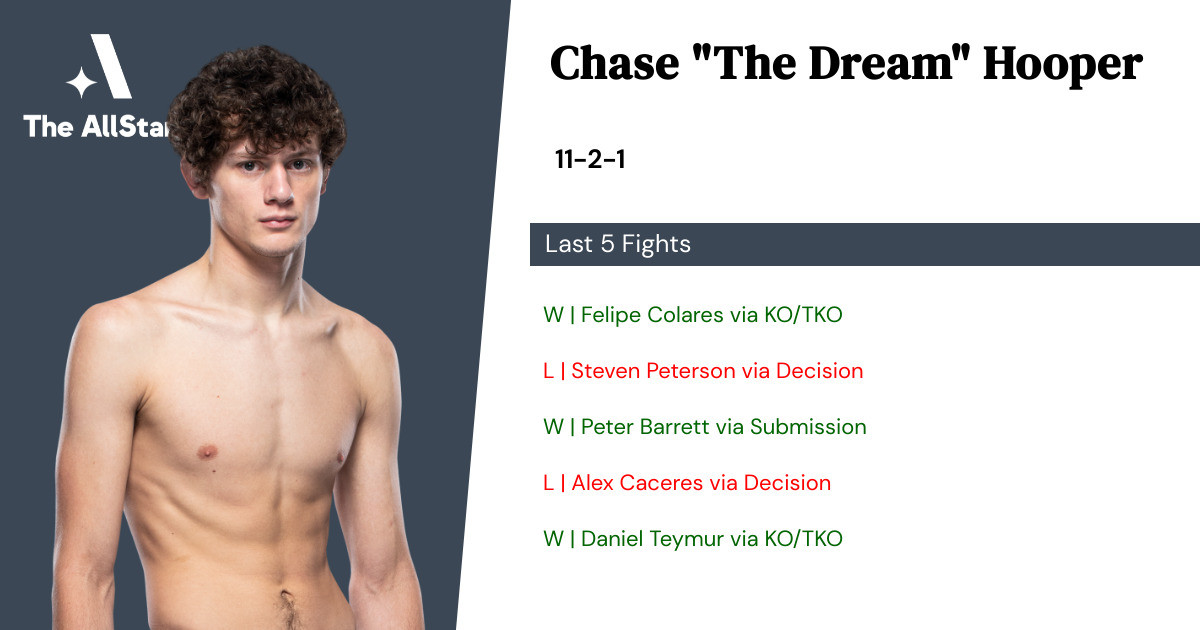 Chase Hooper has gone 3-2 in the last 5 professional MMA fights.
Win vs Felipe Colares • KO/TKO R3 3:00 • 2022-05-21
Loss vs Steven Peterson • Decision R3 5:00 • 2021-06-12
Win vs Peter Barrett • Submission R3 3:02 • 2020-12-12
Loss vs Alex Caceres • Decision R3 5:00 • 2020-06-06
Win vs Daniel Teymur • KO/TKO R1 4:34 • 2019-12-14
Chase Hooper's next opponent: Steve "Mean Machine" Garcia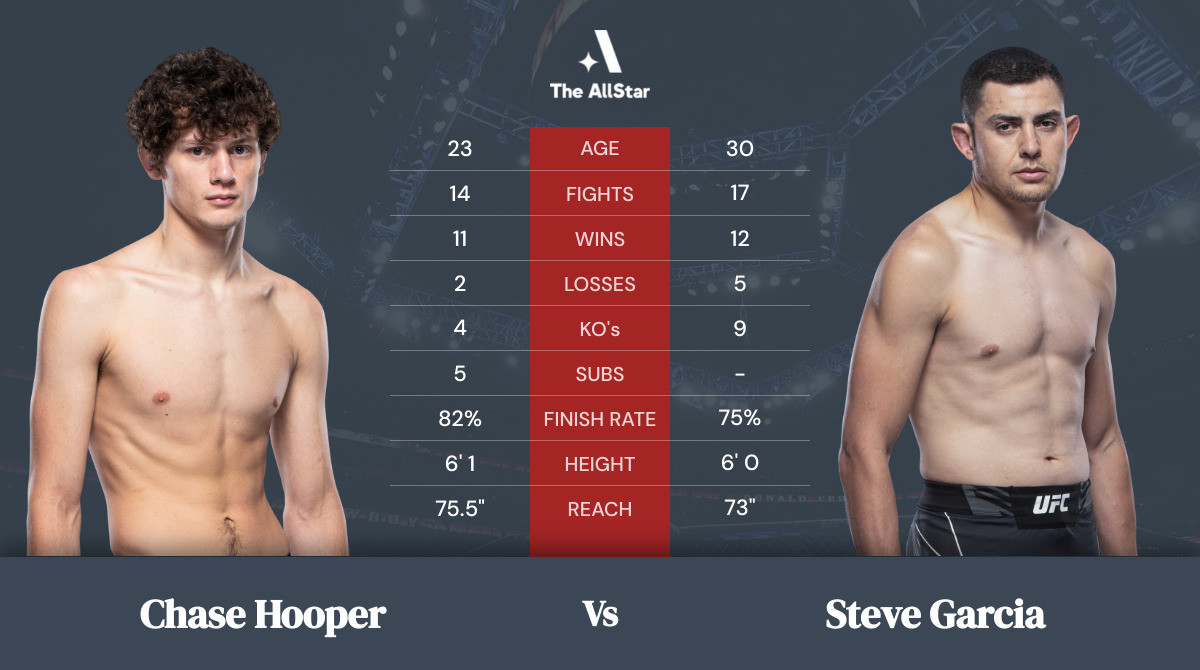 Steve "Mean Machine" Garcia's recent form coming into this matchup
Steve "Mean Machine" Garcia is a 30 year old male fighter from United States with 12 pro wins and 5 losses. Garcia is scheduled to fight Chase Hooper at UFC Fight Night: Kattar vs. Allen on Saturday October 29, 2022.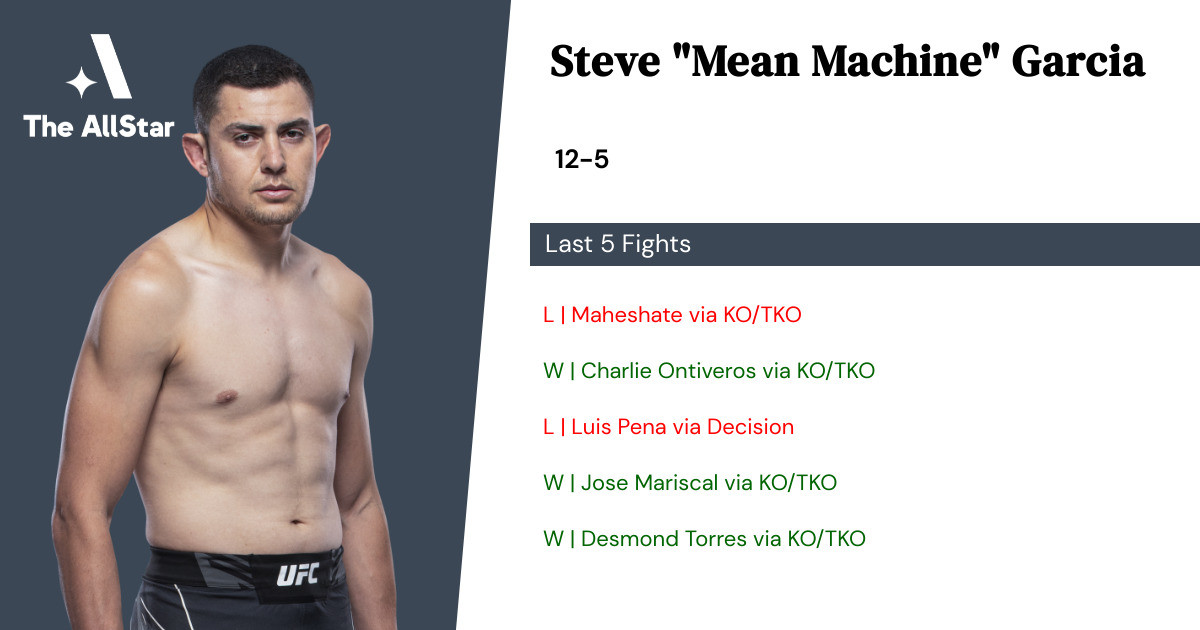 Steve Garcia has gone 3-2 in the last 5 professional MMA fights.
Loss vs Maheshate • KO/TKO R1 1:14 • 2022-06-11
Win vs Charlie Ontiveros • KO/TKO R2 1:51 • 2021-10-09
Loss vs Luis Pena • Decision R3 5:00 • 2020-02-29
Win vs Jose Mariscal • KO/TKO R2 2:27 • 2020-01-17
Win vs Desmond Torres • KO/TKO R1 4:35 • 2019-08-20
How to watch and bet on Chase Hooper vs Steve Garcia