Chase Sherman's win over Jared Vanderaa in July was a significant milestone for the heavyweight banger.
It ended a four-loss streak spread out over a year clouded by heavy mental struggles, a year where the 32-year-old knockout artist was plagued by self doubt as his head edged closer to the chopping block.
It was the darkest period of his life, Sherman told The AllStar in a recent interview. He had got to the point where he was consumed entirely by whether he won or lost fights. With each loss, stress would pile up. There was no more joy to be found in MMA, and he desperately needed to make a change.
"I'm a seasoned veteran, I'm an athlete," Sherman said. "So what is the fucking problem here? Why am I not getting the results that I should be getting?"
So change, he did. Sherman began with moving from Mississippi, which isn't exactly a hotbed of MMA talent, out east to Kill Cliff FC (formerly Sanford MMA), which is home to some of the most elite talent in the game. Moving was the easy part.
Mental state
The more important thing was addressing his state of mind. Part of that came with the realisation that fighters like himself do little to address or cultivate the mental state that's required to withstand the pressure and grind of training and fighting for a living.
"I realized the difference between heaven and hell is what's between your ears," Sherman said.
"It was what was between my head, and this fighting's – it's like 80%-90% mental, and everybody knows that; but who's doing the shit they need to do in order to make sure this is right up here? And so that was huge for me."
He likened his own mental state at that time to heavyweight boxing champion Tyson Fury's, before the Gyspy King's initial fall from grace: Fixated on a particular outcome with no appreciation for the journey, or the little things in life.
"The whole time we're working towards it, we're not in the correct mind or even in the present moment. We're not even enjoying the day-to-day life that we have. I didn't want to be like that, I was tired of being like that. I was tired of it affecting my life – my personal life as well as my career."
"I know what I'm capable of doing," he asserted. "It's just a matter of getting out of my own fucking head."
Falling short
On paper, Sherman has the attributes to be a successful heavyweight: He's athletic, stands 6'4″ tall, and carries some serious power: 15 of his 16 wins have been finished with strikes. However, at the highest level of mixed martial arts, Sherman has often come up short.
His first two-year UFC stint began in 2016 but came to an anti-climactic end after three straight losses saw him released back to the regional circuit. He clawed his way back into the organization in 2020, before hitting his most recent skid, and once again wondering he could be in a desperate situation again.
The first step for 'The Vanilla Gorilla' was reassessing his motivations. In the past, negative stimulants – fear, anger, and proving doubters wrong – is what fuelled him. Those factors may drive any fighter for a time, but they're not conducive to a sustainable way of life, particularly for an aspiring elite athlete.
"At the end of the day, nobody's gonna want to keep feeling those emotions in order to get motivated to wake up to go fucking get punched in the face every day at practice"
Sherman decided to open up about his struggles with people he was close to – friends, teammates, coaches – and found that, while it may often feel that way, he isn't alone in his mental struggles. A problem shared is a problem halved, and that in itself was revolutionary.
He also credits the practice of daily gratitude for his recent turnaround in life, as well as inside the Octagon. Reading, meditation, and journaling, while simple habits, made all the difference in the 'Vanilla Gorilla's' state of mind.
With his new-found mental clarity, Sherman returned to his winning ways against Vanderaa in July and is confident he can keep the ball rolling on November 5th against Josh Parisian.
"I still don't have it all figured out because, like I said, it's a journey, not a destination, you know what I mean? It's constantly learning and growing and doing the things that I need to do in order to be the best version of myself."
---
Fighter profile
Chase "The Vanilla Gorilla" Sherman is a 32 year old male fighter from United States with 16 pro wins and 10 losses. Sherman is scheduled to fight Josh Parisian at UFC Fight Night on Saturday November 5, 2022.
Chase Sherman's recent form coming into this matchup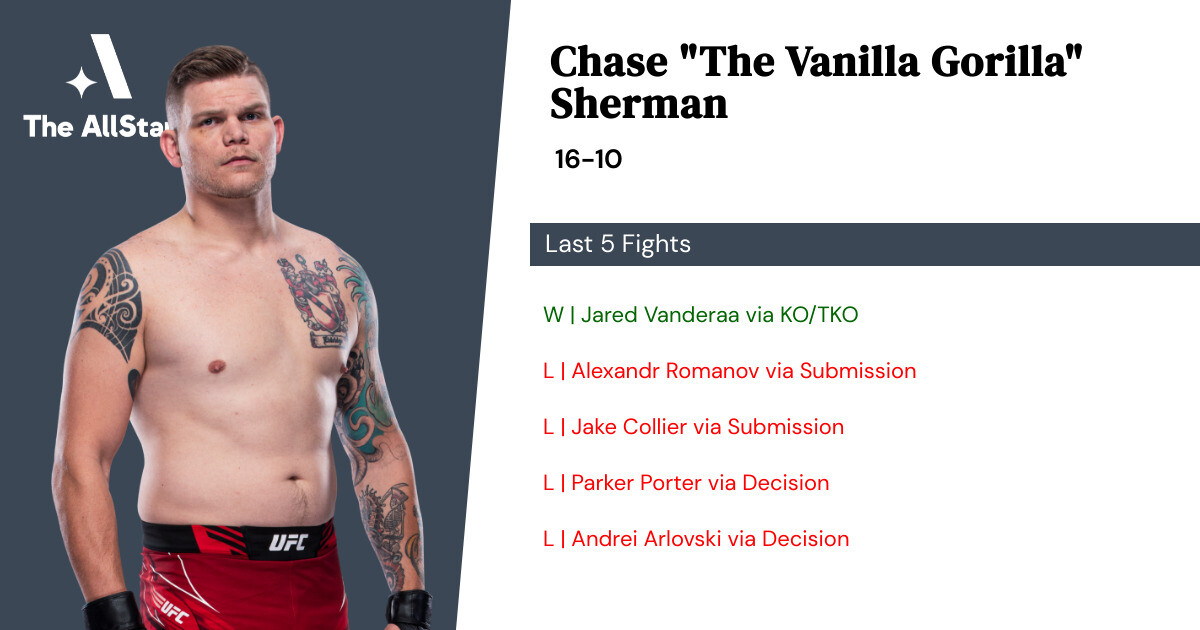 Chase Sherman has gone 1-4 in the last 5 professional MMA fights.
Win vs Jared Vanderaa • KO/TKO R3 3:10 • 2022-07-09
Loss vs Alexandr Romanov • Submission R1 2:11 • 2022-04-30
Loss vs Jake Collier • Submission R1 2:26 • 2022-01-15
Loss vs Parker Porter • Decision R3 5:00 • 2021-08-21
Loss vs Andrei Arlovski • Decision R3 5:00 • 2021-04-17
Chase Sherman's next opponent: Josh Parisian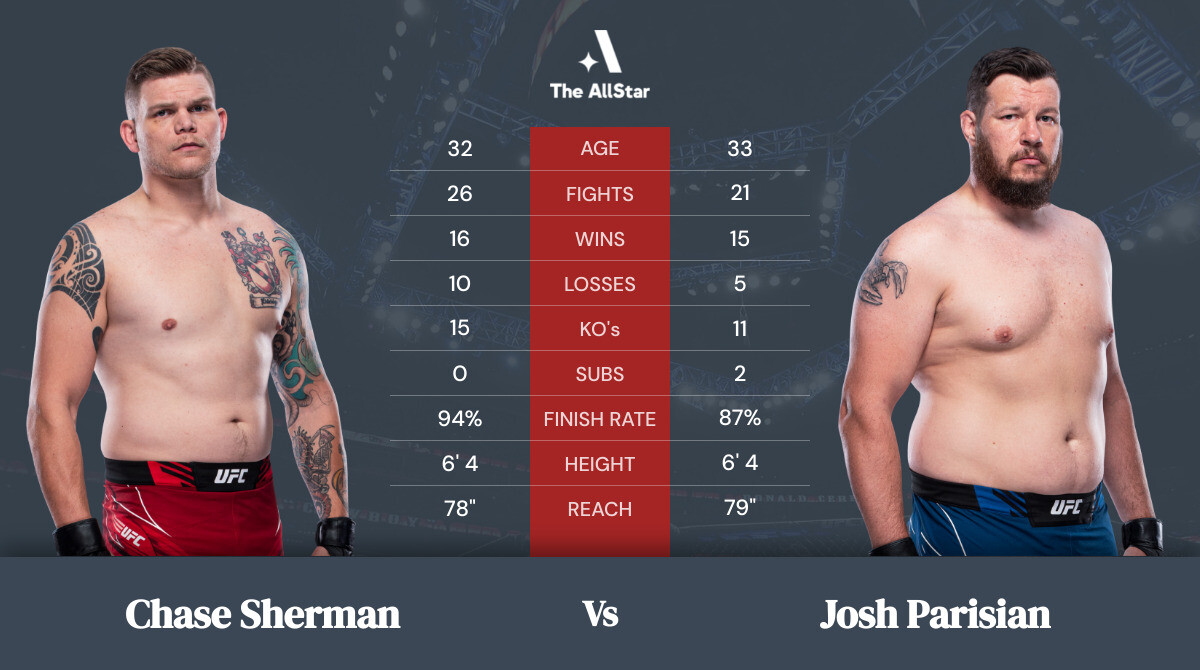 Josh Parisian's recent form coming into this matchup
Josh Parisian is a 33 year old male fighter from United States with 15 pro wins and 5 losses. Parisian is scheduled to fight Chase Sherman at UFC Fight Night on Saturday November 5, 2022.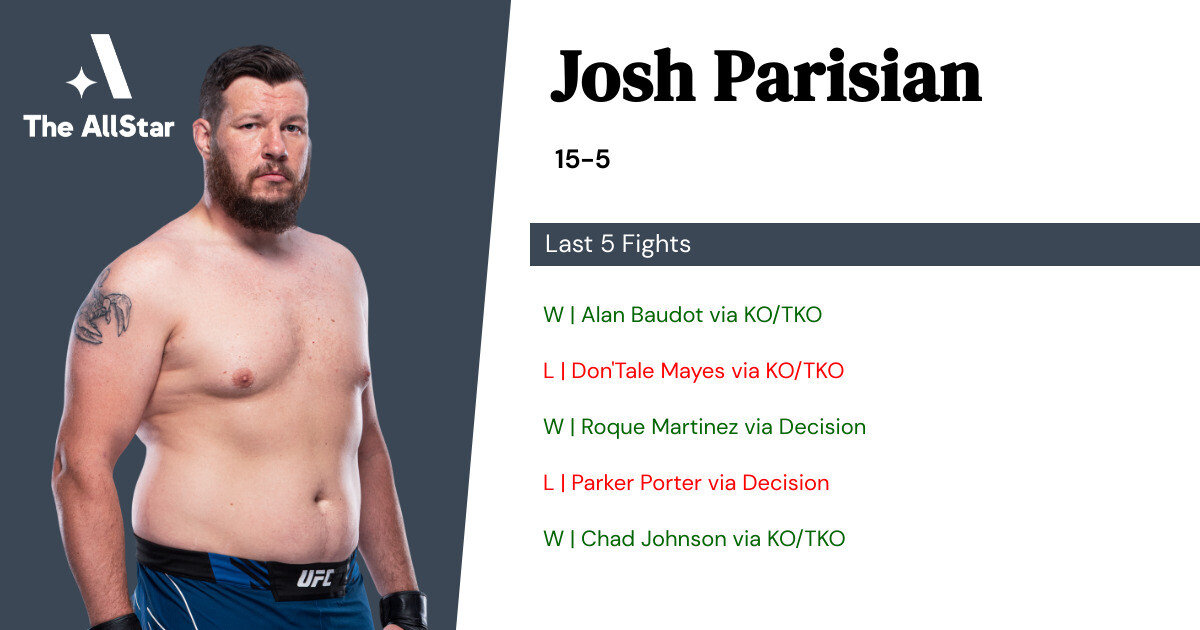 Josh Parisian has gone 3-2 in the last 5 professional MMA fights.
Win vs Alan Baudot • KO/TKO R2 3:04 • 2022-06-25
Loss vs Don'Tale Mayes • KO/TKO R3 3:26 • 2021-12-18
Win vs Roque Martinez • Decision R3 5:00 • 2021-06-19
Loss vs Parker Porter • Decision R3 5:00 • 2020-11-28
Win vs Chad Johnson • KO/TKO R1 3:43 • 2020-08-18
How to watch and bet on Chase Sherman vs Josh Parisian