The worst injury 22-year-old Cory McKenna had ever experienced was entirely invisible.
Although she couldn't pinpoint where the concussion happened, the symptoms became concerning enough to bow out of her fight with Emily Whitmire last September. In an interview with The AllStar, the Welsh UFC strawweight walked through the timeline of events and the healing process.
"We think it was cumulative, I had a few significant knocks like consecutively, you know like a few weeks apart. I had so many scans, I had a blood test, then I went to the [UFC]d PI, I spoke with a specialist, and I couldn't figure it out. As soon as my heart got over 130 like I get banging headache you know, and I could push through it, but the next day it would be like hard to get out of bed."
Over the course of four months, Cory had to learn to slow down to let her brain heal: "Eventually I tried different recovery ways to like, heal my brain essentially. Eventually, it got to the point where I could do a brisk walk, I could sit on the bike, lift weights, you know I was in the gym every day watching practices," McKenna said.
With the symptoms flaring up every time she trained, the only option was to idly wait while her teammates practiced, which was frustrating. Cory said she can be a bit of a "meathead" when it comes to allowing her body to rest, which wasn't fun: "it was completely out of my comfort zone, I felt like I was missing out, like I was the kid who sat on the side of the mates with her arms crossed looking or miserable and sorry for herself".
Although she was far from home during the inactivity, she didn't feel stranded or alone. McKenna trains at Team Alpha Male in Sacramento, California, and here community at the gym helped her get through recovery: "I'm very fortunate and I feel kind of like I have built myself a close circle out here you know I have some really good friends like my coaches, my teammates and they feel like family and they were there supporting me, like I had all the help I could have out here and contact with my family back home so…I never felt alone."
Now in the clear for the past five months, McKenna has a fight booked for UFC London on March 19th. She'll fight Elise Reed, a former CFFC champion who is fighting at her natural weight class for the first time in the UFC.
McKenna thinks highly of Reed's overall skill, praising her toughness and unbreakable will. When asked about how McKenna's deft ground skills could match up with Reed's striking, McKenna said, "I think on paper it certainly looks more like the stereotypical striker vs. grappler, but I think a lot of people underestimate that fact that I do have an extensive striking background myself. She isn't a slouch on the ground she has had quite a few fights where it has gone to the ground so I'm sure that it's going end up being to be a well-rounded fight, a very entertaining fight, and catch people by surprise a little bit."
---
Fighter profile
Cory "Poppins" McKenna is a 22 year old female fighter from Wales with 6 pro wins and 1 losses. McKenna is scheduled to fight Elise Reed at UFC Fight Night: Volkov vs. Aspinall on Saturday March 19, 2022.
Cory McKenna's recent form coming into this matchup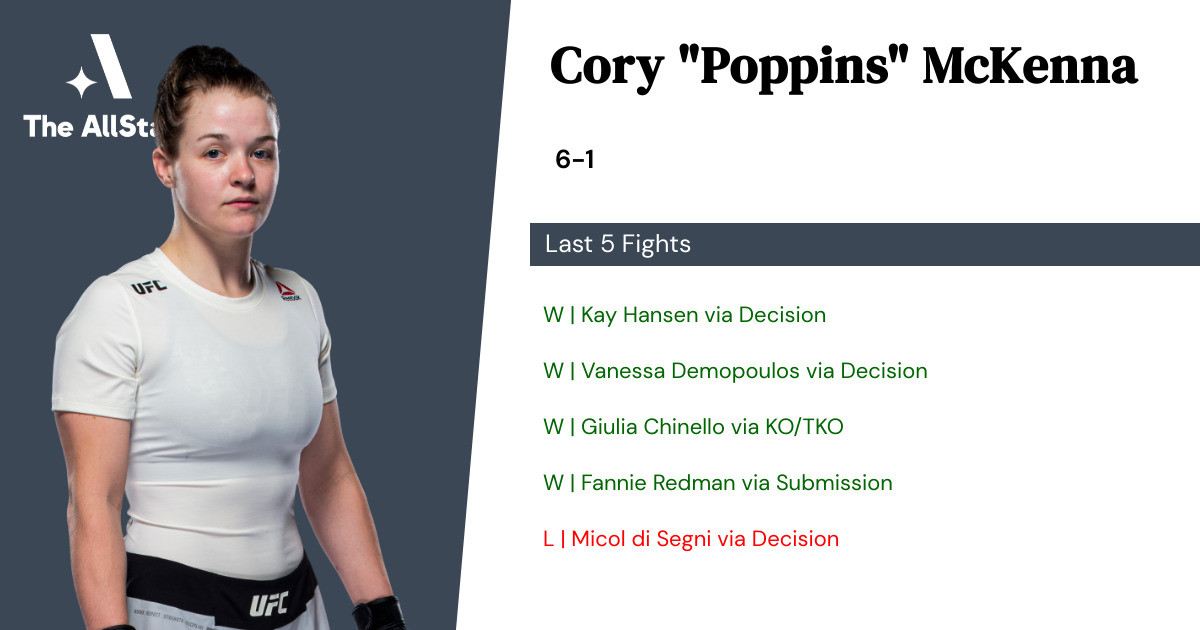 Cory McKenna has gone 4-1 in the last 5 professional MMA fights.
Win vs Kay Hansen • Decision R3 5:00 • 2020-11-14
Win vs Vanessa Demopoulos • Decision R3 5:00 • 2020-08-11
Win vs Giulia Chinello • KO/TKO R1 2:15 • 2019-05-31
Win vs Fannie Redman • Submission R2 2:06 • 2019-04-27
Loss vs Micol di Segni • Decision R3 5:00 • 2018-09-29
Cory McKenna's next opponent: Elise Reed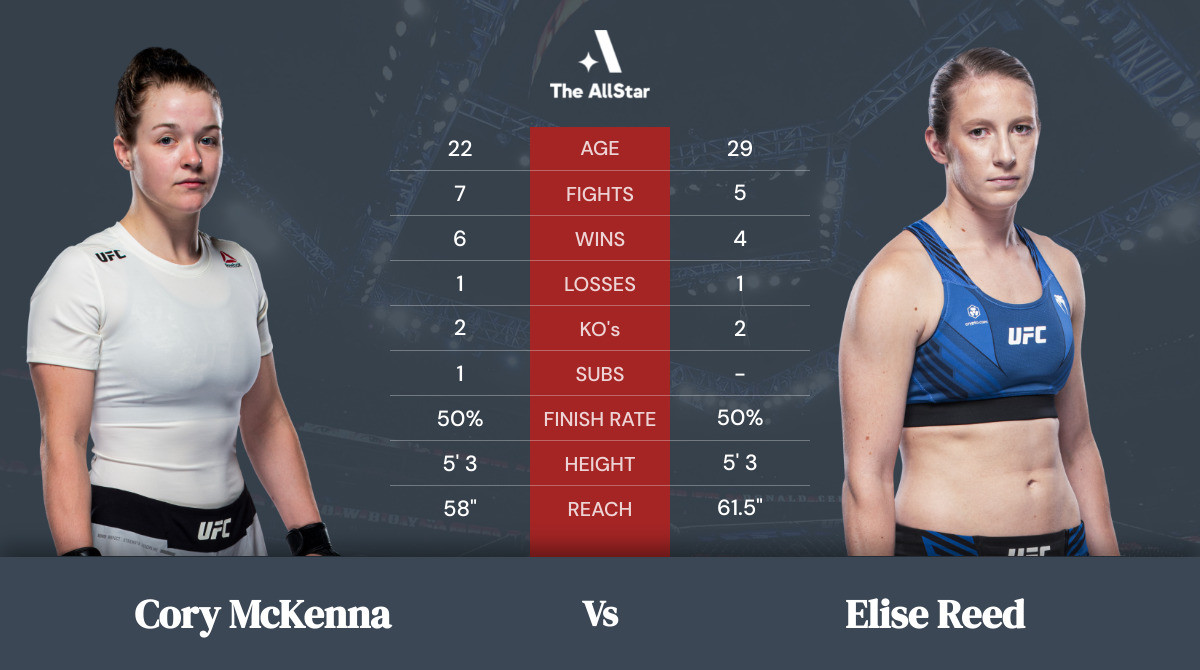 Elise Reed's recent form coming into this matchup
Elise Reed is a 29 year old female fighter from United States with 4 pro wins and 1 losses. Reed is scheduled to fight Cory McKenna at UFC Fight Night: Volkov vs. Aspinall on Saturday March 19, 2022.
Elise Reed has gone 4-1 in the last 5 professional MMA fights.
Loss vs Sijara Eubanks • KO/TKO R1 3:49 • 2021-07-24
Win vs Hilarie Rose • KO/TKO R2 4:57 • 2021-05-29
Win vs Jillian DeCoursey • Decision R4 3:00 • 2020-12-18
Win vs Jasmine Jasudavicius • Decision R3 5:00 • 2020-08-13
Win vs Rebecca Bryggman • KO/TKO R1 4:48 • 2019-10-25
How to watch and bet on Cory McKenna vs Elise Reed