The stars are aligning for Dakota Ditcheva.
The Muay Thai champion turned MMA phenom heads into the co-main event slot against Tanya Nijjer on Jan.15 at Pallas Athena Women's FC 1 with plenty of momentum. She is touting an undefeated record by earning three straight victories in her first year as a professional in 2021 without much resistance on home turf in the United Kingdom.
This time she will be traveling to Canada to fight an opponent who hasn't competed since 2015. There are many unknowns, Ditcheva told The AllStar.
"There isn't really anything on her," the 22-year-old said. "We don't really know her style. We don't know what she's best at or what she's weakest at. It will be a good fight because I don't really know much about her. Basically, it will just be how I've prepared and how I've trained for it. Just go over and expect a tough fight.
"Gives me a little bit more nerves as well. More of the unexpected. Normally I rely on my coaches saying let's work on this and this and I can kinda gauge what I like. But we don't even have that this time.
"It doesn't faze us. We're just going to work my game. The main thing is I concentrate on what I can bring to the table rather than what they're coming with."
Although she has finished all her adversaries in the first round, the 22-year-old Manchester Top Team product does not feel the need to chase after the finish.
"I mean I would love to [get a first-round finish] but I don't put that pressure on myself," Ditcheva said. "I have to prepare for that five rounds. And especially like this time, I can't go in thinking it's gonna finish early and then have five five-minute rounds because that's a long time not to be prepared for. In Thai boxing, the three minutes is a little bit easier but five minutes is a whole different ball game."
As a young prospect, Ditcheva is as ambitious as the next. The plan is to eventually make the UFC, with a big 2022 as a first step.
"I wanna really get some tough fights in and some testing moments in my career before I hit that level so that I'm prepared when I get there," she said. "I got a few opportunities that have come up that might bring me that so hopefully I will get quite a few fights in.
"I want to be unbeaten [by the end of 2022]. I just want to look back at the year and just think how much I have progressed. And just to be able to say like I'm ready now. I was ready before but now I'm ready. I've had that experience that I need and I'm ready to show it on a different level now."
Watch this interview on The AllStar's Youtube channel.
---
Fighter profile
Dakota Ditcheva is a 22 year old female fighter from England with 3 pro wins and 0 losses. Ditcheva is scheduled to fight Tanya Nijjar at PAWFC 1 on Saturday January 15, 2022.
Ditcheva's recent form coming into this matchup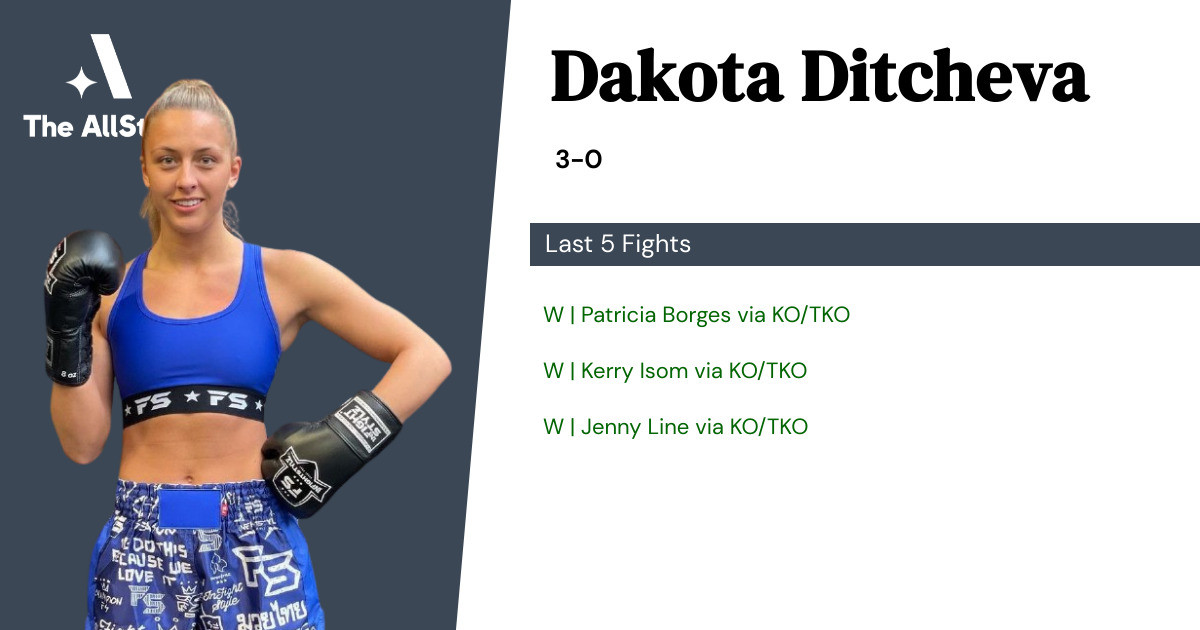 Dakota Ditcheva has gone 3-0 in the last 5 professional MMA fights.
Win vs Patricia Borges • KO/TKO R1 3:38 • 2021-11-27
Win vs Kerry Isom • KO/TKO R1 4:49 • 2021-09-12
Win vs Jenny Line • KO/TKO R1 2:04 • 2021-04-10