Former light heavyweight champion Jon Jones has had a storied and successful career inside the cage, though for the last number of years, he's been known for his antics out of it.
With multiple charges already to his name, he was arrested in September 2021 in accordance with a domestic incident. It's reported that his fiancé was found at the scene with blood on her face and clothing, yet despite what occurred that night, the domestic battery charge against Jones was dropped.
Months later, his former foe Chael Sonnen was detained and charged with five counts of misdemeanor battery. Though reports aren't thorough, it's believed that the UFC and Bellator alum was sticking up for his spouse rather than putting his hands on a woman.
Regardless of this, Jones took to Twitter upon hearing the news.
"Chael Sonnen, I'm not gonna sit here and celebrate you getting battery charges against a female last night" wrote Jones.
"That would make me like you, and I'm nothing like you. Instead I will wish your family well, I wish the victims family well."
UFC Featherweight Dan Hooker issued a tweet of his own, supporting a statement made by Brendan Schaub claiming Sonnen was in fact protecting his wife.
"Imagine beating up 5 people and not one of them is your wife. (Jones RN)" stated Hooker.
Though taking a few days Jones responded to the Kiwi in a classic tweet-and-delete bombardment, opting to compare careers.

"Bro your career is simply not panning out, that's my response. Lol."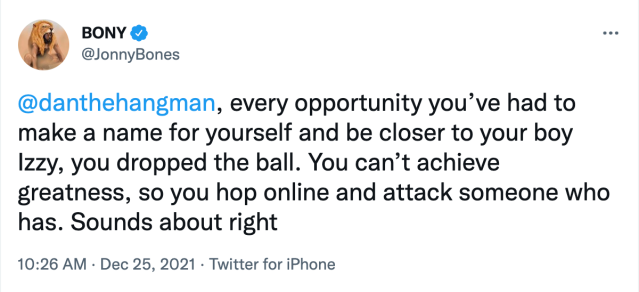 "Every opportunity you've had to make a name for yourself and be closer to your boy Izzy, you dropped the ball. You can't achieve greatness, so you hop online and attack someone who has. Sounds about right."
Speaking exclusively to The AllStar, Hooker opened up about his online spat with "Bones" as well as giving his opinion on the matter.
"There's a definite blurred line. To me, defending your wife from people insulting her is one of the most honorable things you could possibly do. To put hands on your wife is one of the most terrible things. This is my opinion [and] view on the topic. There's only two arguments when it comes to that – people who think its not ok to physically abuse your spouse, and the other side where people think its ok [because] you're really good at a sport."
"Those people, excuse my French, are fucking idiots. Those people are just young, immature and not up to scratch. It's just not ok."
Just hours after Jones' response online Hooker fired back, offering a "life hack" to the two-time champion.
He tweeted the following:
"Life hack: if you don't beat up your wife, family events will be more enjoyable. Merry Xmas bitch."
Explaining his thought process, "The Hangman" explained why refused to bite his tongue.
"I kind of just threw something at the wall of the internet. I didn't tag him or anything, [but] he decides on Christmas Day to tag me in [a tweet]. The Hangman's been drinking some beers on Christmas Day – its a bad day to come at me on Twitter. If I've had a couple beers, its a bad day to come at me on Twitter because I'm gonna shoot back. I'm not gonna bite my tongue as most people usually would. I said what I said and I stand by it."
"What was he expecting? That he was gonna tweet me like that and I'm just gonna sit there like 'I better be quiet'? No! I'm right, you're wrong. You attack me and I'm in the right? I've got the green light [to attack you]. I'm gonna give you some life hacks, that's what you're gonna get from me. I was right and there's no justification for how I'm wrong."
"Chael Sonnen's my guy, that's my guy. I view Chael as a mentor. I follow Chael Sonnen and he's a good dude, he does a lot for the development of the sport I feel," continued Hooker. "The way Jon kind of tried to portray it with Chael was that they were similar."
Its clear that the pair will never meet inside the Octagon. With a near 100 pound discrepancy in weight, no commission would sanction such a fight. Though Hooker explained that he holds no malice towards Jones, he'd happily settle the score in public.
"Would I fight him in a carpark? If he had a problem with me of course I would oblige. I would never insult someone and not give them the opportunity to punch me in the face. That's an entirely different discussion. But do I harbour any ill-will towards Jon Jones? Nah, definitely not."