While the stats may have given Holly Holm the edge in the weekend's main event, Roxanne Modafferi points out that perceptions of damage may have been the deciding factor for the judges.
Who should have taken home the W this weekend: Holly Holm or Ketlen Vieira?
It wasn't a one-sided battle for either of them. Both fighters did things sufficient to earn them the victory. This was shown in the end result, a close split decision in Vieira's favor. Two judges scored it 48-47 for her, while a third had it 48-47 for Holm.
What did the judges see?
The first several rounds saw a lot of Holm pressing Vieira into the cage. Unable to get her back off the cage, Vieira stayed there and the two began to exchange knees. While Holm controlled the position, she didn't do immediate damage and wasn't winning the fight like that.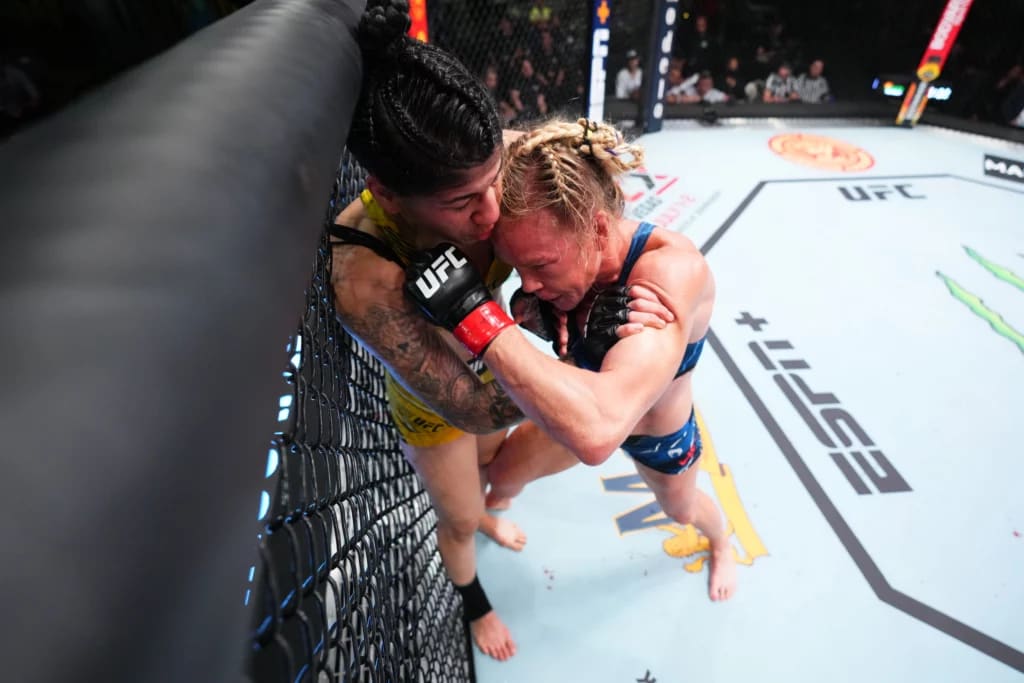 Damage is the predominating factor, according to Unified Rules. The knees could have become "accumulated damage" but it wasn't as apparent. Vieira, a judo practitioner, was able to throw Holm twice in the first round. Holm was able to scramble up pretty quickly both times.
What did the judges see there? My opinion is that achieving a takedown or dominant position should be counted as a success in the eyes of the judges. It's easy to stand there and strike, and hard to wrestle someone to the ground.
The fact that the Unified Rules claim that a takedown isn't considered "effective grappling" unless an attack is mounted off of it kind of sucks.
However, I don't make the rules. Maybe they did see the takedowns as significant factor.
Round two
In round two, Holm landed powerful kicks which pushed Vieira back several steps and looked like they bothered her, which count as significant strikes with the judges. They both landed some leg kicks.
Vieira threw Holm beautifully, and The Preacher's Daughter had to butt scoot to the cage and use it to stand up. Holm landed a couple punches off her back, and then Vieira whacked her a few times as she was struggling to stand up. That must count as a positive for Vieira.
Holm dominated in the clinch and in holding Vieira into the cage, but didn't do much serious damage there. Did the judges see that as a positive for Holm, or not, since damage was not done?
Vieira almost choked Holm in the second round. The judges may have credited Vieira on their score cards with almost ending the fight, leading her to win the round.
Round three
Vieira started stepping in hard with her punches in round three and tagged Holm. Holm started rushing forward with a combo of four, and grunted from the effort. If you look carefully, she landed shoulder, body, shoulder, body. They connected but didn't seem to bother Vieira .
Does that mean they weren't significant and not valued highly? They should have earned her points. Vieira started stepping back or sideways and whacking her with counter strikes as she charged in.
Vieira ate three strong sidekicks from Holm to the body before landing a strong straight and a counter-hook.
In the fourth round, Vieira seemed to find her rhythm and regularly stepped back to avoid the charge, and countered. Holm landed a killer side kick that knocked Vieira off her feet.
Overall, Holm seemed to have more aggression, energy, and controlled the pace and range.
The Unified Rules say that doesn't matter. I think, and apparently the commentators who are former fighters also think, it should matter.
Head kick
In round five, Vieira started landing again, including a nice head kick. She also countered Holm's charges with a rear uppercut. Holm pressed the action, initiating the clinch, which she dominated. Vieira had to retreat out of the position. When pressing Vieira against the cage, she landed punches and knees. Holm landed three good kicks to the body.
The charts showed Holm landing 79 head strikes to Vieira 's 67, 20 body shots to Vieira 's 28, and 65 leg kicks to Vieira 's 7. Holm is ahead by numbers.
After the fight finished, the commentators, and most media members online that I saw, seemed to side with Holm.
Would the Unified Rules agree? Those counter shots from Vieira seemed significant and seemed to bother Holm, and the rules state that it doesn't matter who is pushing forward more or being more aggressive – the amount of damage done should dictate the win.
Fight statistics had Holm with 20 head strikes, Vieira 33. Clinch strikes, 114 for Holm, 56 for Vieira, and clinch control time 10:03 minutes for Holm and 0:57 for Vieira.
Looking at the lady's faces afterwards, neither of them had significant cuts or black eyes. They had various red marks on their faces from impact, but you couldn't tell from looking at them who won.
It was a close fight. Either of them could have won for various reasons, and that fact makes it hard for the defeated fighter to swallow.