Donovan Beard oozes confidence. It's almost as if he knows something the rest of us don't.
At first glance, it would be odd if the 32-year-old were anything but. To look at his scheduled Contender Series fight on paper – Beard, the 7-1 CFFC middleweight champion opposite a 2-0 prospect who made his MMA debut this year – the pairing may even seem a mismatch in favor of the Arkansas local.
But that prospect is Bo Nickal; the 2019 Dan Hodge Trophy winner and one of the most decorated collegiate wrestlers of all time. A man who closed as a -3000 favorite to win in his previous DWCS bout, and after finishing his opponent in just over a minute, will likely ride similar odds into his forthcoming September 29th showing. So why, then, did Beard make a point to call for this fight? Why is he so optimistic about heading into a fight in which he'll likely be the biggest underdog of his career?
He's certain Nickal's wrestling has never truly been tested inside the cage. He knows there's a path to victory, and wants to be the person to prove it.
"You can't do that the entire fight," Beard stated as a simple matter of fact in a recent interview with The AllStar.
"There's no way in hell that a person is going to be wrestling the entire 15 minutes of the fight. Like, that is physically impossible – unless you're just some kind of freak of nature who, I don't know, you must be on drugs. So there's no way. Ain't no way."
Add to that Beard's dismissiveness of the past two professionals that Nickal has faced, and the image in 'The Highlight Reel's mind starts to become clear. It's been a case of feeding sheep to the wolves to this point, he hints.
"Anybody can do that to a person with a glass jaw or, you know, anybody can make themselves look good against a person that is really not that good."
Not to take anything away from either of those fighters though, Beard insists – he just knows it will take a certain caliber of an opponent to solve the problems Nickal presents. He's been working overtime with grapplers Kyle Crutchmer and Jacoby Smith in preparation for the clash and seems sure in his own wrestling ability.
Beard can appreciate the hype behind his adversary, but that doesn't mean he doesn't feel slighted, and a man with something to prove can be a dangerous person.
"Everybody's been on this dude's jock since they found out the announcement. They ain't gave me no respect, they just looked at me just like some Joe Schmo that he's gonna step on to get there and I'm just like I'm just chopped liver up here…"
"[Dana] ain't gonna have no choice but to put that contract in my dang palm, for real."
---
Fighter profile
Donovan "The Highlight Reel" Beard is a 32-year-old male fighter from the United States with 7 pro wins and 1 loss. Beard is scheduled to fight Bo Nickal at Contender Series 2022: Week 10 on Tuesday, September 27, 2022.
Donovan Beard's recent form coming into this matchup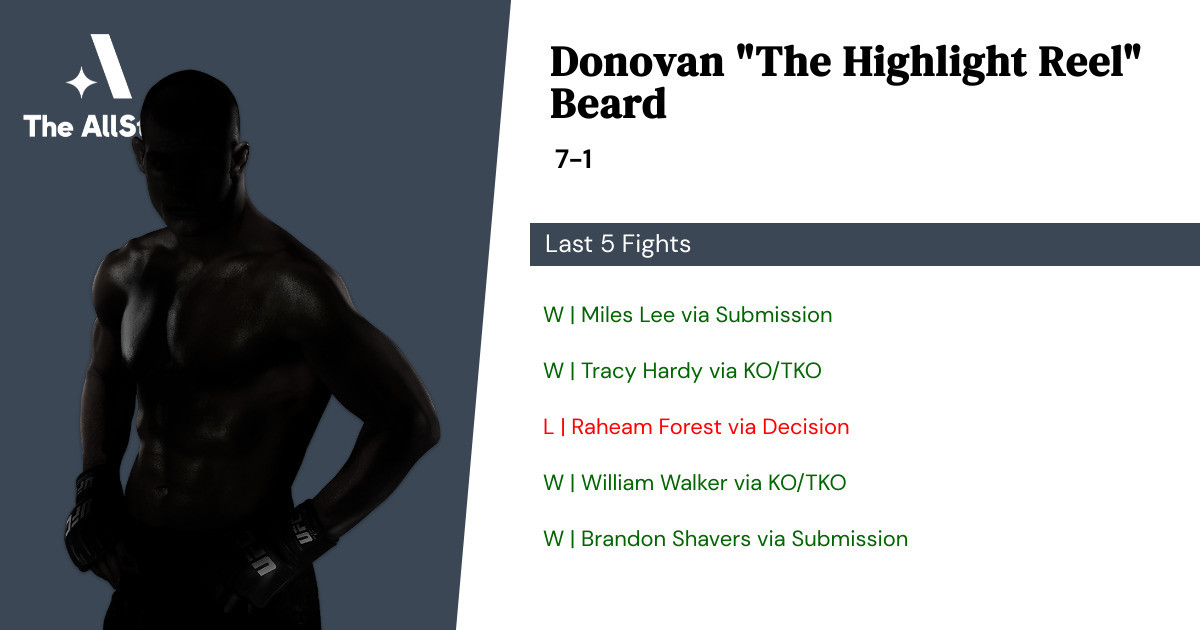 Donovan Beard has gone 4-1 in the last 5 professional MMA fights.
Win vs Miles Lee • Submission R4 2:09 • 2022-07-29
Win vs Tracy Hardy • KO/TKO R1 4:46 • 2022-05-21
Loss vs Raheam Forest • Decision R3 5:00 • 2021-11-19
Win vs William Walker • KO/TKO R3 3:01 • 2021-08-14
Win vs Brandon Shavers • Submission R1 • 2021-06-25