Cody Gibson wants the tough fights.

Having beaten former UFC title challenger John Dodson in the main event of XMMA 3 last October, Gibson is now slated to fight veteran Ray Borg in the Eagle Fighting Championship.

Borg is coming off a win against Jesse Arnett at UAE Warriors 20. Before that, the New Mexico native spent seven years with the UFC, even challenging Demetrious Johnson for the flyweight title.
"I want guys that are supposed to beat me," Gibson told The AllStar. "That's what kinda motivates me, to be honest. I hate being the favorite in any fight so it looks like he is supposed to beat me. That's what helps me get up in the morning."
Gibson had amassed a record of 6-1 since parting ways with the UFC in 2015. He was primed and ready to step in on short notice against any competitor in the UFC, a place where he feels he belongs. Then, Eagle FC came with an offer to fight Borg.

"The money is good, the opponent is good so I got no complaints," Gibson said.

In Borg, Gibson will meet a fighter whose career has been riddled with inconsistency and weight issues.
"He had some performances that he just seemed off," Gibson said. "He had a lot of canceled fights. That was the only apprehension with taking the fight. If you look at this guy's record and how many canceled fights that he has, some of those are out of his control but a lot of those are within his control.
"I actually like it when my opponents might miss weight. I hope he misses weight. We're getting paid pretty good so I think 20% I'd get. I always hope they miss weight. It's not like I'm gonna be bigger than him on the night of the fight no matter what. If he came in heavy, that would be cool.
Even with all the discrepancies, Borg is still a highly-skilled fighter who can perform well on any given night. "The Renegade" is not overlooking him in the slightest.
"He's a pretty well-rounded fighter," Gibson said. "He has pretty good kickboxing. He's fast and explosive and attacks in bursts. He's got a good wrestling base as well. And he's pretty good at holding position and keeping guys down for at least some time.
"His standup is underrated. When I got the name Ray Borg, the first thing in my mind was, okay, that guy who grapples all the time. And he does, there's no doubt about it. But there's been a couple of fights where he's done some more standup and it was better than I remembered it.
Gibson is anticipating a tough fight yet his expectations are to win decisively or get the finish.
"I think my wrestling is going to get tested," Gibson said. "He's a good wrestler. He's gonna want to go to the ground. I'm a college wrestler and I'm a good wrestler coming out of California but just learning how to use it in mixed martial arts. The cage work I've gotten a lot better at. My defense in general has gotten a lot better. Just my jiu-jitsu and my ability to…I feel very confident I can stuff his takedowns, make him pay. I'm a big guy too.
"He's going to have to shoot on a big guy who knows how to use his length and leverage. And if I get taken down, I've been working religiously on getting back to my feet and not giving up positions, not giving up my back. Using framing and head positioning and getting back to my feet and hip-heisting and getting up.
"I also hope he wants to strike a little bit. He's a banger. He'll get in the pocket with you and throw down a little bit so I'm hoping if I stuff a couple takedowns, he might get discouraged and then he might go for slinging down. I feel like that's where I'm going to clip him if he wants to get in the pocket and swinging with me. I always encourage that kind of fight. I'll use my jab and annoy the shit out of him I'm sure. I could knock him out. I could land a big right hand and knock him out."
Watch this interview on The AllStar's Youtube channel.
---
Fighter profile
Cody "The Renegade" Gibson is a 34 year old male fighter from United States with 18 pro wins and 7 losses. Gibson most recently fought John Dodson at XMMA 3: Vice City on Saturday October 23, 2021.
Gibson's recent form coming into this matchup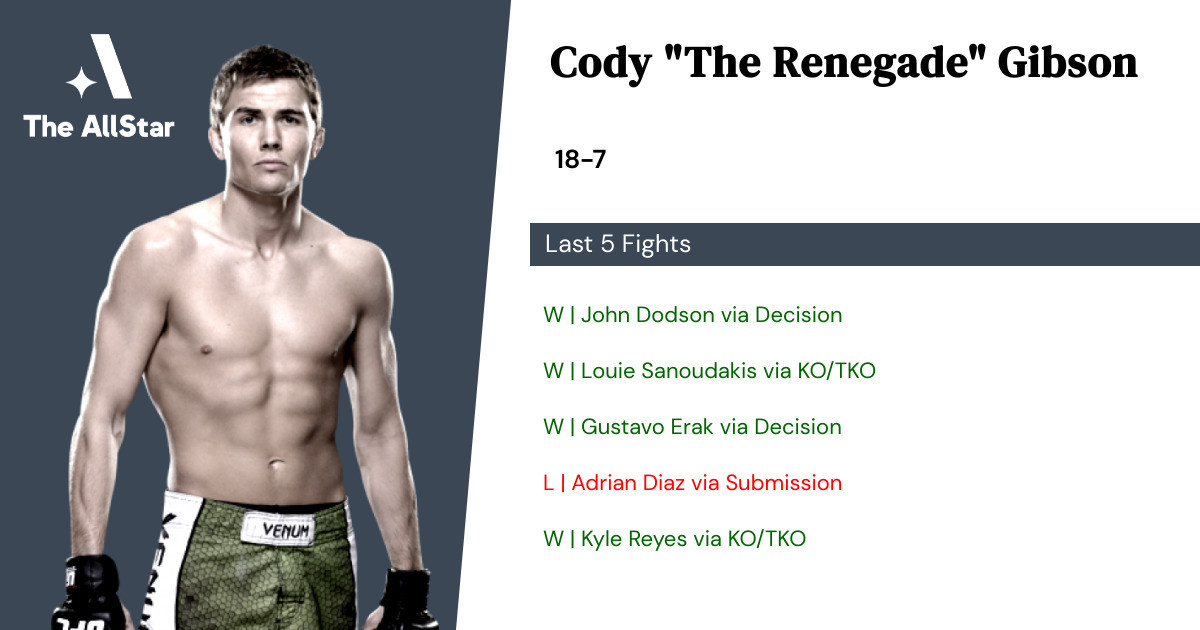 Gibson has gone 4-1 in the last 5 professional MMA fights.
Win vs John Dodson • Decision R3 5:00 • 2021-10-23
Win vs Louie Sanoudakis • KO/TKO R1 0:44 • 2021-07-30
Win vs Gustavo Erak • Decision R3 5:00 • 2018-09-28
Loss vs Adrian Diaz • Submission R3 1:46 • 2017-05-18
Win vs Kyle Reyes • KO/TKO R2 0:21 • 2016-11-03