Erick Gonzalez is planning on finishing his opponent to pick up his first UFC win.
After a long road on the regional scene and fighting in the wildly popular Hispanic MMA organization Combate, "The Ghost Pepper" finally got the call to the UFC. Unfortunately, his promotional debut ended with him getting knocked out for the first time in his career.
The 30-year-old American is looking to bounce back in a big way on March 5 at UFC 272. He faces Factory X product Devonte Smith, who is also coming off a loss against Jamie Mullarkey two weeks prior to Gonzalez's debut.
Smith has been finished three times all via strikes and that is where Gonzalez feels he can capitalize.
The AllStar's John Hyon Ko spoke to Gonzalez about the matchup.
"He's a very in and out when he fights. He has a really, really strong 1-2, you know, jab and cross…He likes to bait people in, he likes to invite you to come in, chase him, and then pops you with that 1-2. We have a game plan figured out for him and for me, I have to get used to his speed and explosiveness because I know he has that. Expect a lot of pressure from me because he doesn't like fighting off his back foot," Gonzalez said. "Expect a banger. This time I will have a full camp and won't have that same issue I had in my first go-around. I don't think he will be able to put me down.
"A well-timed punch will go a long away in the fight…I've seen in his past fights that he got hit mid-combination and I think timing and landing that right punch…it doesn't even have to be hard, I think I will be able to wobble him. Once I wobble him I will get on top and unload. I just hope he doesn't overlook me."
Being underestimated could be a factor. The knockout loss to Jim Miller at UFC Fight Night: Ladd vs. Dumont snapped Gonzalez's four-fight win streak. While it was very upsetting, there were some circumstances that went into the fight that definitely didn't help him at all, including cutting 24 pounds in eight days.
"Dude, I watched Jim Miller since I was 18, so to me that was insane to be able to fight him. He has all of the greatest names under his fight list and I think that he will see that I will be one the greats, so we can add me to the list as well," Gonzalez said.
"There was definitely a lot of nerves going into this fight, I was really excited. But, yeah that 10-day notice really killed me because I had to cut about a little bit over 24 pounds, and you know I had nine days to do it. I mean, technically eight because I have to do it the day before weigh-ins. It was tough because I was coming off an injury and I had fractured my toe – I had a hairline fracture in my toe, so when they called me, I was actually coming back to the gym, it was actually my first official day back in."
Gonzalez continued. "For the next eight days, I did nothing but grind, man. Nothing but non-stop cardio, non-stop treadmill, and drilling. That weight cut got to me. When [Jim Miller] was punching me – he was a hard hitter. Anyone can say whatever they want but that fool hits hard, a very, very strong left overhand and he just caught me good. I was still dazed from the first round and made a stupid mistake,"
What do you think of the matchup between Erick Gonzalez and Devonte Smith?
---
Fighter profile
Erick "The Ghost Pepper" Gonzalez is a 30 year old male fighter from United States with 14 pro wins and 6 losses. Gonzalez is scheduled to fight Devonte Smith at UFC 272: Covington vs. Masvidal on Saturday March 5, 2022.
Gonzalez's recent form coming into this matchup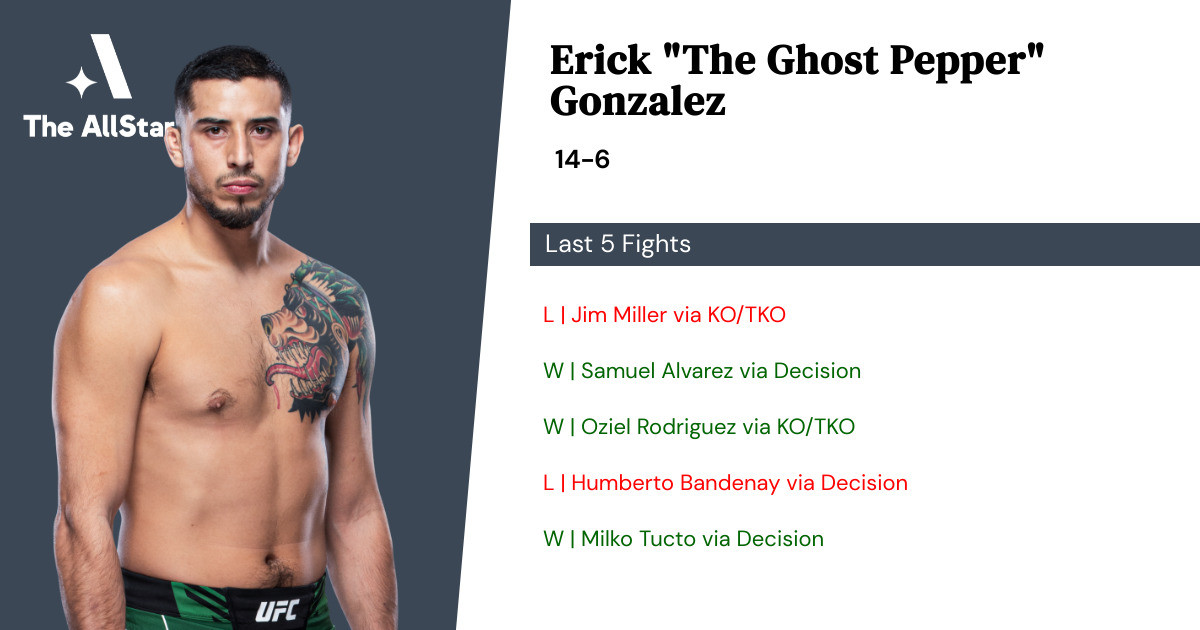 Erick Gonzalez has gone 3-2 in the last 5 professional MMA fights.
Loss vs Jim Miller • KO/TKO R2 0:14 • 2021-10-16
Win vs Samuel Alvarez • Decision R3 5:00 • 2021-08-07
Win vs Oziel Rodriguez • KO/TKO R3 0:37 • 2021-03-19
Loss vs Humberto Bandenay • Decision R3 5:00 • 2019-12-20
Win vs Milko Tucto • Decision R3 5:00 • 2019-12-20
Erick Gonzalez's next opponent: Devonte "King Kage" Smith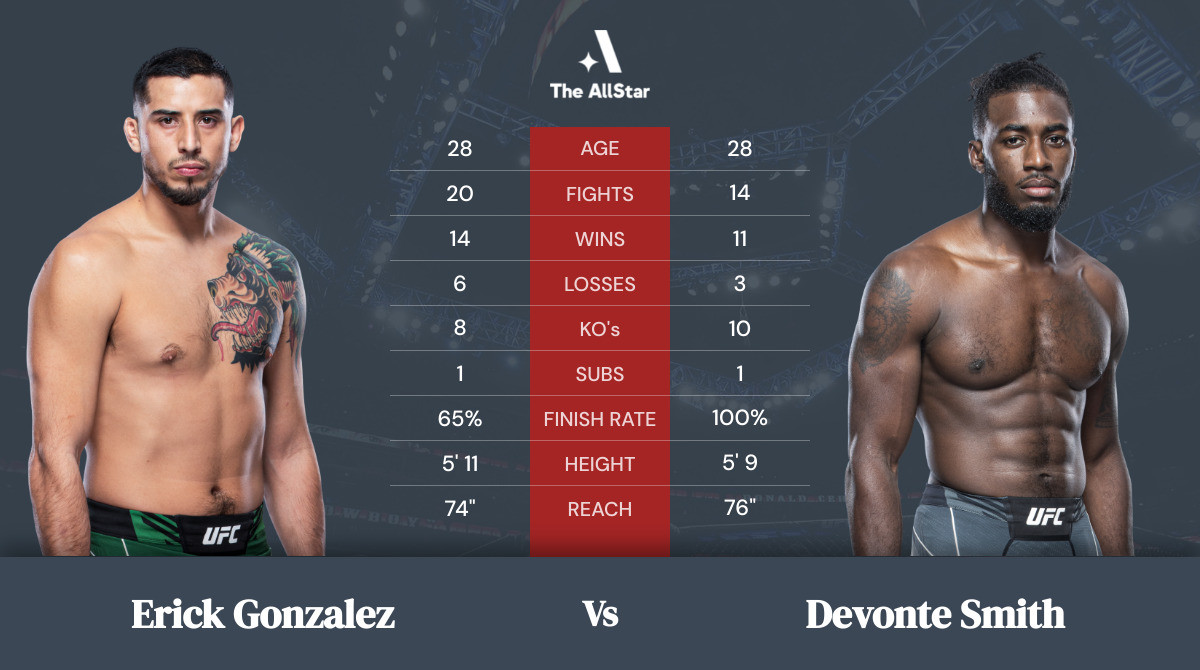 Devonte "King Kage" Smith's recent form coming into this matchup
Devonte "King Kage" Smith is a 28 year old male fighter from United States with 11 pro wins and 3 losses. Smith is scheduled to fight Erick Gonzalez at UFC 272: Covington vs. Masvidal on Saturday March 5, 2022.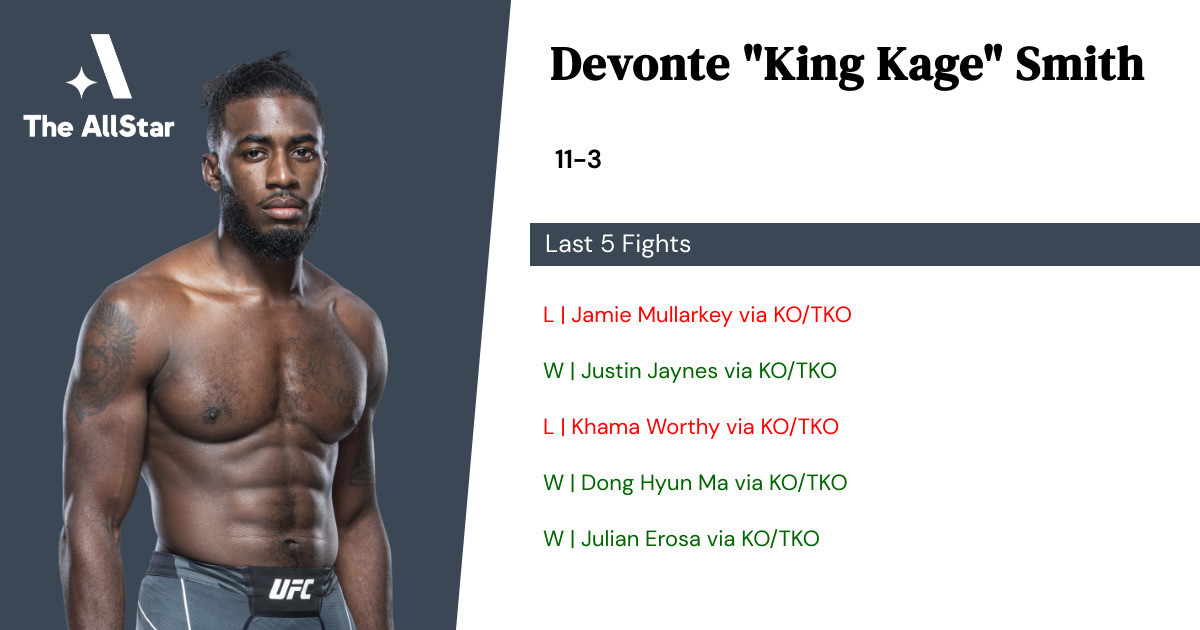 Devonte Smith has gone 3-2 in the last 5 professional MMA fights.
Loss vs Jamie Mullarkey • KO/TKO R2 2:51 • 2021-10-02
Win vs Justin Jaynes • KO/TKO R2 3:38 • 2021-02-06
Loss vs Khama Worthy • KO/TKO R1 4:15 • 2019-08-17
Win vs Dong Hyun Ma • KO/TKO R1 3:53 • 2019-02-09
Win vs Julian Erosa • KO/TKO R1 0:46 • 2018-11-10
How to watch and bet on Erick Gonzalez vs Devonte Smith
Keep track of all the latest odds and line-movements at our bout page for this matchup.