The AllStar collaborated with videographer Jeff Sainlar on this exclusive interview with Israel Adesanya ahead of his UFC 281 main event. It was filmed at Adesanya's home on the outskirts of Auckland, New Zealand, before he flew out with the City Kickboxing team to New York.
Israel Adesanya never thought he'd get a chance to square the ledger with Alex Pereira.
The UFC middleweight champion had long made his peace with the two kickboxing losses Pereira handed him, including his only knockout loss in 2017. That KO in particular made Adesanya stronger. He took his learnings from the experiences and moved forward in his inexorable rise to the top of the UFC mountain.
Revenge, he claims, was not on his mind, nor did he seek it. Five years later, the MMA gods intervened, with a little help from UFC matchmakers: 'The Last Stylebender' gets to renew his rivalry with his old kickboxing opponent at UFC 281.
The glorious serendipity of the bout isn't lost on the champ. In a recent interview, a relaxed, but clearly focused Adesanya shared that he stepped his preparation up to the point "where there's no stone left unturned" in his quest for redemption. It's a quest made all the more spicy by Pereira's irreverent social media trolling of his opponent.
"There's a little extra motivation, definitely," Adesanya told MMA videographer Jeff Sainlar in an interview collaboration with The AllStar.
"Now that it's here, I didn't ask for it, the universe bestowed this upon me, and it's a great opportunity to rewrite history."
Glory of Heroes
To understand that history, it's necessary to understand that the pair's previous engagements under the Glory of Heroes banner were both games of inches. Both men had moments in the first battle in 2016, though Pereira, landing the more impactful shots overall, edged out a decision on the judges' scorecards after three rounds.
The ill-fated rematch bout saw Adesanya step up the pressure. In what was a technical firefight, Pereira found himself on skates several times after being rocked by his younger opponent in the second round, though he'd make it to the bell. After regaining his composure between rounds, 'Poatan' floored Adesanya with a left uppercut in the third, ending the fight in an instant.
"The knockout loss, it made me stronger," Adesanya said. "I think I knocked out my next opponent, my next couple opponents. It definitely made me stronger in a way that I needed to at the time. I made peace with it because I thought that's that, that's kickboxing done."
So what makes this time different?
The first and obvious thing is that the next fight is in MMA, with vastly different possibilities to kickboxing. In MMA, Adesanya's record is almost unblemished since the Pereira knockout: 14 wins from 15 fights, with the only loss coming when he moved up a weight class for Jan Blachowicz in March 2021.
Pound for pound
Pereira is no slouch, with five knockouts and a 6-1 record from his MMA engagements. Still, he is challenging a champion with three times as many MMA fights and a name that is perennially mentioned in the pound-for-pound GOAT discussions.
In the interview, Adesanya pointed out one factor that might swing things in his favor: That his now ballooned-out Brazilian counterpart simply won't have the gas tank to match his own pace.
Pereira weighed an astonishing 232 pounds just two months ago, facing a challenge just to make weight for the 185-pound contest. While that size might confer some advantage in a middleweight bout, it could be detrimental in the type of fast-paced encounter that Adesanya envisages.
"I honestly think within the first five minutes, within the first round, even within the first three minutes – with the pace we're gonna [bring] – I think it's gonna be a high pace. He's not gonna be able to keep that high pace. In the first round, you're gonna see him start to fold – he's not gonna be able to keep that high pace. I know the kinda pace I can [bring].
Long fights
"He's not gonna last," the champ predicted.
"If this fight has to go, each round, until someone falls, trust me, I know who's gonna stand. I know who's gonna be left standing."
'Stylebender' knows how to win long fights. Of seven fights that have gone the full five rounds, Adesanya has had his hand raised six times. His only loss was to Blachowicz.
Pereira, on the other hand, has only once gone a full 15 minutes inside the cage. Yes, he came out with a victory in a hard-fought war, but that stat, combined with the extra pounds he'll be carrying doesn't bode well for the challenger in his opponent's eyes.
"I'm 205, 204 [pounds right now]. Ripped," Adesanya said. "I'm ready to go. I can go fucking 45 minutes."
Poking the bear
Pereira has also done himself no favors with his recent social media antics, poking fun at his opponent's training methods. It's a common tactic in this day and age, to get under your rival's skin. To Adesanya, it reminded him of the trolling by a previous opponent – Paulo Costa – who the champ dispatched with ease in 2020. It seems as if history may be repeating itself.
Pereira is "giving me fucking mad Costa vibes bro. Like literally, he did the Segway thing, the hoverboard thing – and I didn't even know that was a diss at me, so I was kinda like 'really? Okay whatever," Adesanya said with a deadpan stare.
"And then he recently just did the tennis ball thing, I seen that on the 'Gram and I was just like 'okay.'
"I remember Costa was doing skits with his guys and all that shit," he continued. "Same thing, I don't react. I'm like 'what do you want from me?' He wants me to react. I don't react. But I will respond. And I will respond with violence when it's time."
That time will be on November 12 when the two square off at Madison Square Garden. Though Adesanya may never have sought vengeance, he does aim to grasp it with both hands. It's rare to be gifted a chance at redemption, a second even more so.
"I didn't go chasing this, I had made peace with this. Like, sweet, that fight's never going to happen but now, here it is. Obviously, I know what this is for me," he said.
"I know what this is for me," Adesanya repeated.

In case we didn't catch it the first time.
---
Fighter profile
Israel "The Last Stylebender" Adesanya is a 33-year-old male fighter from Nigeria with 23 pro wins and 1 loss. Adesanya is scheduled to fight Alex Pereira at UFC 281: Adesanya vs. Pereira on Saturday, November 12, 2022.
Israel Adesanya's recent form coming into this matchup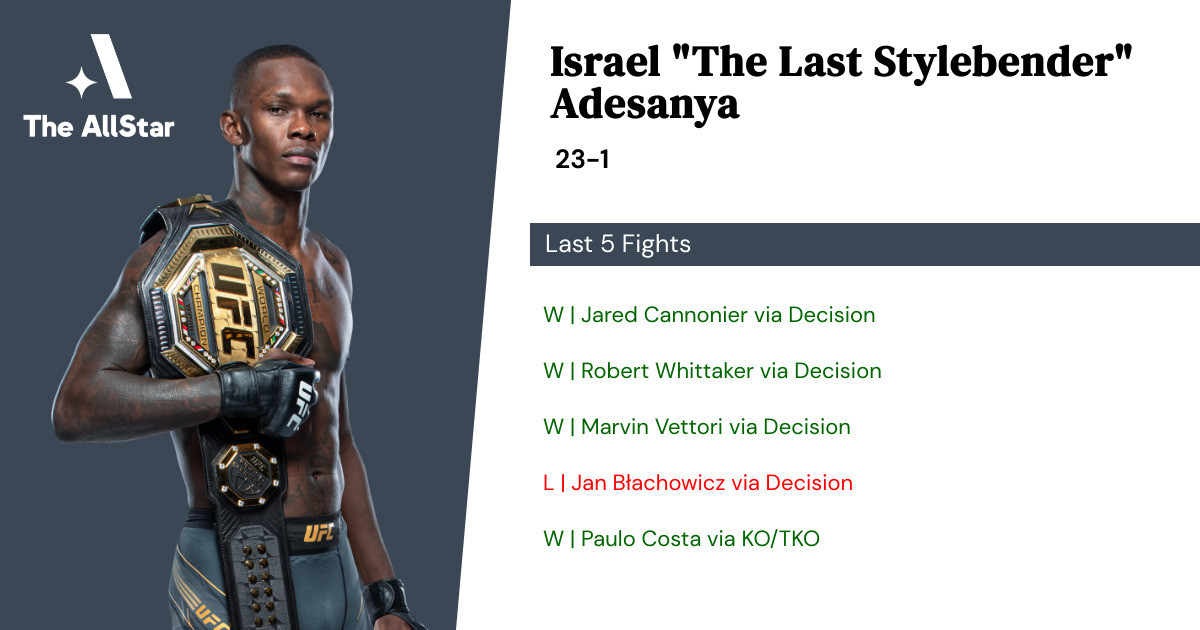 Israel Adesanya has gone 4-1 in the last 5 professional MMA fights.
Win vs Jared Cannonier • Decision R5 5:00 • 2022-07-02
Win vs Robert Whittaker • Decision R5 5:00 • 2022-02-12
Win vs Marvin Vettori • Decision R5 5:00 • 2021-06-12
Loss vs Jan Błachowicz • Decision R5 5:00 • 2021-03-06
Win vs Paulo Costa • KO/TKO R2 3:59 • 2020-09-26
Israel Adesanya's next opponent: Alex "Poatan" Pereira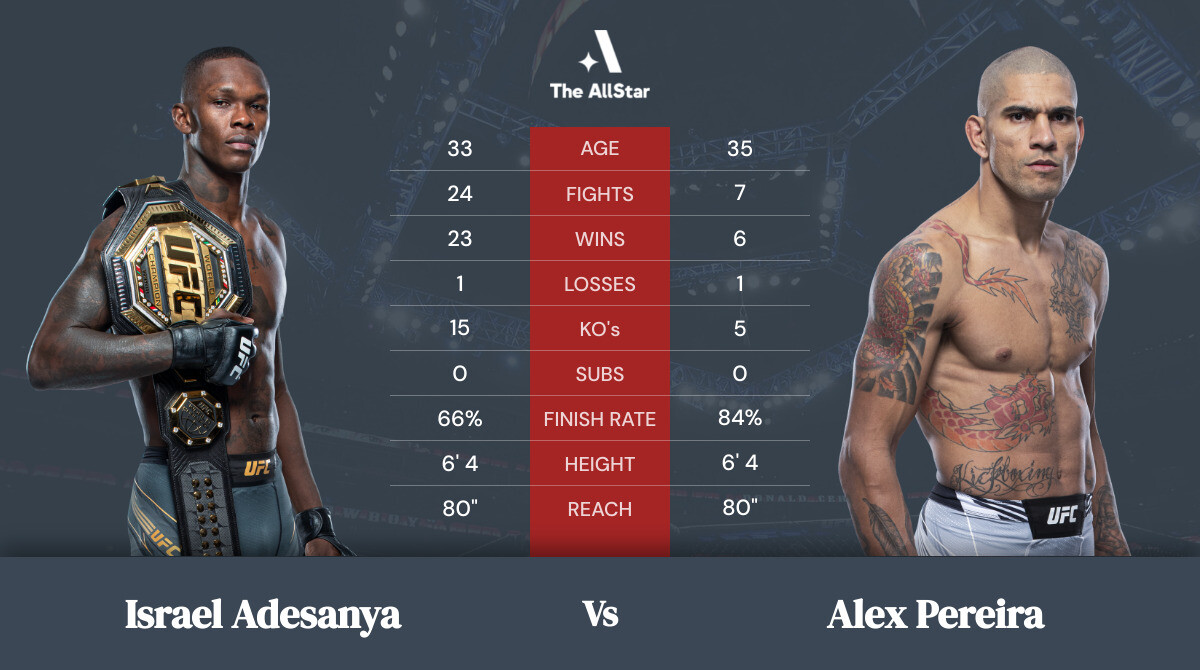 Alex "Poatan" Pereira's recent form coming into this matchup
Alex "Poatan" Pereira is a 35 year old male fighter from Brazil with 6 pro wins and 1 losses. Pereira is scheduled to fight Israel Adesanya at UFC 281: Adesanya vs. Pereira on Saturday November 12, 2022.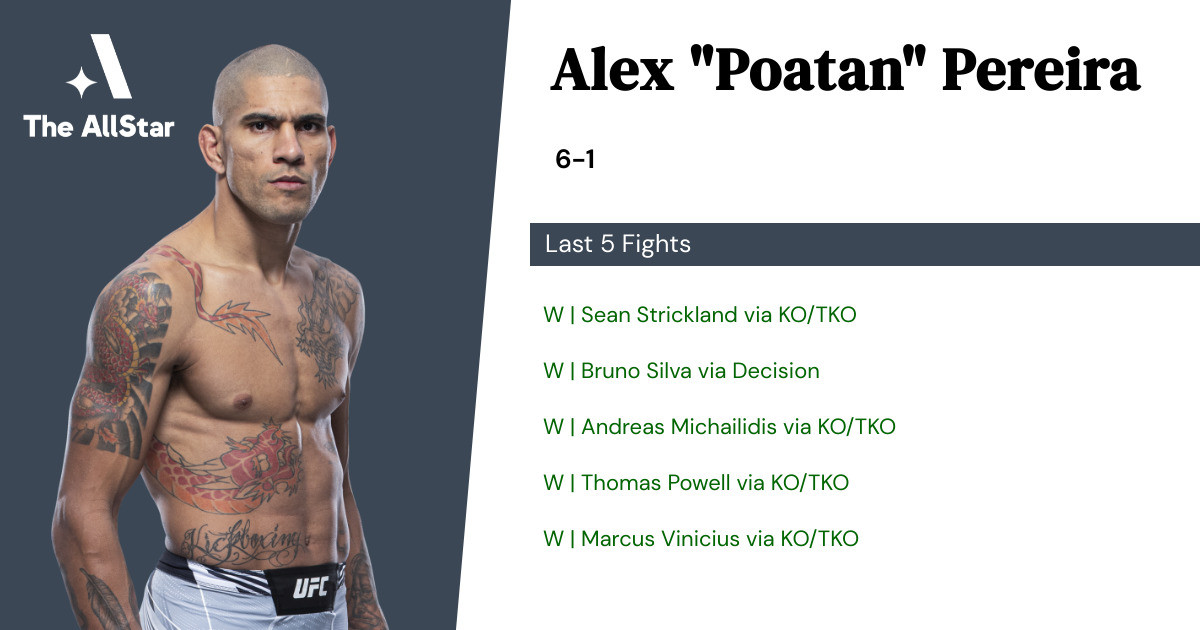 Alex Pereira has gone 5-0 in the last 5 professional MMA fights.
Win vs Sean Strickland • KO/TKO R1 2:36 • 2022-07-02
Win vs Bruno Silva • Decision R3 5:00 • 2022-03-12
Win vs Andreas Michailidis • KO/TKO R2 0:18 • 2021-11-06
Win vs Thomas Powell • KO/TKO R1 4:04 • 2020-11-20
Win vs Marcus Vinicius • KO/TKO R2 4:28 • 2016-05-21
How to watch and bet on Israel Adesanya vs Alex Pereira