Gilbert Burns is itching for a fight.
Thing is, he doesn't want just any fight. He wants a fight that makes sense. He wants a fight that furthers his claim to the title. His eyes are on the welterweight top five… save for a big money fight against Jorge Masvidal, of course.
'Durinho', the UFC's fourth-ranked 170-pound contender, has been vocal over the past months on social media, hunting for his next opponent. However, with the aforementioned Masvidal seemingly turning down 'Durinho's callout; and an immediate rematch all but guaranteed between Leon Edwards and Kamaru Usman, the top of the division is all tied up.
All except for one name: Colby Covington.
When teased with the prospect of filling a spot opposite that brash-talking American on the planned Brazil pay-per-view in January 2023, Burns eyes lit up.
"That would be a dream," he told The AllStar.
Unfortunately, it's likely there's a roadblock preventing the realization of that dream, Burns revealed.
Living in South Florida, the same city in which Covington resides, the Brazilian heard murmurs that 'Chaos' may well be out of action until March of next year, due to ongoing issues stemming from Masvidal's attack on the 34-year-old over five months ago.
"The rumors [were] that he was very bad. He had a neck injury, the nerves were very bad – he lost a little bit of movement in his neck. He kinda broke his jaw again, he had surgery and the surgery didn't go well. He's still doing the PT, he's not training. If everything goes okay, he's only back in March – that's what I heard. I don't know if it's true, but I [heard] from guys that know him. I think it's true because he's been quiet – he hasn't said anything. I think he's out until March next year."
For the moment, it seems Burns is intent on getting his hands on 'Gamebred' and the paycheck that accompanies that bout while Covington is on the mend – but notes that fight will always be there.
"Colby is always an option, you know. If you're asking me what's the best option for me, I'd say Masvisdal in December or January, and Colby next after that."
But, he reiterated, "I don't even know if that Masvidal fight's gonna happen."
---
Fighter profile
Gilbert "Durinho" Burns is a 36-year-old male fighter from Brazil with 20 pro wins and 5 losses. Burns most recently fought Khamzat Chimaev at UFC 273: Volkanovski vs. Korean Zombie on Saturday, April 9, 2022.
Gilbert Burns's recent form coming into this matchup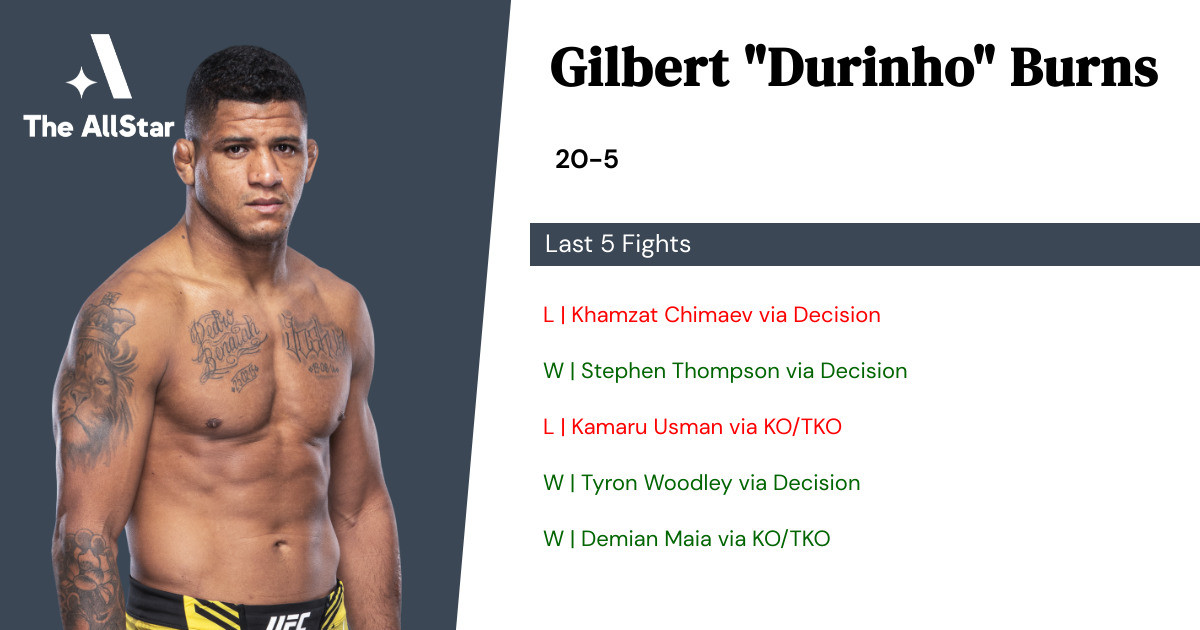 Gilbert Burns has gone 3-2 in the last 5 professional MMA fights.
Loss vs Khamzat Chimaev • Decision R3 5:00 • 2022-04-09
Win vs Stephen Thompson • Decision R3 5:00 • 2021-07-10
Loss vs Kamaru Usman • KO/TKO R3 0:34 • 2021-02-13
Win vs Tyron Woodley • Decision R5 5:00 • 2020-05-30
Win vs Demian Maia • KO/TKO R1 2:34 • 2020-03-14