UFC bantamweight Rob Font believes that becoming a father will provide him with extra motivation.
Font's partner is pregnant and expecting their daughter in December. The baby is arriving at a time when her father is contemplating the changes he needs to make after two straight losses in the Octagon. Font thinks that the responsibility of fatherhood will sharpen his focus.
"It's like another spark. This feels different. It's more important and more vital that I'm more focused when I'm training for these fights," Font told The AllStar.
He needs the focus after losses to Marlon Vera in April and Jose Aldo last December. Despite out-landing both opponents by a significant margin, he lost these fights by unanimous decision due to the damage he suffered: Two knockdowns from Aldo and three from Vera.
The Massachusetts native believes he needs to adjust the way he fights, in order to reach the pinnacle of the sport.
"There's got to be some changes as far as how I compete, how I train. The last two [fights] I felt I got beat up. They're eye-opening," Font said.
"Sometimes I get hit and just start going forward. I broke my own record [for significant strikes] on the last one and I lost the fight."
"I was just thinking of output instead of slowing it down and thinking of defence. That doesn't work at this level."
---
The 35-year-old reflected on the Vera fight and said that his volume-based approach led to him receiving a lot of damage.
Font was knocked down toward the end of the second round but continued to deliver high output. After landing 51 of 97 attempted strikes in round two, he increased his volume and landed 71 of 123 attempted strikes in round three. However, he lost the third round on all three judges' scorecards after getting knocked down in the final stages.
Font thinks that his refusal to change his style prevented him from being able to turn that fight around.
"I was up on the scorecards [heading into the second round] and got hurt with a left hook in the second round. I came back in the third round like I was down two rounds when it could have just been one-one."
"It was like a hurry up and go instead of taking my time, we still had three more rounds. The more you throw, the more openings you leave and he took advantage of a couple of solid shots. The damage was so much more than what I was throwing at him."
He knows he has to make changes. While he's sorting that out, he's about to welcome his little girl into the world. Font is looking forward to having her on the sidelines:
"Every training session your daughter is watching you. Bring that gold standard, that diamond level of practice."
---
Fighter profile
Rob Font is a 35-year-old male fighter from the United States with 19 pro wins and 6 losses. Font most recently fought Marlon Vera at UFC Fight Night: Font vs. Vera on Saturday, April 30, 2022.
Rob Font's recent form coming into this matchup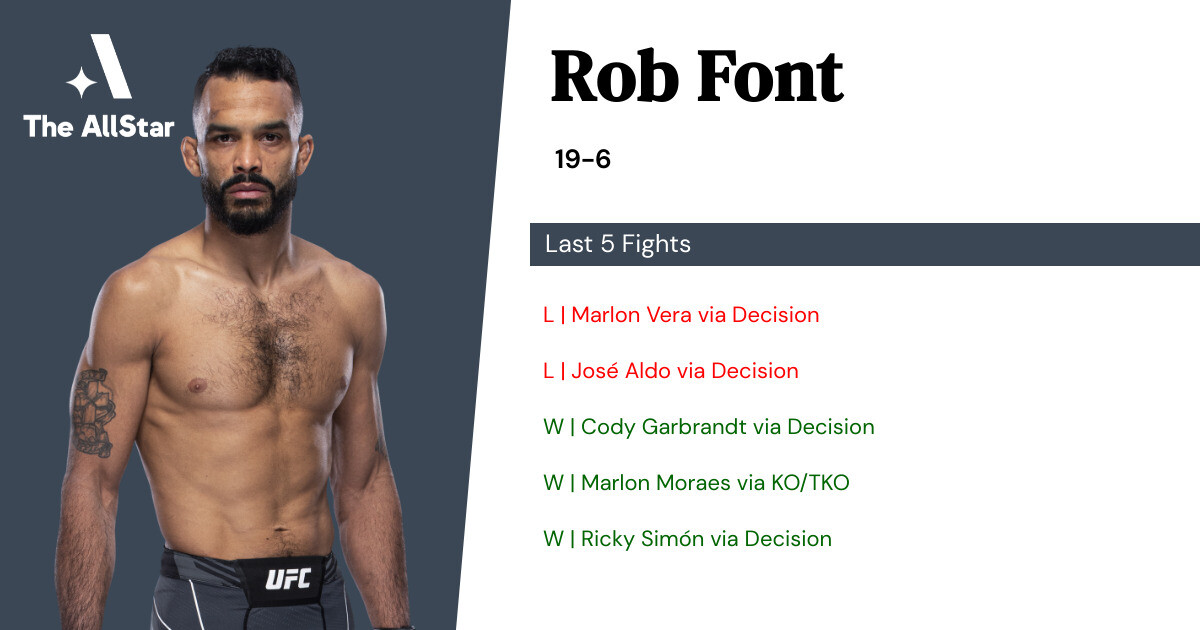 Rob Font has gone 3-2 in the last 5 professional MMA fights.
Loss vs Marlon Vera • Decision R5 5:00 • 2022-04-30
Loss vs José Aldo • Decision R5 5:00 • 2021-12-04
Win vs Cody Garbrandt • Decision R5 5:00 • 2021-05-22
Win vs Marlon Moraes • KO/TKO R1 3:47 • 2020-12-19
Win vs Ricky Simón • Decision R3 5:00 • 2019-12-07