Releasing sparring footage is not cool, according to Francis N'Gannou's coach.
Eric Nicksick, coach at Xtreme Couture, believes there is an unwritten code of conduct when it comes to video of fighters in training. MMA Factory, Nicksick says, has broken that code by leaking footage of N'Gannou sparring with Ciryl Gane ahead of their heavyweight title unification bout at UFC 270 on Jan. 22.
Betting Odds
Will N'Gannou defeat Gane to unify the title?
The old clip, filmed at a time when both fighters were training with MMA Factory, shows Gane looking to have the upper hand over "The Predator." N'Gannou, the reigning heavyweight champion, acrimoniously left the gym in 2018.
The Cameroonian has claimed that the clip was manipulated by his old gym and portrayed a false picture of what really happened. Fernand Lopez, who previously oversaw N'Gannou's training as MMA Factory's head coach, has rejected that allegation.
"I have nothing against Fernand and those guys," Nicksick told The AllStar. "I think he's a phenomenal coach and he's put together such a great roster of fighters over there but when you leak sparring footage, there's kind of a code. I have all this video on here [phone] of guys getting knocked out left and right. How many times have you seen me post anything with our sparring sessions? There's kind of a code to that.
"I don't allow anyone to film in our gym unless you're a coach or I know you. You don't want to run into these problems where people in your gym are filming and then leaked footage gets out and this and that. If you are the coach or you have someone in there filming and then you're the one leaking that film or that video footage, that's where I have a problem just because you don't want to put anybody out on blast."
Across many high-level gyms around the world, training sessions are being recorded. Most of it is never viewed by the public and for good reason.
"When you own the narrative, when you own the video and you can post whatever you want…there's guys in here [phone] that have been knocked out cold but I can make them look good and eliminate the knockout or make their sparring sessions look whatever if I wanted to," Nicksick added. "But when you come into our gym if we are videotaping you it's under the impression that it's for coaches use only and that's where it's always stayed. I think that as far as the code goes you don't release that kind of stuff, in my opinion.
"I have video footage of Kevin Lee knocking out a Russian. I won't say his name. But he fought in the UFC and he was a name that it would have made news. But that's not what we do. Not what we're supposed to do."
There have been allegations of manipulation and mind games being played by Lopez and the team heading into their highly-anticipated clash. However, N'Gannou has not been affected by the drama according to Nicksick.
"He's a pretty mellow dude as it is so to get him mad is pretty hard. He just kinda laughs a lot of this stuff off. But I guess we will see on January 22nd how pissed off he is.
"At the end of the day, it is what it is. I know there's more to that story. Francis told me there's a lot more to that story that wasn't shown. I think it makes for a good backstory."
Watch this interview on The AllStar's Youtube channel.
---
Fighter profile
Ciryl "Bon Gamin" Gane is a 31 year old male fighter from France with 10 pro wins and 0 losses. Gane is scheduled to fight Francis N'Gannou at UFC 270: N'Gannou vs. Gane on Saturday January 22, 2022.
Gane's recent form coming into this matchup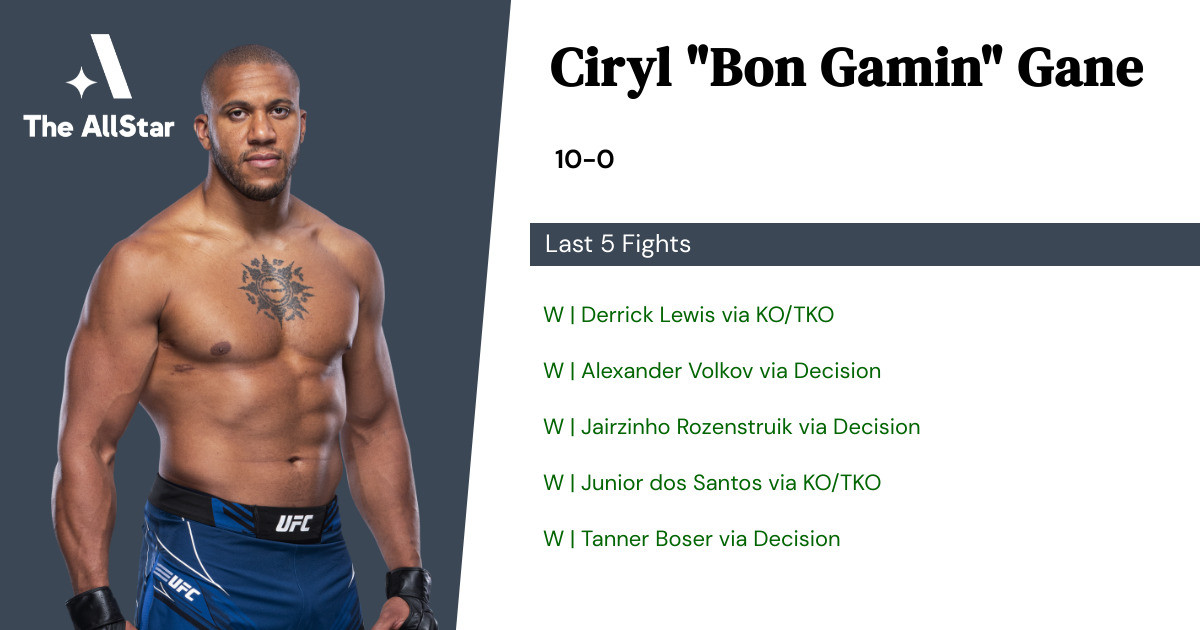 Gane has gone 5-0 in the last 5 professional MMA fights.
Ciryl Gane's next opponent: Francis "The Predator" N'Gannou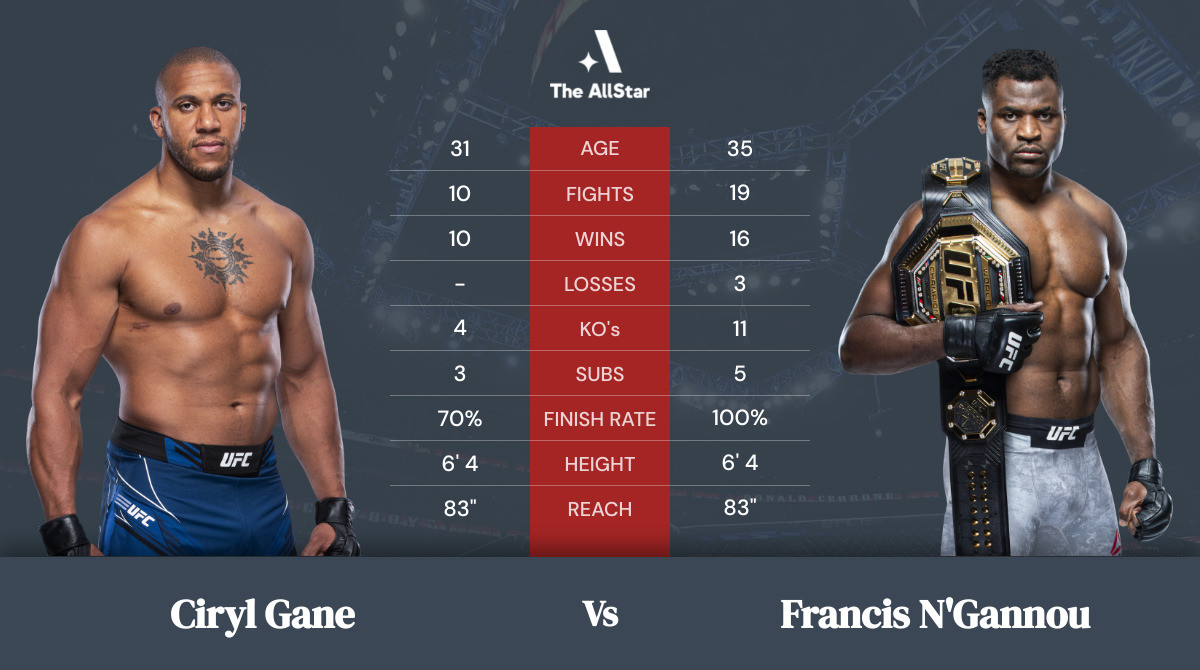 Francis "The Predator" N'Gannou's recent form coming into this matchup
Francis "The Predator" N'Gannou is a 35 year old male fighter from Cameroon with 16 pro wins and 3 losses. N'Gannou is scheduled to fight Ciryl Gane at UFC 270: N'Gannou vs. Gane on Saturday January 22, 2022.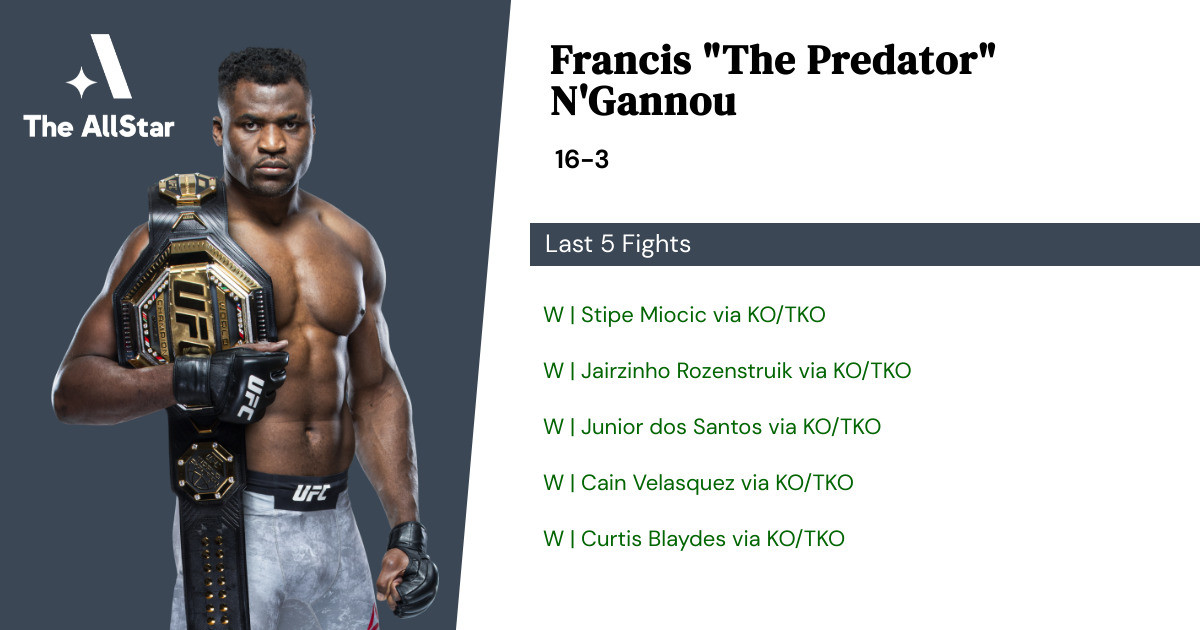 N'Gannou has gone 5-0 in the last 5 professional MMA fights.
Win vs Stipe Miocic • KO/TKO R2 0:52 • 2021-03-27
Win vs Jairzinho Rozenstruik • KO/TKO R1 0:20 • 2020-05-09
Win vs Junior dos Santos • KO/TKO R1 1:11 • 2019-06-29
Win vs Cain Velasquez • KO/TKO R1 0:26 • 2019-02-17
Win vs Curtis Blaydes • KO/TKO R1 0:45 • 2018-11-24
How to watch and bet on Ciryl Gane vs Francis N'Gannou
Keep track of all the latest odds and line-movements at our bout page for this matchup.