Women's MMA pioneer Roxanne Modafferi offers up a deeply personal view on head trauma in her latest column for The AllStar.
It's not great for your brain health to get hit in the head. Nobody can deny that fact.
I've dealt with some head trauma in my career, and took steps to take care of myself. I know training partners who were knocked out in practice. They threw up or were sensitive to the light for days or weeks afterwards. You could lose memories. Thankfully, that didn't happen to me.
It was annoying when my father cut out and mailed to me articles about boxers who got CTE and had to live with crippling irreparable damage for the rest of their lives.
"Dad, I'm not a boxer, I'm a grappler," I'd say. "Still!" he'd reply.
It saddened me when both Mom and Dad asked me when I would retire with wistful looks in their eyes.
Permanent damage
Maybe those things helped me realize what a big deal brain trauma was.
From the very beginning of my career around 2004, I made the following promise to myself: When I start feeling like my brain is on the way to not being okay, I'll quit before I get permanently damaged.
My first experience was in 2010 when I got powerbomb slammed by Sarah Kaufman in our Strikeforce title fight. Darkness did not close my eyes, but I felt like my soul left my body for a second. I was there but I couldn't move.
I remember on the way home in the airport, I was trying to talk to my cornerman. For some reason my speech was slow, and I couldn't come up with the words. Actually, everything about me felt slow.
That was the first time I felt the effects of brain trauma. I got really scared and started crying on the spot in the security line. My cornerman told me I'd be okay, and I should just take time off. He was right. That was a light symptom.
I took weeks off from training, and when I returned, I only did grappling for a while. Things returned to normal.
The Ultimate Fighter
My next incident was in 2013. While fighting Jessica Rakoczy on The Ultimate Fighter season 18, I got lifted and slammed again. I kept fighting, although my head was spinning. The ref let me climb to my feet, stumble a few steps, fall down, and then when Jessica rushed in, he stopped the fight.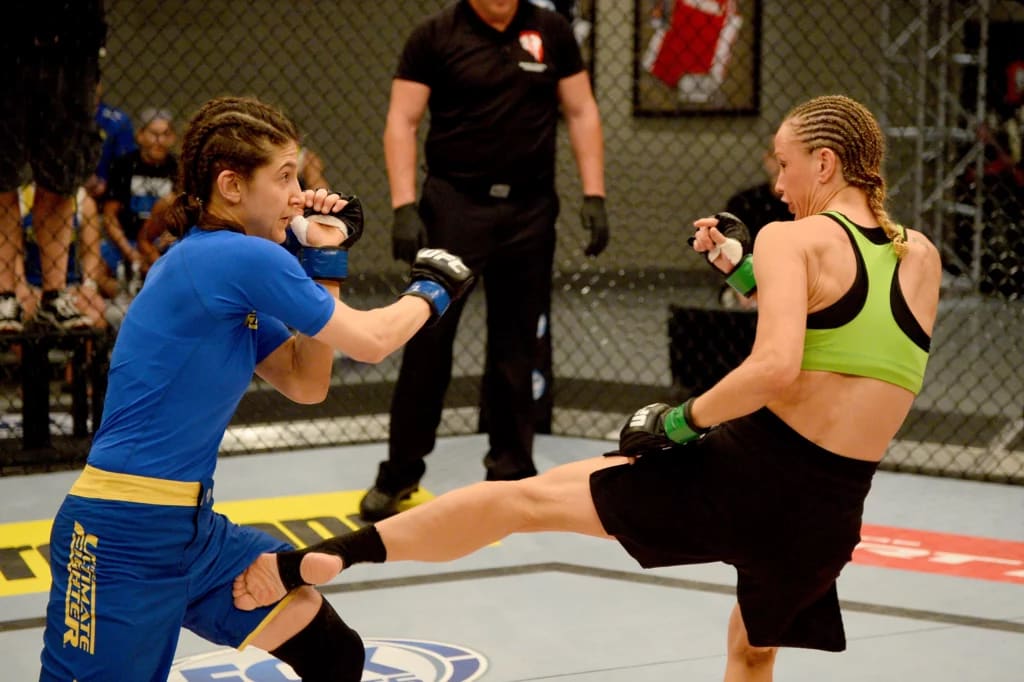 I guess you can say only the floor can knock me out. I have no other TKOs or KOs on my record.
After that fight, I felt normal just walking around, but dizzy and light headed if I tried to do anything which got my heart rate up. I remember trying to swim or bike for exercise, and feeling crappy. I was terrified.
The UFC paid for my CT scan of my brain and it showed a little evidence of a concussion but not too bad. I'm glad it didn't seem bad, but it scared me that a brain scan would show anything at all wrong with my brain.
Headaches
I recovered within a month or so and things went back to normal again. I fought many fights without lasting effects.
Around the year 2016, I noticed that I was starting to get headaches during and after sparring sessions in practice. I realized with disappointment that it was due to certain training partners hitting me very hard. How unfortunate. I asked them to go lighter. Sometimes they did, but when excitement of the match increased, they'd go back to hitting hard.
I ended up telling some people I couldn't train with them anymore.  It took me months to figure it out and have the hard talks. Then, I still felt negative effects so I had to take periodic breaks from kickboxing. I got sponsored by Cryohelmet, and their icey head covering helped me recover so much!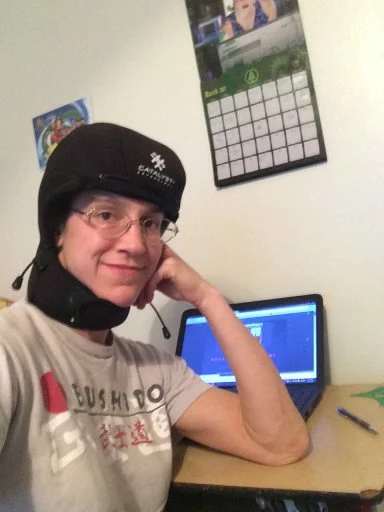 My head healed and I was headache free!
Fast forward to around 2021, I started experiencing feelings of "not quite right" again. I did have partners hitting me hard, so I asked them to go lighter. I started shying away from those who hit harder than I wanted, which hurt my training and fight preparation because the partners I was avoiding were highly skilled and could help me. I started sometimes wearing headgear, and it helped.
Headgear
Every gym has its own policy regarding how hard people spar, and wearing headgear. Cies MMA in Colorado Springs has a rule that in order to spar, you must wear headgear. If you forget it, you can't spar.
I'm totally pro headgear. There's a huge debate on wearing headgear versus not wearing it. Some say that it rattles your brain more to wear it, but I never ever got rocked or dizzy when struck while wearing headgear.
It just sucked because I couldn't grapple with it. People would hold onto it when I was trying to wrestle. I'd get pinned because I had this huge thing on my head, and beat up. There was no mercy.
When I prepared to fight Taila Santos, I thought I had a good training camp. However, after the fact I realized that my sparring wasn't good because I was only going with people I knew couldn't hurt me, and I wasn't challenged enough.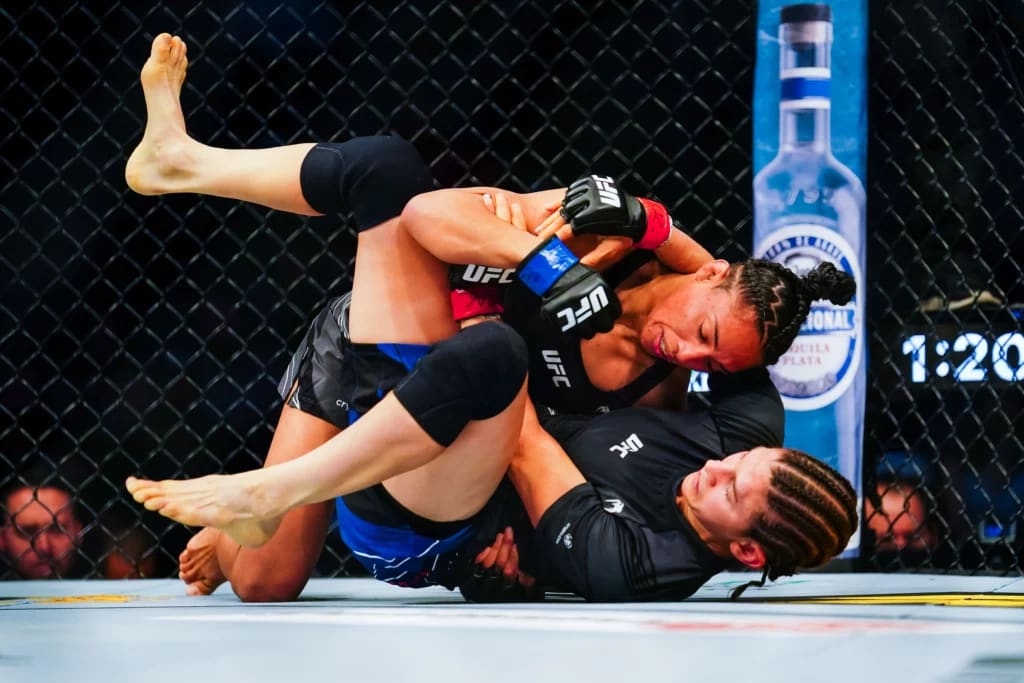 One last fight
When I went back to training after fighting Taila in September 2021, I realized that it wasn't just one person hitting me too hard. It was everybody's strikes. I used to be able to walk through punches before, but even lighter ones gave me a headache and that "not right" feeling after practice.
That's when I decided I'd do one last fight to reach 50 fights and call it a career.
I chose my partners carefully for those three months of fight prep, and wore my headgear 100% of the time. I never got rocked and experienced no ill effects this time. One girl even elbowed me in the head very hard and I didn't feel rocked.
I prepared so well. During the fight, I was still able to absorb strikes and not get concussed. My preventative measures were successful.
Thankfully, I've only ever had light symptoms of concussions. I was lucky to make it out with my essential brain cells intact. My parents are very happy now.
I think fighters should be more educated on brain trauma so at least they know the signs, symptoms, and can make decisions on what they are risking.