Milwaukee's recent loss to the seven-win Detroit Pistons at home sparked a familiar conversation among Bucks fans on the team's supposed Achilles' heel for the past three years: their porous defense of the three-pointer. The Pistons sank 18 of their 43 attempts from beyond the three-point line, good for 41.9 percent shooting from deep.
It's nothing fans haven't already seen before. The Milwaukee Bucks have infamously floundered at the hands of hot-shooting teams setting new three-point records against them. On paper, it was easy to tag these as anomalous nights in an otherwise sound defensive regimen. It made sense: in both their offensive and defensive philosophies under head coach Mike Budenholzer, they either lived or died by the three. Until eventually, they were mostly dying.
So is it still really their biggest weakness? After all, the pattern went on to continue into their next game against the Toronto Raptors, who finished the evening shooting 41.9 percent from beyond.
The freedom to shoot is there against Milwaukee
The opposition doesn't simply choose to set franchise-record shooting nights against Milwaukee. That the opportunities to catch heat in a hurry are there against the Bucks speaks to the kind of pressure (or lack thereof) they're putting up on the perimeter. In this NBA — which averaged 37 percent efficiency from beyond just a season ago — if you give up a wide-open three, opponents will be more than happy to take them.
According to NBA.com/stats, the Bucks are allowing the most 3-point attempts per game this season. Spot-ups also make up 28.1 percent of opposing teams' offensive possessions against the Bucks, who are only in the 58th percentile in the league in defending those plays.
The reason for that? They're letting the opposition hoist the most wide-open three-point shots with up to 21 attempts given up per game. Because of the myriad of opportunities to let it fly, players like Fred VanVleet, Garrison Matthews, and even Saddiq Bey have gone off from deep against the defending champs in recent memory.
This isn't to say they haven't improved, though, because their numbers this year are clearly much better. In past years, they had the second-worst three-point defense in the league as opponents shot 38.4 percent against them. This year, opponents are making just 33.9 percent of their threes against Milwaukee, a mark good enough for eighth in the league.
It's an established fact that their conservative defense of the pick-and-roll is to blame. Head coach Mike Budenholzer came into his post with a defensive philosophy that placed a premium on completely shutting down efficient shots at the rim.
The general idea is pretty sound on paper: wall off the rim, clamp down on interior attempts and easy shots, and the trade-off for a few extra threes and inefficient mid-range jumpers should be worth it. Thus far this season, the Bucks are conceding the fourth-best points in the paint per game with just 42.7 opponent points off shots up close. Consequently, the Bucks are also top ten in overall defensive rating with a ninth-ranked 107.8 points given up per 100 possessions.
Do they lead to losses? The short answer is no
However you spin it, the problem is by design, and the coaching staff may not even see it as a problem, to begin with. The Bucks, after all, have not leaned on their deep drop coverage of the pick-and-roll as staunchly as they did in years past. The scheme that they have now is one that eked out their first championship in half a century.
According to NBA.com/stats, the Bucks actually give up the fourth-lowest opponent three-point percentage in games that turned out to be losses as of this writing. They aren't bad at contesting three-point shots when they're taken. What they do is open up countless opportunities to take them, whether they go in or not.
To be sure, this could also just be the benefit of what has been a relatively down shooting year for the entire league. With the new officiating rules coupled with a new ball, the league as a whole is shooting an average of 34.8 percent from behind the three-point line as of this post.
But both the stats and the eye test say that it's not the attempts or makes from deep that necessarily cause their losses: it's how those things affect everything else. The Bucks of late have sprinkled consistent zone defense on top of their usual defensive principles. They like to use their length and activity to pack the paint. When the attempts are there from deep, though, their defense opens up as the game wears on.
The stats have already established that they also give up one of the most attempts, particularly in losses, in the league. So while opponents may not be shooting their way to victory against the Bucks, it's the comfort they have to hoist from deep that contributes to their wins against the defending champions.
What the Bucks' scheme doesn't account for is that while shots from range are generally less efficient, giving the team rhythm and momentum from deep often throws those statistics out the window. More attempts from downtown means teams can easily catch fire and put up points in a hurry, leading to the Bucks' 17th-ranked 108.0 opponent points per game.
It's a problem, but not the main problem
With Milwaukee's personnel (also or lack thereof), the trade-off might be worth reconsidering as they fight for another championship repeat. But at the same time, to be frank, it still isn't the worst of Milwaukee's woes on the court this season.
More than defending threes, making them also remains to be a point of tension for a club that operates under the mantra of letting it fly. Despite having six players shooting at least 40 percent from deep in their last 15 games, they're shooting 36.0 from that area in that time span. They've been well below league-average at tenth in percentage from deep with 35.6 percent efficiency as of late. In their losses, their 31.2 three-point shooting has them 17th in the league.
They're ranked fourth in the percentage of their points that come from three-pointers, but when you consider that a shooter-heavy roster like theirs is sandwiched between teams like Minnesota and New York, the underperformance of their long-range bombers becomes evident. It's clear that their own three-point shooting woes have more to do with their losses than the opposition's shooting does. When the Bucks' shooters don't capitalize, the load on Giannis Antetokounmpo and Khris Middleton is heavier, and the two stars are forced to create.
Milwaukee's propensity to give up perimeter attempts may be a system problem caused by their scheme, but having muddled personnel rotations due to injury problems certainly exacerbates it. Staying healthy for the playoffs — where generally inefficient three-pointers are not as common — should be the defending champions' main concern moving forward.
---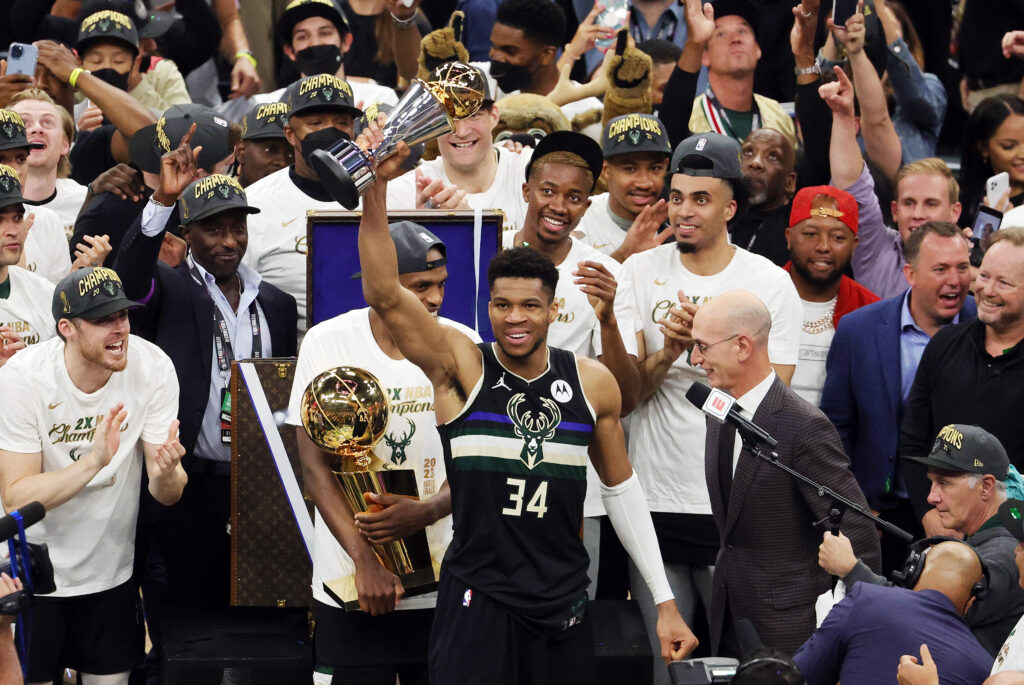 NBA Championship Betting
Who will win it all?
Brooklyn and Golden State are frontrunners to win the Championship but what about Milwaukee?
See where the Bucks rank.
---