A win in the UFC heavyweight division means more than ever right now.
The division is in flux, with the old guard falling, the new rising, and the heavyweight champion raging against the machine and likely taking most of the next year off due to knee surgery.
Jairzinho Rozenstruik believes the promotion should introduce an interim belt if Francis Ngannou is absent for an extended period, but he feels we need active combatants competing for that title. Not former champions who rely on their old conquests to get fans excited.
" In my opinion, those guys should wait. Stipe [Miocic], Jon Jones, people are talking about them, but they don't do nothing [sic]. Come and fight and earn your place. There's people that's been fighting and keeping the division running, those guys should get their shot for the interim title. Not people who are sitting around and waiting and 'blah, blah, blah,' all the time. Let's go, we're working, let's fight," Rozenstruik told The AllStar.
Rozenstruik will return to the cage against former M-1 heavyweight champion, Marcin Tybura, at UFC 273 in April. The bout is pivotal for the two top-ranked heavyweights, as they are both looking to rebound from losses in their last outings.
The 33-year-old Suriname native may have half as many MMA fights as Tybura, but he doesn't mind the challenge. In fact, he welcomes it.
"I think it's a good matchup against him," Rozenstruik said. "He's been around for a while, so he knows the game, and how to play. So, I'm the new guy. Those guys are in the UFC longer than me, but it's all good, and I like the challenge. I want to be in my best shape for the MMA fans and put on a really great performance."
Tybura may have the MMA experience, but Rozenstruik has spent the last 17 years fighting for money. He brawled around the Caribbean before being welcomed to bigger stages. During that time, Rozenstruik had been in over 80 professional kickboxing bouts and knocked out more than 60 men.
But mixed martial arts is a different animal altogether. Tybura is known for his grappling prowess. Rozenstruik faced one of the most credentialed wrestlers in his division in his last outing, Curtis Blaydes, but lost a decision. That contest taught him both how far he had come and how far he still has to go.
"I'm still learning [wrestling] in a big kind of way," Rozenstruik revealed. "And that fight helped me as well as showing my overall game to myself as well as to MMA fans."
Nowadays, he trains wrestling with some of the best in the world at American Top Team. Rozenstruik credits Muhammed "King Mo" Lawal, Mike Brown, Steve Mocco with helping him get to the next level in his grappling.
That work pays off in the upper echelons of the UFC, but at his core, "Bigi Boy," is a devastating striker with highlight-reel finishes of the heavyweight elite. It makes for a nice montage to play down the road, but on fight night, getting the win by any means necessary is the goal.
"For me, the win is really important," Rozenstruik said. "But to get the highlight is the cherry on top. You always want to go in there and get this crazy performance and let people talk about you all week. It's always nice to get that."
---
Fighter profile
Jairzinho "Bigi Boy" Rozenstruik is a 33 year old male fighter from Suriname with 12 pro wins and 3 losses. Rozenstruik is scheduled to fight Marcin Tybura at UFC 273: Volkanovski vs. Korean Zombie on Saturday April 9, 2022.
Jairzinho Rozenstruik's recent form coming into this matchup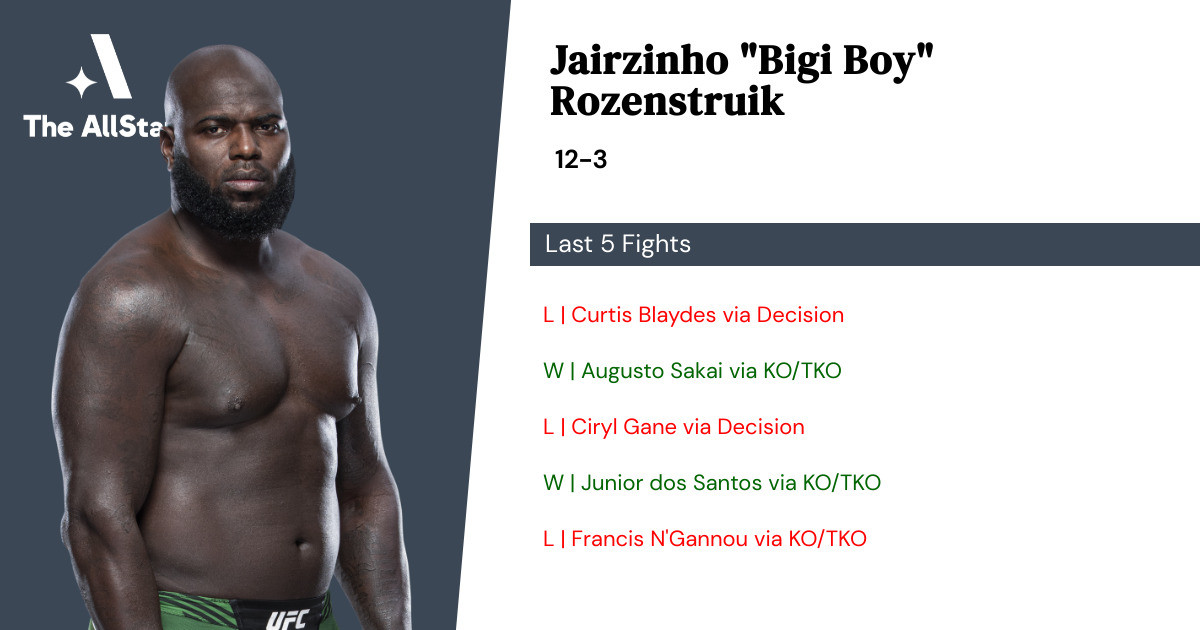 Jairzinho Rozenstruik has gone 2-3 in the last 5 professional MMA fights.
Loss vs Curtis Blaydes • Decision R3 5:00 • 2021-09-25
Win vs Augusto Sakai • KO/TKO R1 4:59 • 2021-06-05
Loss vs Ciryl Gane • Decision R5 5:00 • 2021-02-27
Win vs Junior dos Santos • KO/TKO R2 3:47 • 2020-08-15
Loss vs Francis N'Gannou • KO/TKO R1 0:20 • 2020-05-09
Jairzinho Rozenstruik's next opponent: Marcin "Tybur" Tybura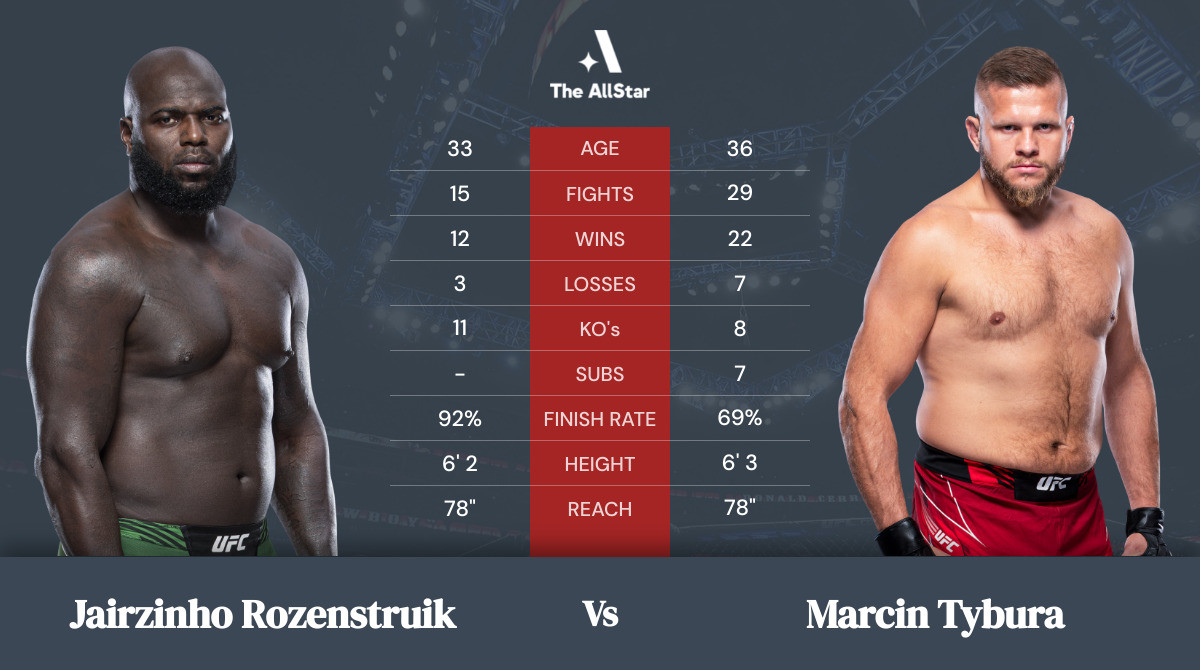 Marcin "Tybur" Tybura's recent form coming into this matchup
Marcin "Tybur" Tybura is a 36 year old male fighter from Poland with 22 pro wins and 7 losses. Tybura is scheduled to fight Jairzinho Rozenstruik at UFC 273: Volkanovski vs. Korean Zombie on Saturday April 9, 2022.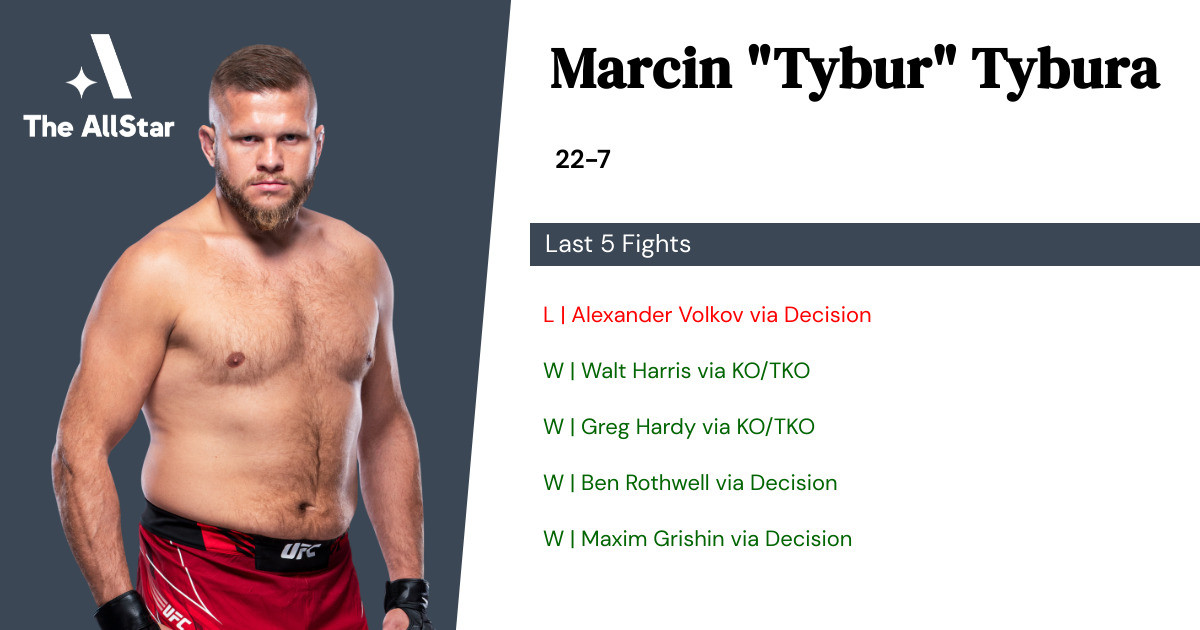 Marcin Tybura has gone 4-1 in the last 5 professional MMA fights.
How to watch and bet on Jairzinho Rozenstruik vs Marcin Tybura