Jared Revel has set the stage for an intriguing battle of two finishers at this weekend's LFA 119 main event.
The Canadian will fight Josh Silveira for the vacant Legacy Fighting Alliance middleweight title on Dec. 3.
"It's great cause he's a finisher," Revel told The AllStar's John Hyon Ko ahead of the clash. "He's got all finishes but I also love to finish fights so I think it's set up for an exciting opportunity.
"I'm not taking my opponent lightly., nothing like that. But I hope he's going for the same thing so I get the best version of him. I'm going for the finish, that's what I want. I like to have exciting fights, I like to put it on." 
"The Rebel" also talks with The AllStar about:
Goals after winning a championship 
Training at Fight Ready with Eryk Anders,
Defeating Sergio Moraes in Brazil
Untapped talent in Canada 
Watch this video and more on The AllStar's YouTube channel. 
---
Fighter profile
Jared "The Rebel" Revel is a 37 year old male fighter from Canada with 11 pro wins and 2 losses. Revel is scheduled to fight Josh Silveira at LFA 119: Silveira vs. Revel on Friday December 3, 2021.
Revel's recent form coming into this matchup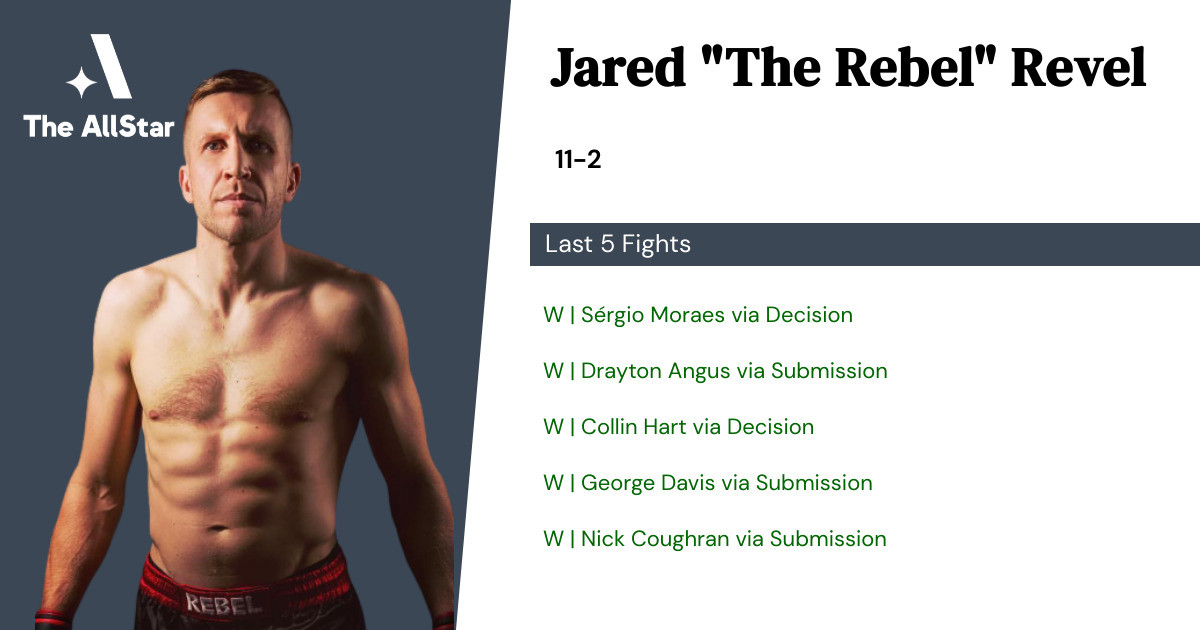 Jared Revel has gone 5-0 in the last 5 professional MMA fights.
Win vs Sérgio Moraes • Decision R3 5:00 • 2020-10-23
Win vs Drayton Angus • Submission R5 2:39 • 2020-02-08
Win vs Collin Hart • Decision R5 5:00 • 2019-06-01
Win vs George Davis • Submission R1 4:29 • 2019-01-12
Win vs Nick Coughran • Submission R1 3:49 • 2018-07-14