Bellator featherweight contender Jeremy Kennedy joins The AllStar's John Hyon Ko ahead of his co-main event fight with Emmanuel Sanchez on Dec.3 at Bellator 272. "JBC" talks Sanchez clash, completely relocating to Las Vegas, lessons from Raufeon Stots fight, featherweight title picture, heavy training with grapplers, and more.
Watch this video and more on The AllStar YouTube channel.
---
Fighter profile
Jeremy "JBC" Kennedy is a 29 year old male fighter from Canada with 16 pro wins and 3 losses. Kennedy is scheduled to fight Emmanuel Sanchez at Bellator 272: Pettis vs. Horiguchi on Friday December 3, 2021.
Kennedy's recent form coming into this matchup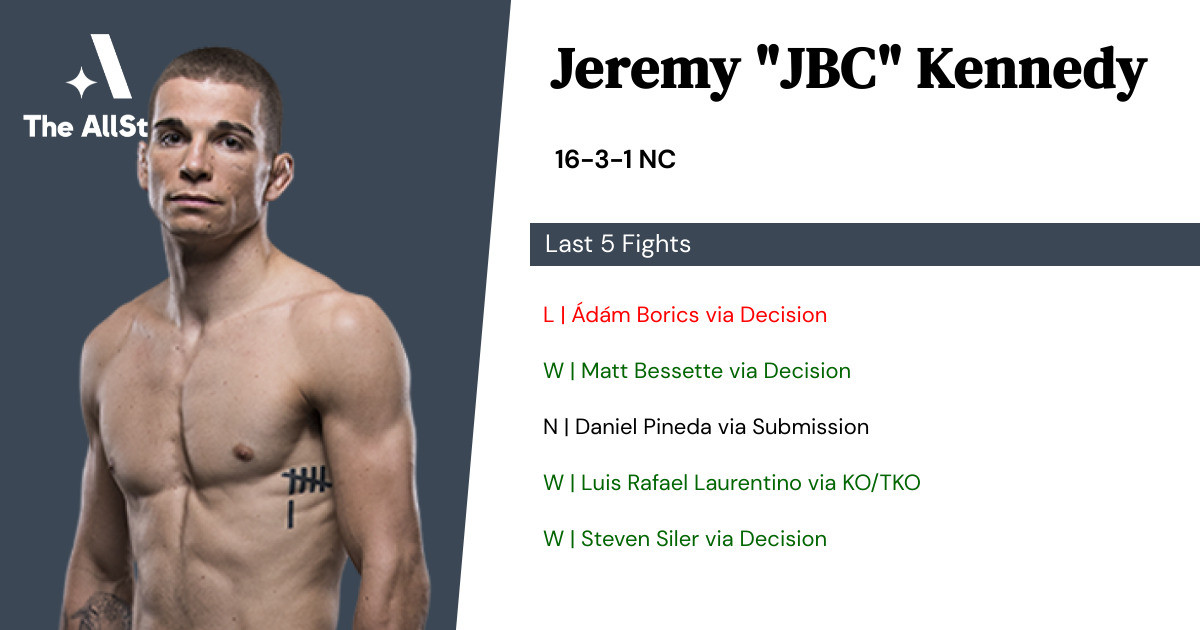 Jeremy Kennedy has gone 3-1 in the last 5 professional MMA fights.
Loss vs Ádám Borics • Decision R3 5:00 • 2021-04-09
Win vs Matt Bessette • Decision R3 5:00 • 2020-11-19
No Contest vs Daniel Pineda • Submission R1 4:00 • 2019-10-17
Win vs Luis Rafael Laurentino • KO/TKO R2 1:24 • 2019-10-17
Win vs Steven Siler • Decision R3 5:00 • 2019-07-25