In his last outing, Johnny Eblen dominated Gegard Mousasi to claim the Bellator middleweight championship of the world.
Being the legend that he is, some were wondering if Mousasi would be worthy of a rematch against Eblen for the title. When asked about the possibility of such a fight, Johnny laughed off the idea.
"I'm only getting better. I could tell after (our fight) he was like, 'fuck that kid was good,' you know what I mean? I think he knew I'm good but I don't think he really knew like how good I was – So, put some respect on my name."
With the biggest win of his career in the rearview, "The Human Cheat Code" is already looking ahead to his first title defense. When asked who he figured his next fight would be against, Eblen told TheAllStar that Anatoly Tokov fits the bill.
"Honestly, he's the next best middleweight I think in our division, in Bellator. (31-2), (he's a) really good opponent, I'm really looking forward to fighting him. Just to showcase my skills against another high-level guy. Just to prove how good I really am, consistently take out guys like that."
The dark horse to this middleweight equation is Yoel "Soldier of God" Romero. Romero just earned the 13th knockout of his career at Bellator 285 and has been calling for a shot at Eblen's title. While Yoel has fought at 185 pounds for the majority of his career, his recent stint at light heavyweight may impede his route to a title shot.
"I want him to fight a ranked middleweight, at least to see if he can make weight because I don't want anything weird happening – just to see if he's really about cutting that weight again. But yeah dude, I wouldn't mind (fighting Yoel). I like my odds in that one. He's an explosive legend, I would love to take out another legend."
Bellator holds a solid reputation for allowing its athletes to seek opportunities outside of their organization while still under contract. This is great news for Eblen, who admitted that he does have aspirations to compete outside of mixed martial arts competition.
"Fuck yeah, I'll do any of that bro. I'll box dude, I'll box. I was talking to Brian Butler my manager and I was like, 'Hey man, I'm probably not going to fight until early next year. If you could find me like a celebrity boxing match or something like, I'm game.' – I've been getting a lot of sparring rounds."
---
Fighter profile
"The Human Cheat Code" Johnny Eblen is a 30-year-old male fighter from the United States with 12 pro wins and 0 losses. Eblen most recently fought Gegard Mousasi at Bellator 282: Mousasi vs. Eblen on Friday, June 24, 2022.
Johnny Eblen's recent form coming into this matchup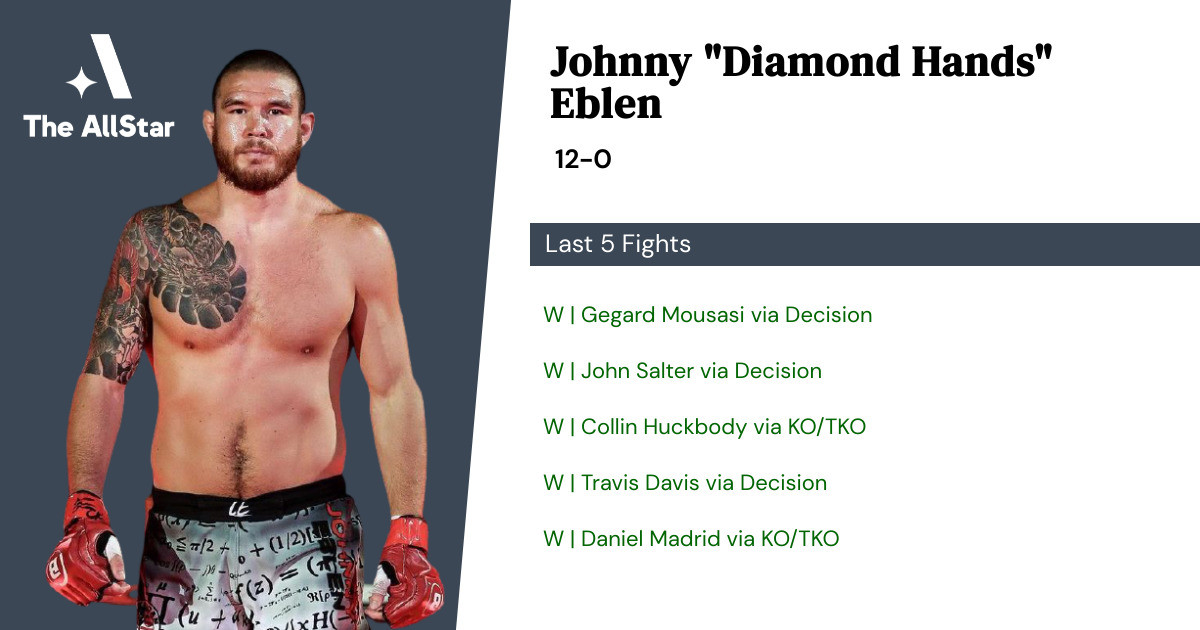 Johnny Eblen has gone 5-0 in the last 5 professional MMA fights.
Win vs Gegard Mousasi • Decision R5 5:00 • 2022-06-24
Win vs John Salter • Decision R3 5:00 • 2022-03-12
Win vs Collin Huckbody • KO/TKO R1 1:11 • 2021-12-03
Win vs Travis Davis • Decision R3 5:00 • 2021-07-16
Win vs Daniel Madrid • KO/TKO R1 2:44 • 2021-05-07