XFC lightweight contender Jose Martinez is walking into enemy territory.
When Martinez walks out to face Kenny Cross in the main event of XFC YoungGuns 4, he'll be doing it in front of Cross' friends and family in Grand Rapids, Michigan.
Unfazed at the thought of fighting in hostile territory, Martinez is focused on the task at hand. When interviewed by The AllStar's John Hyon Ko, Martinez made clear measure of his opponent.
"He looks like a strong, explosive kind of fighter. Likes to stay on the outside, stay at range. Throws some fancy looking strikes like flashy stuff. He's durable and I saw his Contender Series fight. He's got a little wrestling behind him, too. It's definitely going to be a tough fight but I fought who's who around here and it's just another day for me.
"It's nothing new to me. This will be just another tough guy and I have to go in there and beat him in his hometown."
Martinez knows what to expect come fight time. Coming up against the hometown favorite, Martinez expects the boos, but he thinks they'll be to his benefit.
"I'm really expecting to get booed. But hopefully at the end regardless they will be cheering for both of us. Hope we put on a great performance out there. I feed off the crowd, I like the crowd. Even if they are booing that better than not having a crowd."
Martinez also spoke about:
coaching a kids program,
training at American Elite
Watch this interview more on The AllStar's Youtube channel.
---
Fighter profile
Jose "Lil Juggernaut" Martinez is a 31 year old male fighter from the United States with 12 pro wins and 5 losses. Martinez is scheduled to fight Kenneth Cross at XFC YoungGuns 4 on Friday December 10, 2021.
Martinez's recent form coming into this matchup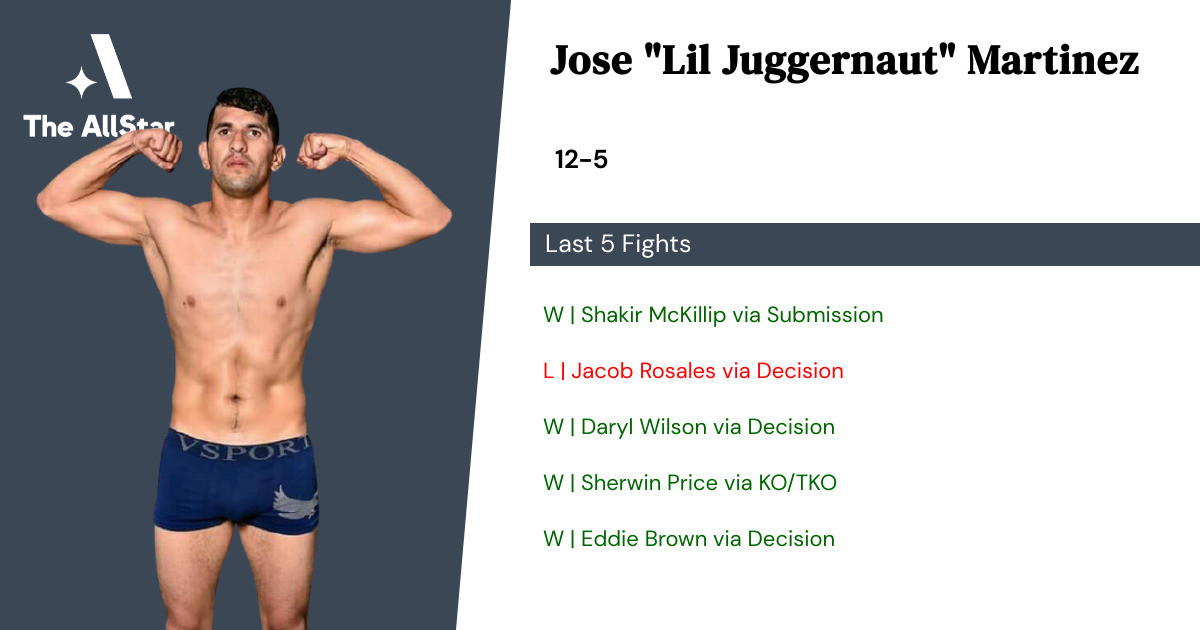 Martinez has gone 4-1 in the last 5 professional MMA fights.
Win vs Shakir McKillip • Submission R1 2:15 • 2021-07-30
Loss vs Jacob Rosales • Decision R3 5:00 • 2021-01-15
Win vs Daryl Wilson • Decision R3 5:00 • 2020-02-29
Win vs Sherwin Price • KO/TKO R1 5:00 • 2019-11-23
Win vs Eddie Brown • Decision R3 5:00 • 2019-03-01