It's a good time to be Joseph Holmes.
After dropping his UFC debut, Holmes roared back to the win column with a perfect, 64-second submission over Alen Amedovski in May. To follow it up, he and his girlfriend traveled to Hawaii where they got engaged.
Holmes expressed his relief at the win and what's next for him in an interview with The AllStar: "I was just very satisfied man and just happy that I could show what I'm capable of. To be able to come back and just kinda put a stamp on it, like yo, I'm knocking fools out, I'm finishing fights."
The quick win was a product spending time with James Krause at Glory MMA in Kansas City. Reflecting on the specific upgrades Krause added to his MMA game and fight IQ, Holmes had this to say: "Before Krause, I didn't really know what setting a trap was…I've set a lot more purposeful traps…I think my grappling's levelled up as well, but I've always been a majority grappler. But just like, the way I can get things that I've always gotten."
Detailing the upgrades to his grappling arsenal, Holmes said: "I've always had a great rear naked choke with just basic hooks and but you know now I've been working on body triangles more and, you know like arm traps and stuff."
The culture of Glory MMA, overseen by Krause, allowed him to not only learn the general lessons taught to a whole class of students, but bring out the best of what he already does.
Holmes went on to explain how helpful it is to have a coach like Krause guiding him through the quiet atmosphere of the UFC Apex, bringing to mind strategies that they'd prepared for in camp. He used the word "presence" several times to describe his mental state of understanding his own ability and connection with a cornerman.
"Ugly Man" will get to further test his improvements in 2022 when he fights resilient Korean Park Jun Yong. In addition to agreeing that Park's appearance does in fact resemble his nickname "Turtle", he also acknowledged the difficultly of putting away Park.
Holmes sees a war of grappling on the horizon with Park, and this is just what he welcomes: "I'm striving to be the best grappler in this division, so I gotta get through him to be that."
---
Fighter profile
Joseph "Ugly Man" Holmes is a 27 year old male fighter from United States with 8 pro wins and 2 losses. Holmes is scheduled to fight Jun Yong Park at UFC Fight Night: Kattar vs. Allen on Saturday October 29, 2022.
Joseph Holmes's recent form coming into this matchup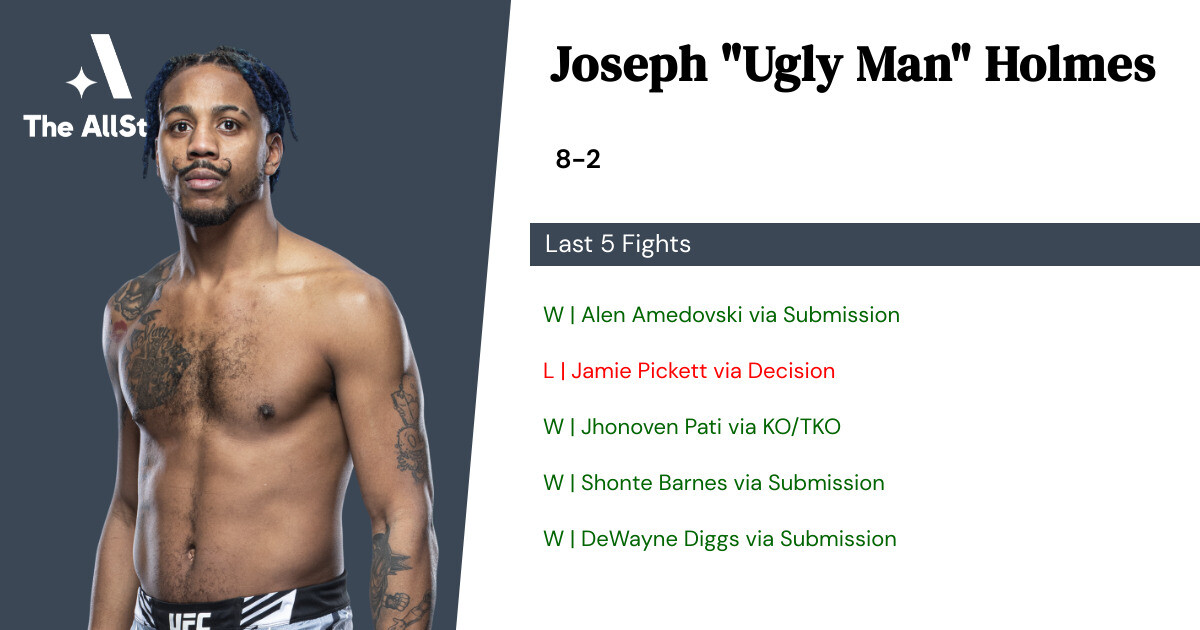 Joseph Holmes has gone 4-1 in the last 5 professional MMA fights.
Win vs Alen Amedovski • Submission R1 1:04 • 2022-05-21
Loss vs Jamie Pickett • Decision R3 5:00 • 2022-01-15
Win vs Jhonoven Pati • KO/TKO R1 2:27 • 2021-11-14
Win vs Shonte Barnes • Submission R2 2:46 • 2021-10-05
Win vs DeWayne Diggs • Submission R2 2:48 • 2021-08-27
Joseph Holmes's next opponent: Jun Yong Park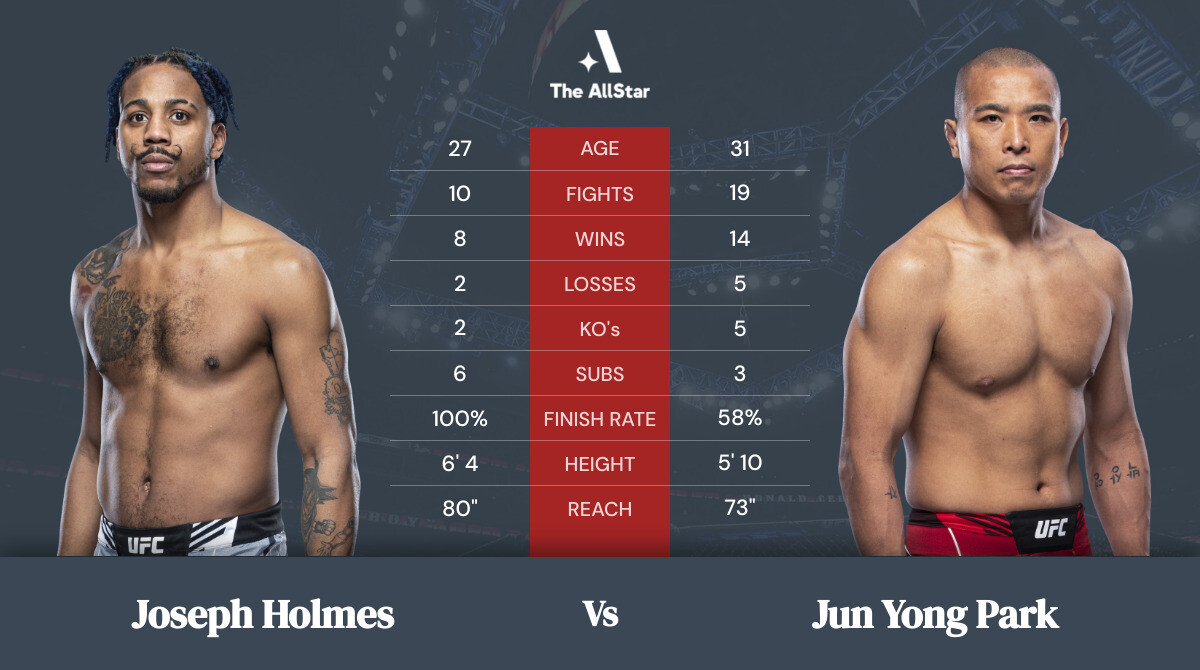 Jun Yong Park's recent form coming into this matchup
Jun Yong Park is a 31 year old male fighter from South Korea with 14 pro wins and 5 losses. Park is scheduled to fight Joseph Holmes at UFC Fight Night: Kattar vs. Allen on Saturday October 29, 2022.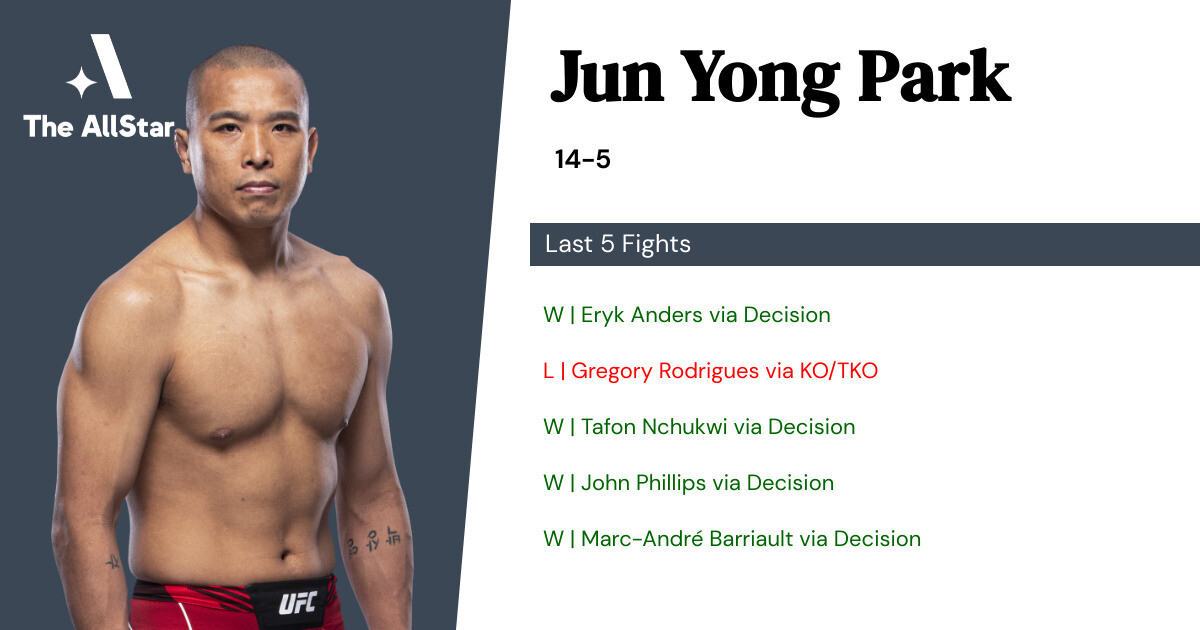 Jun Yong Park has gone 4-1 in the last 5 professional MMA fights.
Win vs Eryk Anders • Decision R3 5:00 • 2022-05-21
Loss vs Gregory Rodrigues • KO/TKO R2 3:13 • 2021-10-23
Win vs Tafon Nchukwi • Decision R3 5:00 • 2021-05-08
Win vs John Phillips • Decision R3 5:00 • 2020-10-17
Win vs Marc-André Barriault • Decision R3 5:00 • 2019-12-21
How to watch and bet on Joseph Holmes vs Jun Yong Park