Bellator bantamweight Josh Hill is nine years older than his opponent this weekend, but he feels a lot younger.

Hill, 35, clashes with 26-year-old Jared Scoggins on Dec. 3 at Bellator 272. Working out with other fighters from Team Alpha Male has helped him prepare for his much younger opponent, Hill told The AllStar's John Hyon Ko ahead of the fight.
"I actually feel better than I was 27, 28," Hill said. "I feel good. I feel like I'm in my prime. Sparring with the guys out here I feel great. Some of the best guys in the world. I'm 35 but I feel like 21."
Hill said his superior grappling and shot timing will be key factors against Scoggins.
"My wrestling and grappling is much better. And my striking….I think I hit harder too. And I think I time things well. That's something I think will play a big factor. I time shots well, time takedowns well, and I think that's something you're gonna see."
"I remember I used to be the young guy coming up," Hill said. "Now I'm the old gritty veteran I guess but that's cool."
"Gentleman" also talks to The AllStar about:
His loss to Raufeon Stots
Teammates fighting each other,
Cerebral Champions
Team Alpha Male with Teruto Ishihara
Watch this video and more on The AllStar's YouTube channel.
---
Fighter profile
"Gentleman" Josh Hill is a 35 year old male fighter from Canada with 20 pro wins and 4 losses. Hill is scheduled to fight Jared Scoggins at Bellator 272: Pettis vs. Horiguchi on Friday December 3, 2021.
Hill's recent form coming into this matchup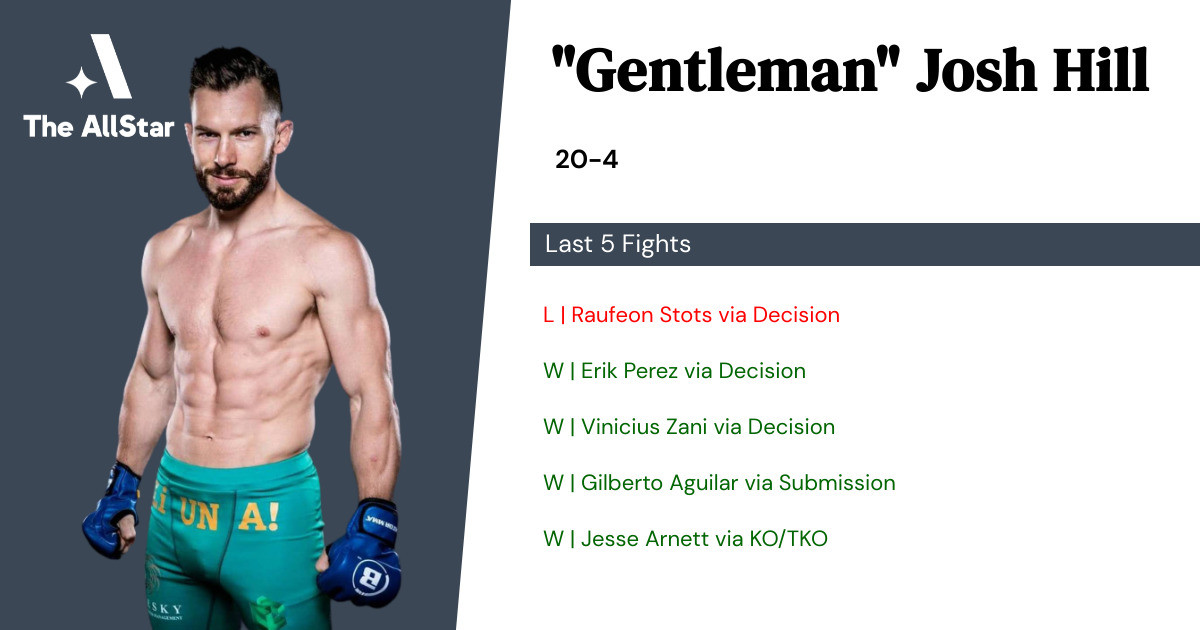 Josh Hill has gone 4-1 in the last 5 professional MMA fights.
Loss vs Raufeon Stots • Decision R3 5:00 • 2021-05-07
Win vs Erik Perez • Decision R3 5:00 • 2020-08-21
Win vs Vinicius Zani • Decision R3 5:00 • 2020-02-21
Win vs Gilberto Aguilar • Submission R1 2:38 • 2019-09-28
Win vs Jesse Arnett • KO/TKO R2 2:11 • 2019-05-24