Undefeated lightweight prospect Justin Montalvo (3-0) has knocked out every one of his opponents so far. He plans on keeping that knockout streak alive against Jacob Bohn (10-7) at Bellator 272 on December 3rd.
In speaking about the matchup, "Kidd Marvelous" believes that taking out the more experienced Bohn, will prove to the Bellator brass that he's deserving of a new contract.
"I know he's a tough guy. I know he has alot of experience. This is the most experienced guy I have fought as a professional. But I kinda did that on purpose to prove a point. To show that I'm ready for the big leagues. So if I can take this guy out and add another knockout and be 4-0 with 4 knockouts, I think it will prove a good point. Bellator will like that for sure and maybe they will give me a contract."
Confident in his ability to get the knockout, Montalvo sees bright future for himslef as he moves ahead in the sport of MMA. "And great things will happen if I keep taking out [guys]…..I believe in myself. I believe I can beat anybody."
Bohn also talked to The AllStar about:
Starting MMA as a teenager at LAW MMA,
Growing under the tutelage of Ray Longo
His amateur MMA experience
Close connection to his father
Watch this video and more on The AllStar's YouTube channel. 
---
Fighter profile
Justin Montalvo is a 25 year old male fighter from United States with 3 pro wins and 0 losses. Montalvo is scheduled to fight Jacob Bohn at Bellator 272: Pettis vs. Horiguchi on Friday December 3, 2021.
Montalvo's recent form coming into this matchup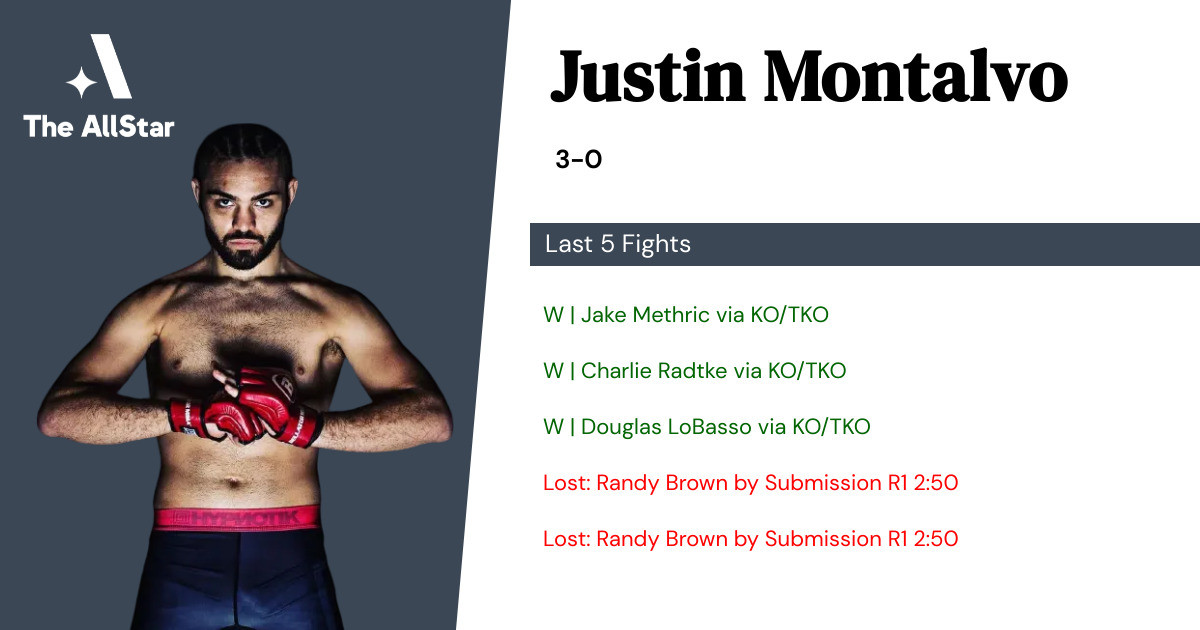 Montalvo has gone 3-0 in the last 5 professional MMA fights.
Win vs Jake Methric • KO/TKO R2 3:40 • 2021-10-16
Win vs Charlie Radtke • KO/TKO R2 4:55 • 2021-03-27
Win vs Douglas LoBasso • KO/TKO R1 0:36 • 2020-02-21