Not dissimilar to most fight-fans that tuned in to UFC 273 on Saturday, Dan Hooker's initial reaction to the first minute of the highly anticipated welterweight clash between Gilbert Burns and Khamzat Chimaev was simply, "Holy shit!"
"That was my fight of the night, hands down," The Hangman shared with co-host John Hyon Ko on The AllStar's MMA Live show.
Applauding both parties on their back and forth, bonus-winning performance, Hooker believes either combatant had the ability to finish the fight.
"Crazy fight how it started," he exclaimed, seemingly still trying to fully process what he had witnessed. "[Chimaev] came out, got the takedown… but obviously Burns was experienced enough… that he was able to kind of survive that early onslaught."
The New Zealand native then turned his attention to the final minutes of the third round. With a massive grin, he chuckled "The last three minutes [of the fight] was just Gilbert Burns going right-hand-happy… just swinging, trying to take [Chimaev's] head off."
With the bout ultimately ending in a unanimous decision for 'Borz' on the judge's scorecards, Hooker praised Chimaev's "incredible" performance against his toughest test to date, admitting "He was getting thrown in the deep end."
"He definitely impressed me, I didn't think he was going to get past Burns… He had to fight for that one."
"Credit to [Burns], he didn't have to take that fight."
As far as what can be taken away from this scrap in terms of tangible answers to the questions many have about Chimaev, Hooker feels the biggest puzzle piece has already been revealed.
"He got shown [to be] human."
"It's funny," he continued. "Fans like to sit back, and they love to just think that there are these superhumans out there… The reality is… no one is superhuman."
Asked about his current estimation of Chimaev's abilities, Hooker reassured "Oh, he's good, he beat Gilbert Burns… Khamzat is one of the best welterweights in the world – hands down… Is he superhuman though?"
"Everyone bleeds, everyone gets tired," he added.
Despite that outstanding performance from the talented prospect, 'The Hangman' still holds his reservations about any talk of Chimaev skipping the queue for a title shot against Kamaru Usman.
"That was like a good striking fight," the featherweight contender started, "It wasn't a guy that's gonna come out there and actually try and wrestle Khamzat."
Hooker then shared his enthusiasm for a potential fight between Chimaev and Colby Covington; a match-up that UFC president Dana White had alluded to during the build-up to UFC 273; White estimated, at that point, the bout would likely take place on the UFC's upcoming fight card on ABC, should the stars align.
"That's a very intriguing fight… I'm just interested to see if Colby can get him down…"
"If Khamzat goes out there and just dominates Colby… especially if he finishes him… now there's intrigue for that Usman fight…"
---
Fighter profile
Khamzat "Borz" Chimaev is a 27 year old male fighter from Sweden with 10 pro wins and 0 losses. Chimaev is scheduled to fight Gilbert Burns at UFC 273: Volkanovski vs. Korean Zombie on Saturday April 9, 2022.
Khamzat Chimaev's recent form coming into this matchup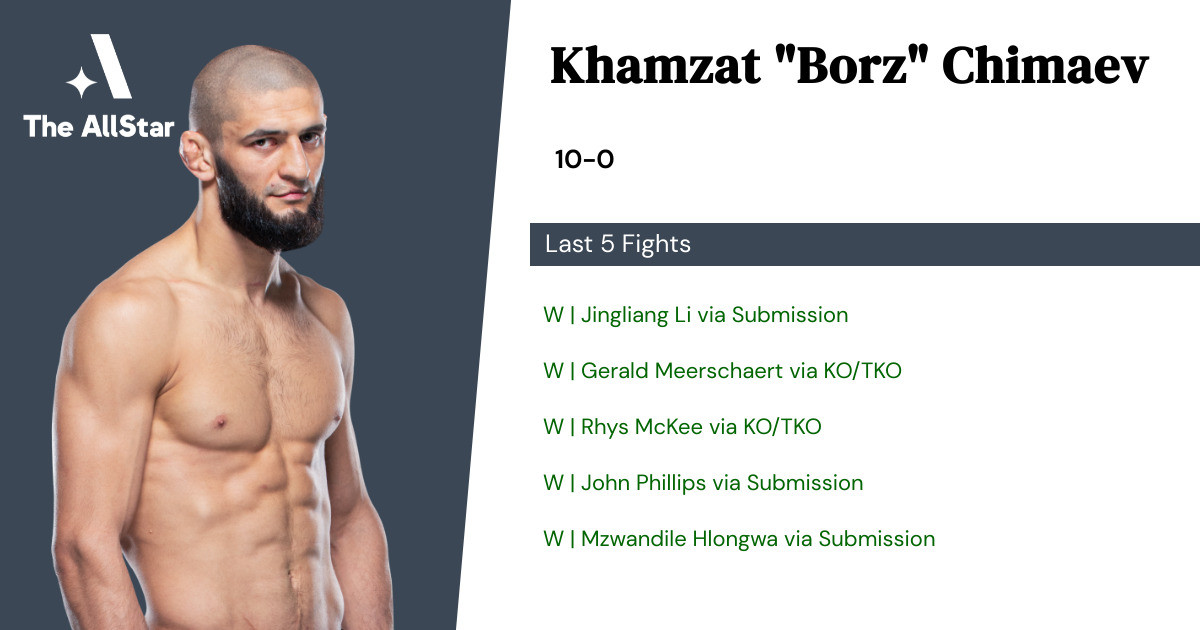 Khamzat Chimaev has gone 5-0 in the last 5 professional MMA fights.
Win vs Jingliang Li • Submission R1 3:16 • 2021-10-30
Win vs Gerald Meerschaert • KO/TKO R1 0:17 • 2020-09-19
Win vs Rhys McKee • KO/TKO R1 3:09 • 2020-07-25
Win vs John Phillips • Submission R2 1:12 • 2020-07-15
Win vs Mzwandile Hlongwa • Submission R2 1:15 • 2019-10-04
Khamzat Chimaev's next opponent: Gilbert "Durinho" Burns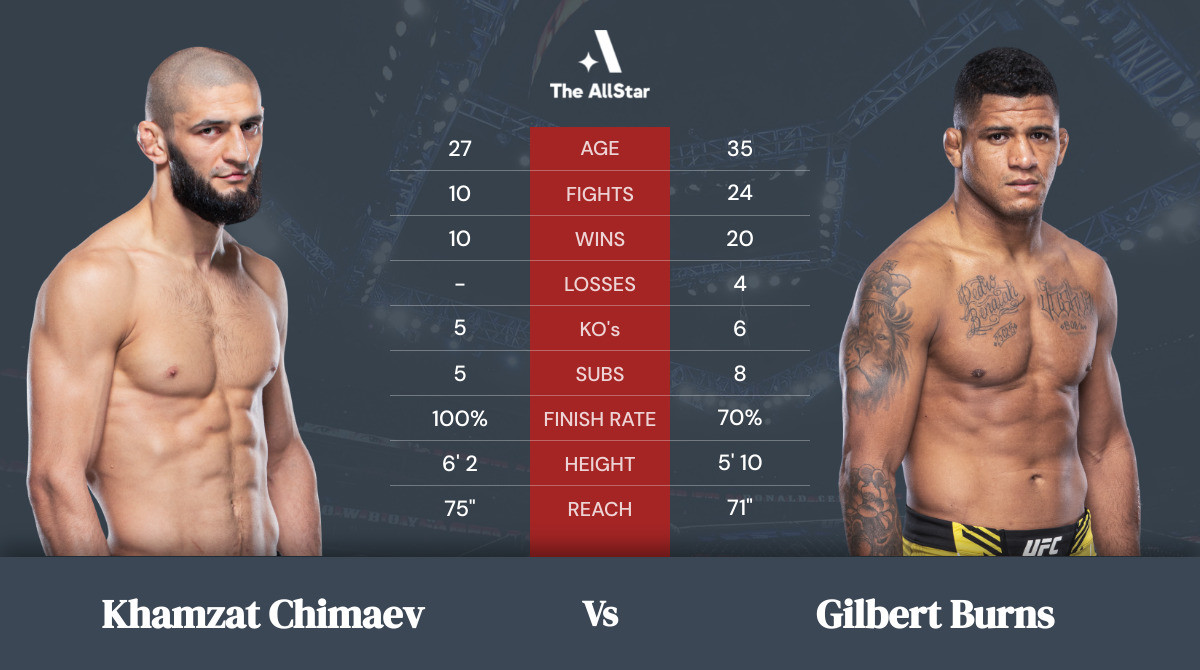 Gilbert "Durinho" Burns's recent form coming into this matchup
Gilbert "Durinho" Burns is a 35 year old male fighter from Brazil with 20 pro wins and 4 losses. Burns is scheduled to fight Khamzat Chimaev at UFC 273: Volkanovski vs. Korean Zombie on Saturday April 9, 2022.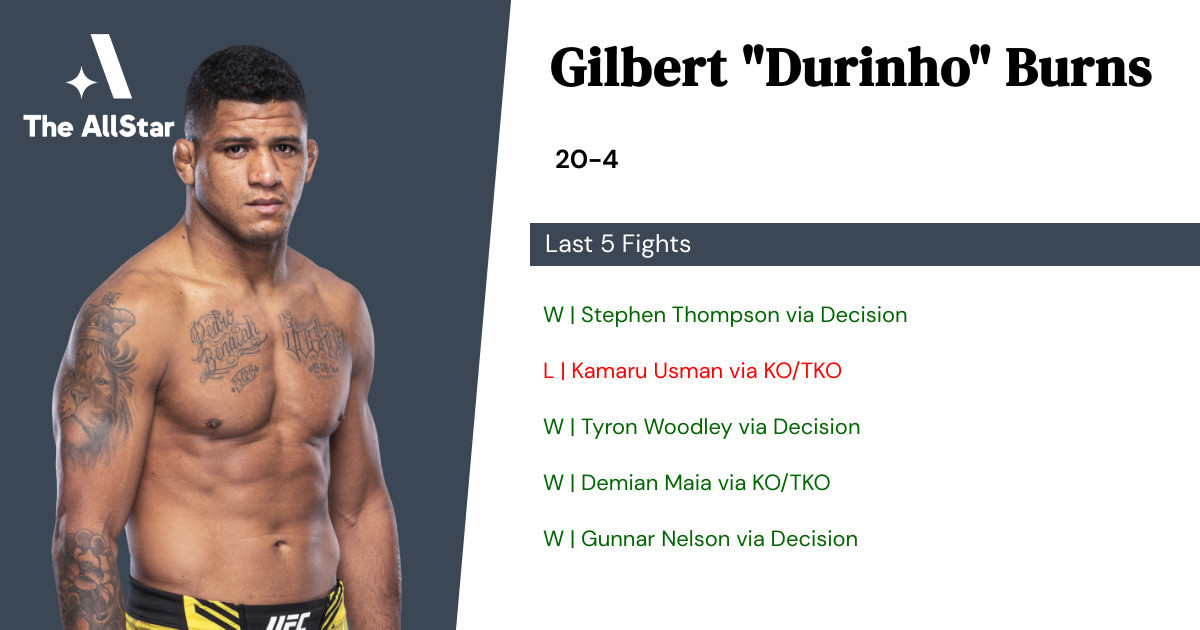 Gilbert Burns has gone 4-1 in the last 5 professional MMA fights.
Win vs Stephen Thompson • Decision R3 5:00 • 2021-07-10
Loss vs Kamaru Usman • KO/TKO R3 0:34 • 2021-02-13
Win vs Tyron Woodley • Decision R5 5:00 • 2020-05-30
Win vs Demian Maia • KO/TKO R1 2:34 • 2020-03-14
Win vs Gunnar Nelson • Decision R3 5:00 • 2019-09-28
How to watch and bet on Khamzat Chimaev vs Gilbert Burns
Keep track of all the latest odds and line-movements at our bout page for this matchup.