Though her striking is evolving, Mackenzie Dern knows there's a simpler way to ensure her hand is raised on October first.
The UFC's fifth-ranked strawweight, Dern, is poised to defend her spot on the 115-pound divisional ladder against Yan Xiaonan, the woman who sits one rung below her, at UFC Vegas 61. Adding to the stakes, a shot at a number-one contender's bout will likely hang in the balance for the BJJ specialist.
A loss, however, signifies the second time in the span of a year that Dern will have dropped the ball opposite a top-tier adversary; and while that may not shatter the 29-year-old's title aspirations, it surely presents a roadblock along that path in what happens to be the most stacked women's division in the organization.
Ever the astute student of mixed martial arts, Dern is prepared. She analyzes the tendencies and shortcomings of her opponents prior to battle – and what she noticed while dissecting Yan's prior losses, the blackbelt hinted, has given her supreme confidence during the build-up to their looming clash.
It would seem that reigning starwweight champion, Carla Esparza, has already laid the blueprint for dealing with whatever problems that Yan might present.
"I can say that watching her fight with Carla definitely gave me good vibes," Dern shared with The AllStar in a recent interview. "Like 'okay I see like a big opening in the ground game."
While, admittedly, Dern's wrestling acumen isn't on par with that of Esparza's, it is an aspect of her game that is constantly evolving. For the Brazilian, she knows victory may not be as simple as latching on to a single-leg takedown, but there are certainly cues she has taken from The Cookie Monster's eight-minute disarmament of Yan in 2021.
"That's the first thing I look for: What's their ground defense? Are they trying to go to the cage, are they turning on their side, do they tend to give their back more," Dern noted of her tape study habits when preparing for opponents. "But I felt like [Esparza] was just flattened out, you know? So I definitely felt like her ground [game] is a lot to work on in a short amount of time."
It was Esparza's ability to advance position while engaged in grappling exchanges that piqued Dern's interest in particular. While the current champ has a penchant for control time and ground and pound, her fluidity on the mat often leaves much to be desired.
Dern's does not.
"The fact [Esparza] got to side control, mount, was passing her guard – almost got her [in a] crucifix and got the TKO [was telling]."
Those aspects of the game come as second nature to the ADCC and no-gi BJJ World Champion. It's plain to see from where her confidence stems.
"There's still all this stuff I have to go through to get to that position, [but] that's the goal, to get there. Because I think if I get there, I'm 100% sure if I get to that position on the ground, I've got it. But until I get there, It's gonna be a war. "
"Worst case scenario we can just pull guard, you know," she shared with a smile.
No matter how the fight hits the ground, Dern insists that's where it will end.
---
Fighter profile
Mackenzie Dern is a 29-year-old female fighter from the United States with 12 pro wins and 2 losses. Dern is scheduled to fight Xiaonan Yan at UFC Fight Night: Dern vs. Yan on Saturday, October 1, 2022.
Mackenzie Dern's recent form coming into this matchup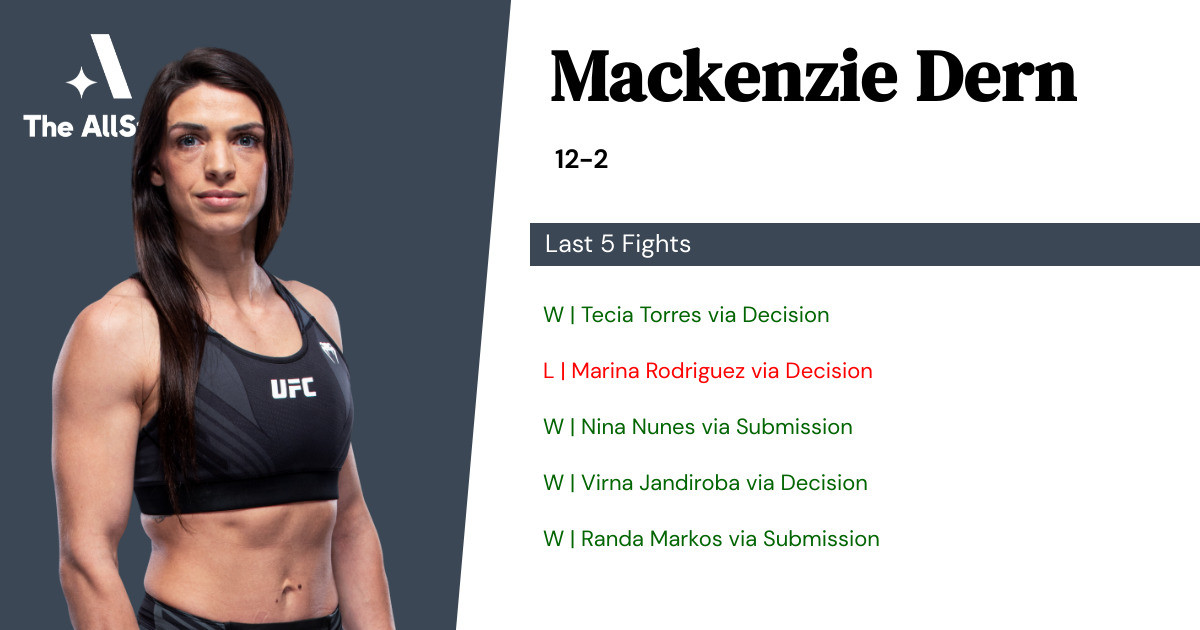 Mackenzie Dern has gone 4-1 in the last 5 professional MMA fights.
Win vs Tecia Torres • Decision R3 5:00 • 2022-04-09
Loss vs Marina Rodriguez • Decision R5 5:00 • 2021-10-09
Win vs Nina Nunes • Submission R1 4:48 • 2021-04-10
Win vs Virna Jandiroba • Decision R3 5:00 • 2020-12-12
Win vs Randa Markos • Submission R1 3:44 • 2020-09-19
Mackenzie Dern's next opponent: "Nine" Xiaonan Yan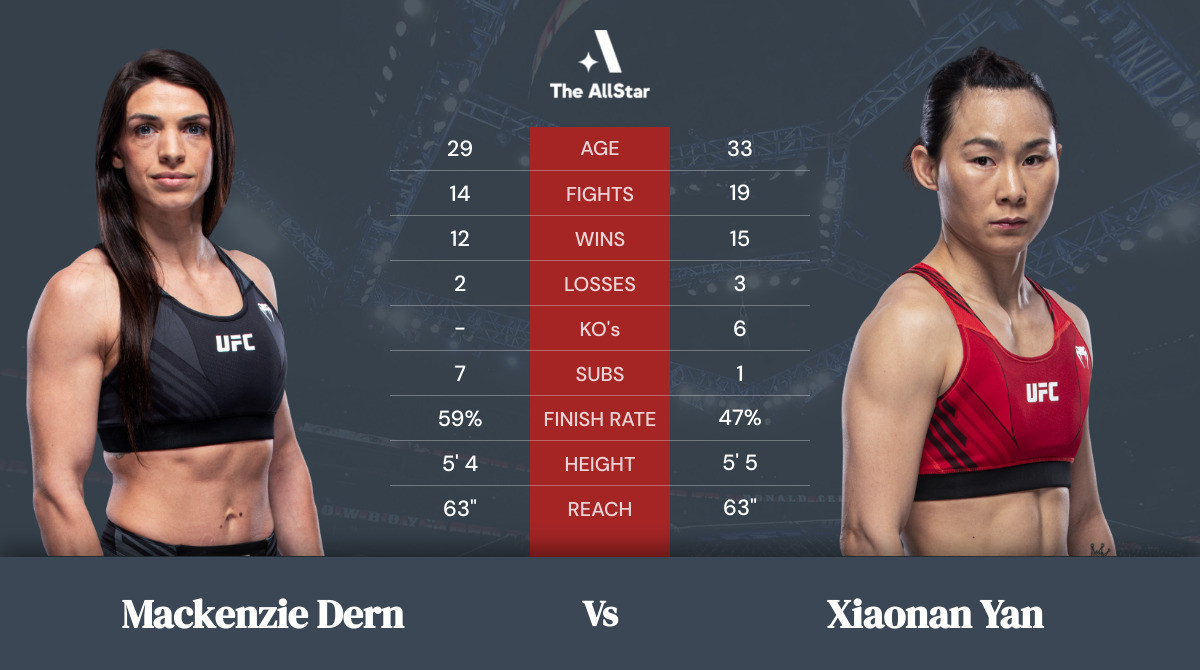 "Nine" Xiaonan Yan's recent form coming into this matchup
"Nine" Xiaonan Yan is a 33-year-old female fighter from China with 15 pro wins and 3 losses. Yan is scheduled to fight Mackenzie Dern at UFC Fight Night: Dern vs. Yan on Saturday, October 1, 2022.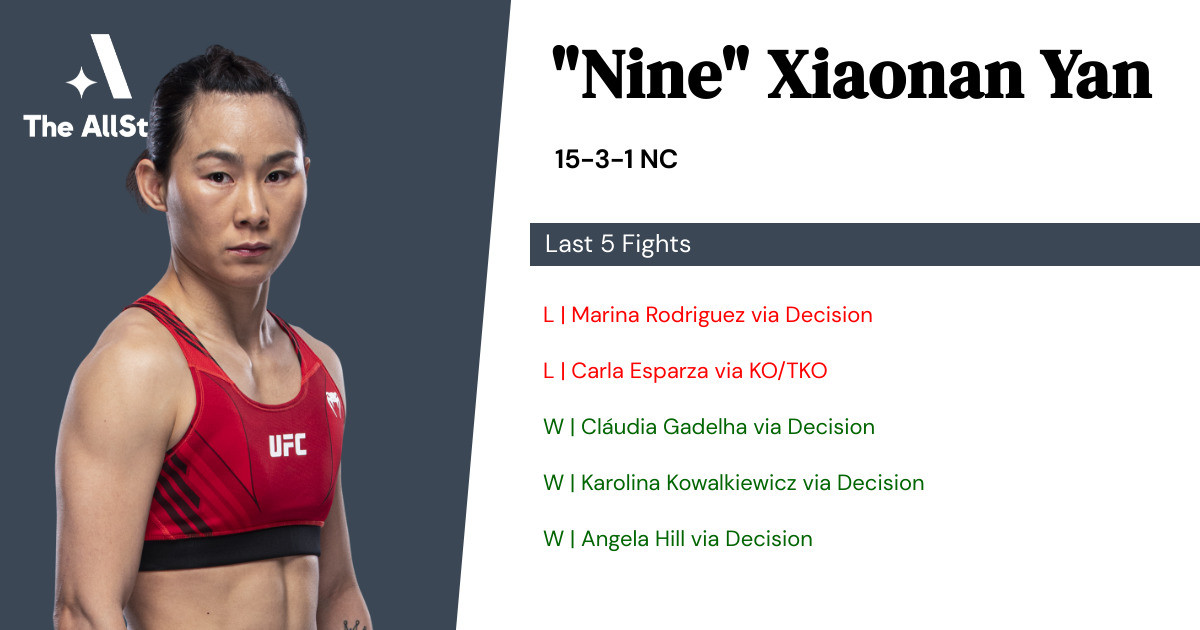 Xiaonan Yan has gone 3-2 in the last 5 professional MMA fights.
Loss vs Marina Rodriguez • Decision R3 5:00 • 2022-03-05
Loss vs Carla Esparza • KO/TKO R2 2:58 • 2021-05-22
Win vs Cláudia Gadelha • Decision R3 5:00 • 2020-11-07
Win vs Karolina Kowalkiewicz • Decision R3 5:00 • 2020-02-22
Win vs Angela Hill • Decision R3 5:00 • 2019-06-08
How to watch and bet on Mackenzie Dern vs Xiaonan Yan
Keep track of all the latest odds and line-movements at our bout page for this matchup.