Strawweight has long been home to some of the more technical female fighters on the planet, with the likes of Rose Namajunas, Weili Zhang, and Joanna Jedrzejczyk all cementing their status as some of the divisions best. Although her striking isn't up to par with these contenders, Mackenzie Dern knows that when it comes to jiu-jitsu, there isn't anyone better.
With the second most submission wins in female UFC history [four], Dern's on track to becoming the most prolific submission artist seen at the lighter weights. Starting off purely in the grappling art, the former ADCC world champion is on a constant path of evolution, always adding new tricks to her repertoire. The recent surge in popularity of leglocks is something she enjoys working on.
"One thing I train a lot is my leglocks," Dern told The AllStar.
"I like the leglocks so much – [from] toeholds to footlocks. Especially in MMA, even off the bottom, they give me such a good opportunity to keep climbing them. And if I don't have the footlock and I slide onto the back and get the choke."
Currently scheduled to face Tecia Torres at UFC 273, Dern feels like she matches up well with the veteran. Though aware of the momentum her opponent brings into this fight, she's prepared to steal the show in order to claim victory.
"I don't think she's ever been finished and I think her game now has gotten way better, even though she's one of the pioneers of the division. I feel like she's way more dangerous now than ever before. Before she wasn't boring but she was [more focused] on points and [stuff like that]. Recently in her win streak, she's been killing it, she's been fighting literally like a tiny tornado, and that's why I started to follow her and then two fights they offered her [to me]. That was the same with Marina [Rodriguez], I started following her and then they offered me her. It's crazy.
"I'm excited, I think it's a great opportunity. UFC 273's going to be a great card. I'm just ready to get back on a winning streak. I think if I can make a good statement – [like] finishing her because she'd never been finished – that'd be really good. I'm training really hard for this fight. [I learned a lot] from my last loss, so I'm really feeling strong for this fight."
In her most recent outing, the 28-year-old lost a unanimous decision to Marina Rodriguez. Headlining a card for the first time, Dern experienced the feeling of going five hard rounds with a fellow top contender and claims she's learned a huge amount from the defeat.
"Even though I lost we got fight of the night, so that was really good," Dern said. "I had 25 minutes of footage I could go back to watch and study.
"Tecia's the perfect fight for me to correct the mistakes I made [against] Marina. Of course, I wanted to beat Marina, I wanted to get the win in that fight [but] made a lot of mistakes.
"I'm [ranked] number five and was hoping I wasn't going to fight someone too far behind me, so when they gave me Tecia who's number seven and on a three-fight win streak, it [was always] going to be a big test for me. I think she's a little bit similar to Marina in her style: a striker with good footwork. That's what I'm trying to work on, closing the distance and getting the takedown."
Being able to close the distance and score takedowns as a high-level jiu-jitsu athlete is vital; though Demain Maia had success with his recycled single-leg, gone are the days where you can simply get away with the same maneuver.
Dern thinks her ability to close the distance will play a huge factor in grabbing the finish as she explains how she envisions the fight ending,
"I think maybe a choke is going to come," Dern revealed. "Maybe get the backpack [position]. I feel like she gives her back a lot, sometimes after she kicks. I was thinking about the armbar [but now] I'm thinking about opportunities for the choke."
With the most submissions in promotional history sitting at 15, Dern has her goals set on eventually owning the record herself. Though it's no light task, she takes inspiration from lightweight champion Charles Oliveira's rise through the ranks and to eventual stardom.
"I'm a big fan of 'Do Bronx' [Charles Oliveira]. He has the most submissions in UFC [history] so I'm trying to catch his record. I still have a couple more years [to go]."
---
Fighter profile
Mackenzie Dern is a 28 year old female fighter from United States with 11 pro wins and 2 losses. Dern is scheduled to fight Tecia Torres at UFC 273: Volkanovski vs. Korean Zombie on Saturday April 9, 2022.
Mackenzie Dern's recent form coming into this matchup
Mackenzie Dern has gone 4-1 in the last 5 professional MMA fights.
Loss vs Marina Rodriguez • Decision R5 5:00 • 2021-10-09
Win vs Nina Nunes • Submission R1 4:48 • 2021-04-10
Win vs Virna Jandiroba • Decision R3 5:00 • 2020-12-12
Win vs Randa Markos • Submission R1 3:44 • 2020-09-19
Win vs Hannah Cifers • Submission R1 2:36 • 2020-05-30
Mackenzie Dern's next opponent: "The Tiny Tornado" Tecia Torres
"The Tiny Tornado" Tecia Torres's recent form coming into this matchup
"The Tiny Tornado" Tecia Torres is a 32 year old female fighter from United States with 13 pro wins and 5 losses. Torres is scheduled to fight Mackenzie Dern at UFC 273: Volkanovski vs. Korean Zombie on Saturday April 9, 2022.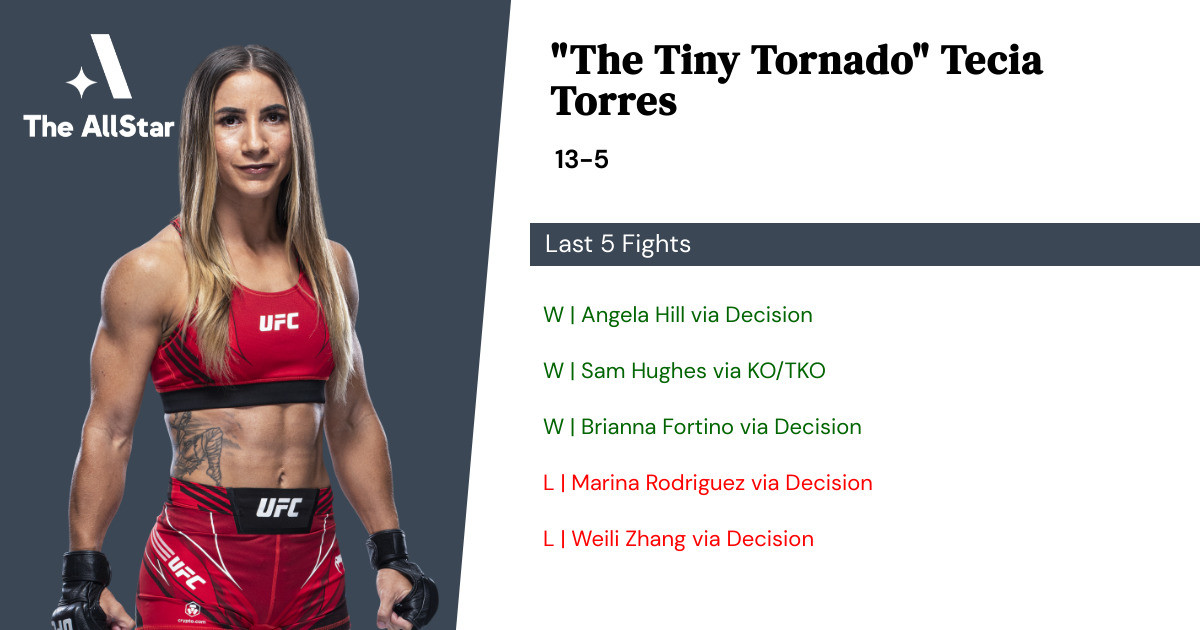 Tecia Torres has gone 3-2 in the last 5 professional MMA fights.
Win vs Angela Hill • Decision R3 5:00 • 2021-08-07
Win vs Sam Hughes • KO/TKO R1 5:00 • 2020-12-12
Win vs Brianna Fortino • Decision R3 5:00 • 2020-06-20
Loss vs Marina Rodriguez • Decision R3 5:00 • 2019-08-10
Loss vs Weili Zhang • Decision R3 5:00 • 2019-03-02
How to watch and bet on Mackenzie Dern vs Tecia Torres
Keep track of all the latest odds and line-movements at our bout page for this matchup.