Although there's a tense history between Mariya Agapova and Maryna Moroz, the Kazakh prospect plans on showing her maturity in their fight at UFC 272.
Agapova detailed the circumstances that led to the pair wanting to fight each other.
"After I got signed with UFC, she already didn't want to be my friend after this," Agapova told The AllStar.
"She start trying to do sneaky things like gossiping and talking shit behind my back and after this I just stop even saying hi to her, because every time I come to talk to her, she start saying bullshit about other people and she kind of… want me to say something bad about other people too.
"And after, even if I say something, she go after to these people and say, 'Oh, you know what Moksha say about you?' and she just like create a lot of drama and over there I stop talking to her and we stop being friends."
"Demonslayer" felt annoyed by the drama; however, she saw an opportunity to definitively settle their differences. "If you don't like me, let's fight. Why you talk shit?"
When asked her thoughts about Maryna Moroz's skills as a fighter, she didn't seem too impressed with any one area of her game but agreed that she'd be tricky to take out.
"As a fighter, I think she's kind of a universal fighter…she have good striking, grappling, she also can take down good, but she's not the best person in our division," Agapova said. "I think that Maryna never was finished before so think it will be hard to finish her, but I think I can do this because I already finish girls never been finished before."
Agapova then went on to tout the progress she's made by switching gyms and getting more personal attention. She moved from the main American Top Team gym in Coconut Creek, Florida, to a smaller ATT gym in Sunrise. There, she's been working with Roger Krahl to hone her focus and give her mental clarity in the fight.
"In ATT, you just come, and coach give you to everyone everything, and you know, like that's good if you're just beginning your MMA way, but I think if you are in the UFC you should get more personal attention like Roger give me," Agapova revealed.
The 24-year-old Agapova detailed how Krahl has helped her to calm down in fights and not blow herself out early as she did in her loss to Shana Dobson. They've arrived in Las Vegas weeks early to adjust to the arid desert climate, which is much more difficult to breathe in than the humid air of Florida.
In a new mental state ahead of her UFC 272 grudge match on March 5 with Moroz, Agapova sees through what she perceives are attempts to rile her up and force mistakes.
"If I will be affected and mad, that might be [her] weapon because she purposely trying to drive me crazy," Agapova said. "She post a lot of [Instagram] stories she talking shit about me trying to make me mad…because she knows if I get mad I will try to punch hard and then waste all my energy, and she will finish me like Shana Dobson. That's what she wants.
"That's why she trying to drive me crazy but I decided I'm not going to play this game. I will be calm, cold…and I will like open her weak places and hopefully I will finish her."
---
Fighter profile
Mariya Agapova is a 24 year old female fighter from Kazakhstan with 10 pro wins and 2 losses. Agapova is scheduled to fight Maryna Moroz at UFC 272: Covington vs. Masvidal on Saturday March 5, 2022.
Mariya Agapova's recent form coming into this matchup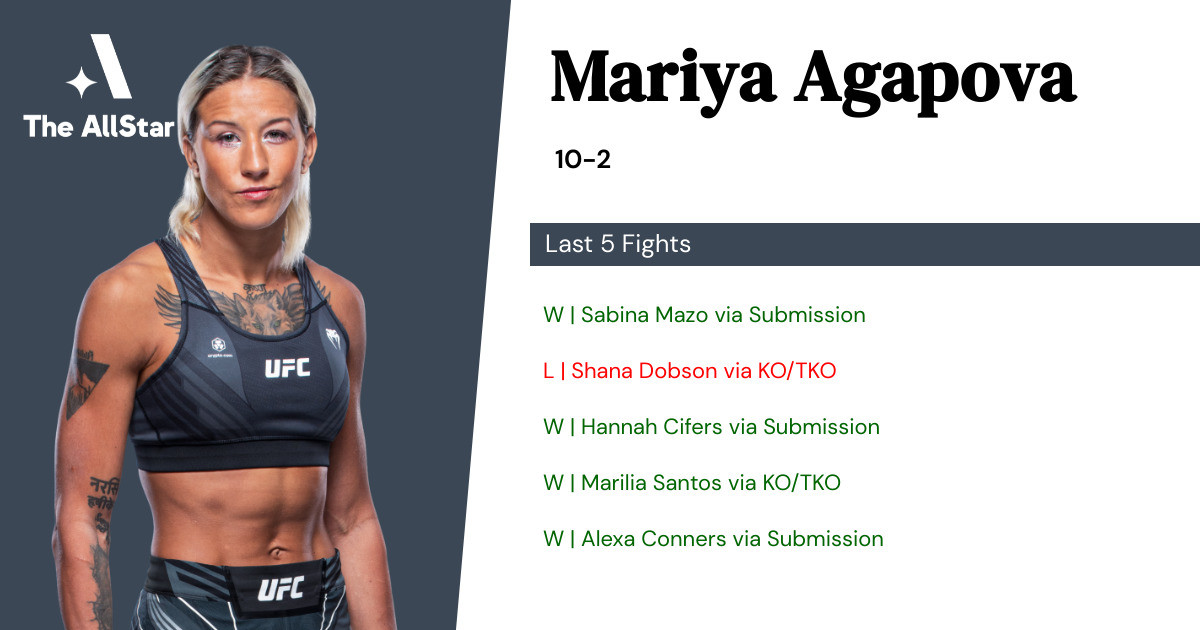 Mariya Agapova has gone 4-1 in the last 5 professional MMA fights.
Win vs Sabina Mazo • Submission R3 0:53 • 2021-10-09
Loss vs Shana Dobson • KO/TKO R2 1:38 • 2020-08-22
Win vs Hannah Cifers • Submission R1 2:42 • 2020-06-13
Win vs Marilia Santos • KO/TKO R1 4:55 • 2019-10-04
Win vs Alexa Conners • Submission R1 3:03 • 2019-09-06
Mariya Agapova's next opponent: Maryna "Iron Lady" Moroz
Maryna "Iron Lady" Moroz's recent form coming into this matchup
Maryna "Iron Lady" Moroz is a 30 year old female fighter from Ukraine with 10 pro wins and 3 losses. Moroz is scheduled to fight Mariya Agapova at UFC 272: Covington vs. Masvidal on Saturday March 5, 2022.
Maryna Moroz has gone 3-2 in the last 5 professional MMA fights.
How to watch and bet on Mariya Agapova vs Maryna Moroz
Keep track of all the latest odds and line-movements at our bout page for this matchup.