Against the New Orleans Pelicans on Sunday, Bucks shooting guard Grayson Allen scored 16 points to lead the Bucks to victory. He stepped up big in the absence of smooth-shooting swingman Khris Middleton who was ruled out due to personal reasons.
None of this is anything new as Allen has already proven himself as a capable shooter. He's proficient in taking the one-dribble pull-up off screens, pulling up for stationary jumpers, and taking the shots off dribble hand-offs.
Though his crucial scoring carried the Bucks to the victory in the end, however, his shooting clip of 4/12 efficiency from distance was in line with his recent trend of ice-cold shooting nights. Dating back to end-November, Allen just hasn't been the same player.
It remains to be seen if this game marks the end of his recent slump. But for this writer, the problem behind Allen's slump could potentially be more a system problem than a lack of effort in Grayson Allen's play.
Here's a quick look at his drop-off as of late and what's causing it.
How bad is it, really?
After starting the season shooting 45.8 percent from three in November, the Bucks' principal sharpshooter is now hoisting at a 32.7 percent clip from behind the three-point line in the past ten games. His gravity is still there, but it's become glaringly obvious that his shooting has plummeted.
Over the past ten games, he's only shot over 36 percent from three in two of those contests. Even though the Bucks have only lost two of their last ten, Allen has been a net-negative in all but three of them.
Unsurprisingly, his overall output has gone down: from 15.3 points per game earlier, he's now just producing 8.9 points a night. Per Cleaning the Glass, he's also gone from scoring 126.0 points per 100 shot attempts — good for 92nd percentile in his position at the time — to just 116.8 per 100, putting him in the 73rd percentile among guards.
Part of it is his shot profile. Here's a look at what his stats say, per NBA.com/stats and PBP Stats.
| | October-November | Last 10 games |
| --- | --- | --- |
| Catch-and-shoot frequency | 58.0% | 46.4% |
| Pull-up frequency | 21.0% | 36.2% |
| Wide-open 3PT shot frequency | 50.8% | 45.0% |
| Shots less than 10ft frequency | 20.2% | 15.0% |
| Rim or three frequency | 87.6% | 80.9% |
The numbers clearly show that his shot diet has taken a deep dive. He's getting open less, but he's also taking fewer shots in the paint to offset his bad shooting nights. Instead, he's pulling up off the dribble more in an attempt to shoot his way out of the slump.
That isn't all. Having lower-quality looks shouldn't have you shooting 32.7 percent through your last ten games. When you look at the shots he does miss, some of these are still wide open; to be frank, these are shots a shooter of Allen's pedigree has no business missing that regularly.
As a result, the Bucks offense has performed better (117.8 points per 100 possessions) with Grayson Allen on the bench than when he's played (108.7) in the past ten games, according to NBA.com/stats.
What caused it?
It's easy to chalk it up to a streaky player weathering through the rigors of an 82-game season. It could also be his numbers regressing to the mean: Donte DiVincenzo, for instance, began last season shooting over 60 percent from deep, too.
But the difference is that Donte has always been what he is as a shooter, and his hot start at the time was a complete overperformance on his part. His scoring was always a secondary bonus to the hustle, defense, and playmaking he brought to the team.
Grayson, on the other hand, is expected to be a sharpshooter before anything else, and when his shot isn't falling, he just doesn't contribute much else.
Between then and now, the Bucks' starters have since gotten healthy and integrated into the rotation once more. With DiVincenzo coming back, it was unclear for a moment who would take the starting shooting guard slot, though there was a clear argument for Allen keeping it after what he'd shown so far. This, while the Bucks also acquired the services of Wesley Matthews, who's shown he's a more than capable 3&D wing who can bring veteran toughness to the floor against more stout matchups.
Couple that with the fact that he came off a one-game absence due to the flu, and you have the worst possible scenario for the shooting guard with practically his entire season thus far thrown into flux.
Perhaps it's that Khris Middleton is gobbling up the shots that Allen used to take to get into a rhythm. Or maybe it's that Middleton's lack of athleticism is hardly enough to get the consistent middle penetration that generates looks for Allen. In any event, the pattern is clear.
Just take a look at how he's played with the Bucks' Big 3 so far per NBA.com/stats. It's clear he valued the freedom to operate offensively when he didn't have to share the ball with three dominant superstars.
| Grayson mins. with: | Khris and Jrue | Big Three | Khris | Jrue | Giannis | None of Big 3 |
| --- | --- | --- | --- | --- | --- | --- |
| 3PT% | 27.1 | 33.3 | 34.7 | 35.9 | 40.8 | 55.6 |
It's also possible that the need to prove himself is what has Allen flustered. When he played with joy and freedom as one of the focal points of the team's attack alongside Jordan Nwora, he now has to compete with DiVincenzo playing decreased minutes for a team that already has Pat Connaughton.
Now as the fourth (and arguably fifth, depending on how you rank Bobby Portis) on the Bucks' starting unit, he clearly settles for waiting around on the perimeter a bit more now than he used to. When he does take shots, they're often forced pull-ups instead of in-rhythm jumpers.
At the same time though, he hasn't rewarded the Bucks in the few times he did have plays run for him. Here, the Bucks appear to be running Spain pick-and-roll with Grayson screening Giannis' man before Antetokounmpo can set the screen for Holiday. Immediately after Grayson sets his screen, though, he runs through a flare screen set for him by Portis. It's an excellent set play by Budenholzer to begin the third quarter, but Allen bricks the shot.
In the next play, Grayson comes up to the top of the key with Nwora's cut occupying defenders. He takes a routine screen from Semi Ojeleye and finds himself very much wide open. He misses.
As if the shots not falling wasn't bad enough, Allen seems to be much more lax on the defensive end as well. In the final clip, he completely falls asleep on his matchup. You can clearly hear the Bucks coaching staff voicing their consternation with him over the lapse.
Allen needs more integration in the Bucks offense
His scorching hot game against New Orleans summarized his season thusly: When any of the Bucks starters are out, he steps up with an increased role and shows off the shooting touch that catapulted him to a surefire starting job. When the team is healthy and he's forced to play second fiddle, he fades into the background.
To be sure, some of it still looks like a lack of effort, IQ, and offensive imagination. Whether by design or not, Allen also seems to relegate himself to being a static catch-and-shoot threat that exists almost solely to complement Antetokounmpo's gravity instead of one of the active, moving parts of the Bucks' unpredictable offense.
Corner shooters aren't necessarily an offensive minus, but without player movement, they serve mostly as a bail-out for when the defense helps on the drive. Allen still has gravity in these situations, but perhaps little else. Most of his makes as of late have been off catch-and-shoot opportunities generated by the Bucks' slashers instead of the quickfire relocations and pick-and-fades we're used to seeing.
The answer could be to run more initial actions for Allen, such as double drag screens and inverted pick-and-rolls with Antetokounmpo. This is how he got to his initial level of success after all, and getting back to the areas he found success in is not a bad idea.
Additionally, Grayson should be more decisive about slashing into the paint when he's run off the line. In a few instances in the past few games, he opted to go for the stepback or take the contested three instead when taking the layup would have at least gotten him on the board.
Whether it's his brief bout with the flu catching up to him, the roster shakeups sending his integration in the offensive system into disarray, or a lack of effort when it comes to off-ball movement, the reality is that Grayson Allen is underperforming according to the standards he set.
However, shooters shoot, and shooting slumps happen even to the most consistent of snipers. If Allen can break out of the streak and get back to the level of play he once demonstrated, expect the Bucks to be that much more dangerous again with their starting shooting guard of the future in tow.
---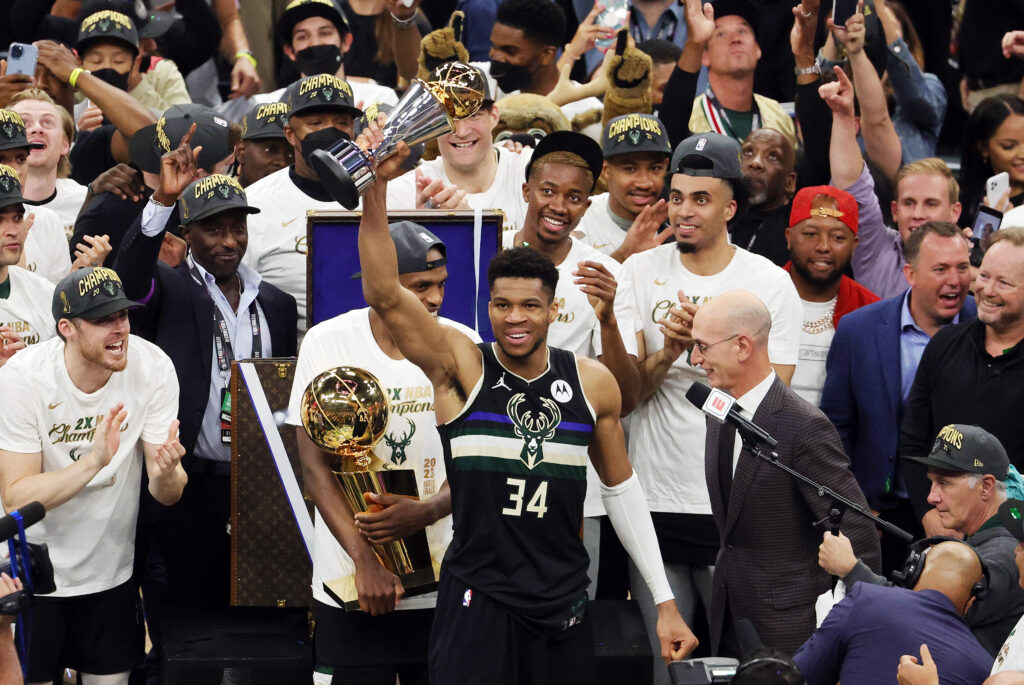 NBA Championship Betting
Who will win it all?
Brooklyn and Golden State are frontrunners to win the Championship but what about Milwaukee?
See where the Bucks rank.
---