Cody Stamann is set to meet Said Nurmagoemedov at UFC 270. The bout is a pivotal one for Stamann, who, for the first time as a professional, is on a two-fight losing streak. Despite Nurmagomedov's namesake being known for his high-level grappling, Stamann feels his style is more akin to another well-known Dagestani fighter.
" He (Said Nurmagomedov) is Dagestani, so I know he's going to know how to wrestle. But he fights more like Zabit (Magomedsharipov). I think he's one of Zabit's training partners too. I mean, they have that really good, polished, kickboxing style. He spins a lot. You know that's probably his best weapon, his spinning back fist, spinning hook kick. But that's something I saw a lot coming up with Daron Cruickshank."
---
---
Stamann's time spent with Cruickshank has him feeling like he's been training for this bout for years. But with the Omicron variant of COVID running wild, there's always a chance the fight may not come to fruition. That doesn't matter to Stamann. No matter who stands across the cage from him, he is more than confident in his skills. 
"The more you're in this sport, you tend to focus inward. You start to focus on yourself more, and you worry less and less about your opponents. I've fought everyone at bantamweight, I've fought the toughest guys in the world."
Loss and loneliness
While he feels ready for whatever opponent may stand before him, Stamann is realistic about his career right now. He believes he beat Merab Dvalishvili in his last outing, but the judges disagreed. Now, he finds his "nuts three inches from a fucking blade." This kind of added pressure brings out the best in the former collegiate wrestler. But to gain his confidence back, he had to go through the low.
"When you're winning, everyone's giving you the 'good job' and pat on the back. But when you're losing, it gets lonely, man. It gets lonely, and it gets dark, and it gets weird. And you see people that you thought were really, really there for you no matter what just fucking fade away. And you have to be mentally strong through all that. That's the hardest part about losing."
Into the fire
In hindsight, "Spartan" would've done some things differently early in his career. As a young UFC fighter, he took on all challengers. Stamann burst into the rankings quickly and wishes he would've taken a step back to cultivate his career in a way that would have better prepared him for the challenges ahead.
"My UFC career started off pretty hot, I was number seven in the world in like six months. I fought once, then I fought two months later, and I fought Brian Caraway and I went from being some dork from the Midwest to the number seven guy in the world. I was moving way faster than I should have. I wish someone in my corner would've been like, 'dude, slow the fuck down,' take the Sean O'Malley route. Fight some guys who are 40-years-old and on their way out the door.
"I believe I could beat these guys, but in reality, they had so much more UFC experience than me. They had so many more fights under those lights, and I was still making rookie mistakes. Now, I feel like I'm a veteran. I've officially done it all. I've fought tough guys, I've won, I've lost, I've felt all the pains this sport can bring to you. Nothing really scares me anymore. That's kind of the place you need to be as a fighter. Just be like fuck it, let's do it. I don't care who it is, let's just fight."
---
Fighter profile
Cody "Spartan" Stamann is a 32 year old male fighter from United States with 19 pro wins and 4 losses. Stamann is scheduled to fight Said Nurmagomedov at UFC 270: N'Gannou vs. Gane on Saturday January 22, 2022.
Stamann's recent form coming into this matchup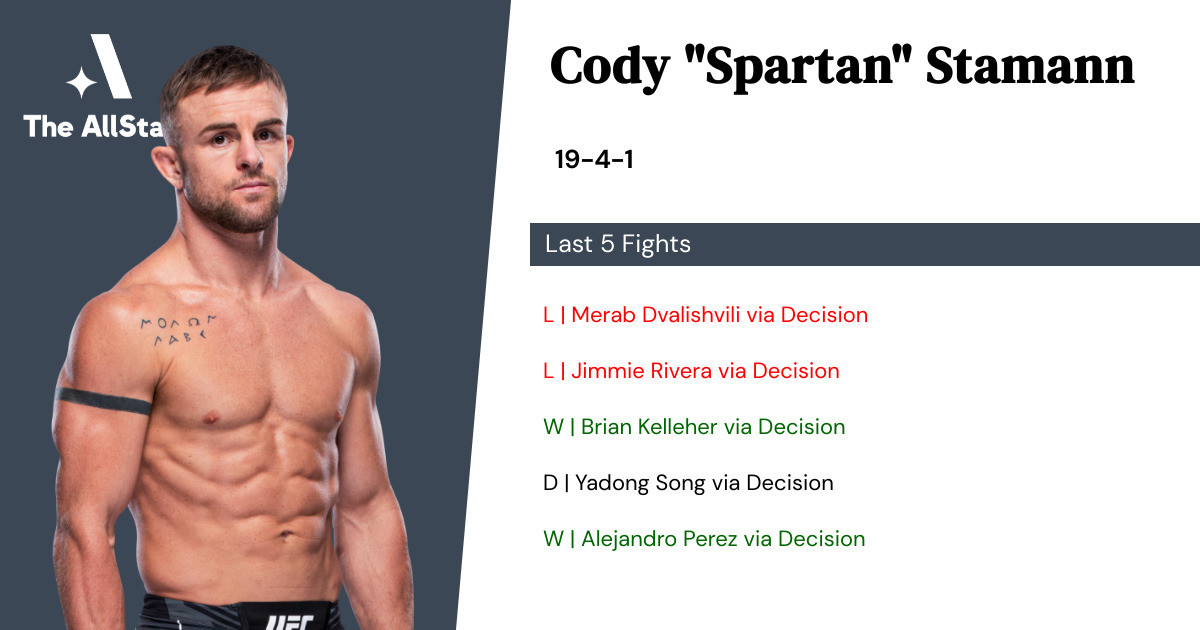 Cody Stamann has gone 2-2-1 in the last 5 professional MMA fights.
Loss vs Merab Dvalishvili • Decision R3 5:00 • 2021-05-01
Loss vs Jimmie Rivera • Decision R3 5:00 • 2020-07-15
Win vs Brian Kelleher • Decision R3 5:00 • 2020-06-06
Draw vs Yadong Song • Decision R3 5:00 • 2019-12-07
Win vs Alejandro Perez • Decision R3 5:00 • 2019-03-02
Cody Stamann's next opponent: Said Nurmagomedov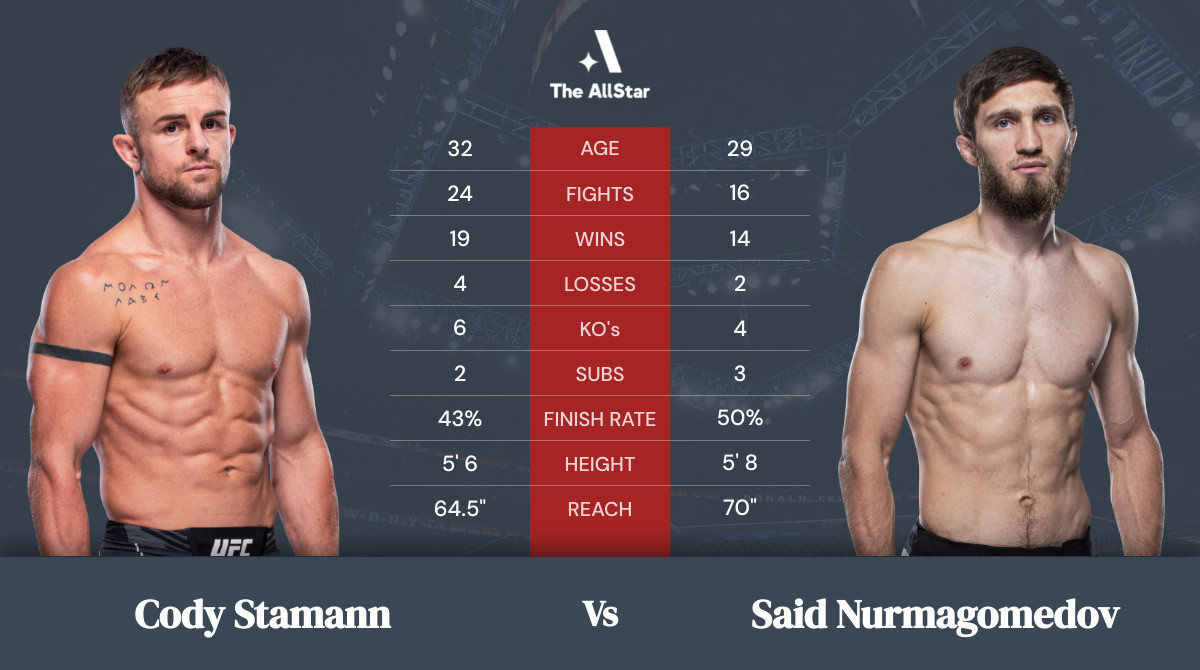 Said Nurmagomedov's recent form coming into this matchup
Nurmagomedov is a 29 year old male fighter from Russia with 14 pro wins and 2 losses. Nurmagomedov is scheduled to fight Cody Stamann at UFC 270: N'Gannou vs. Gane on Saturday January 22, 2022.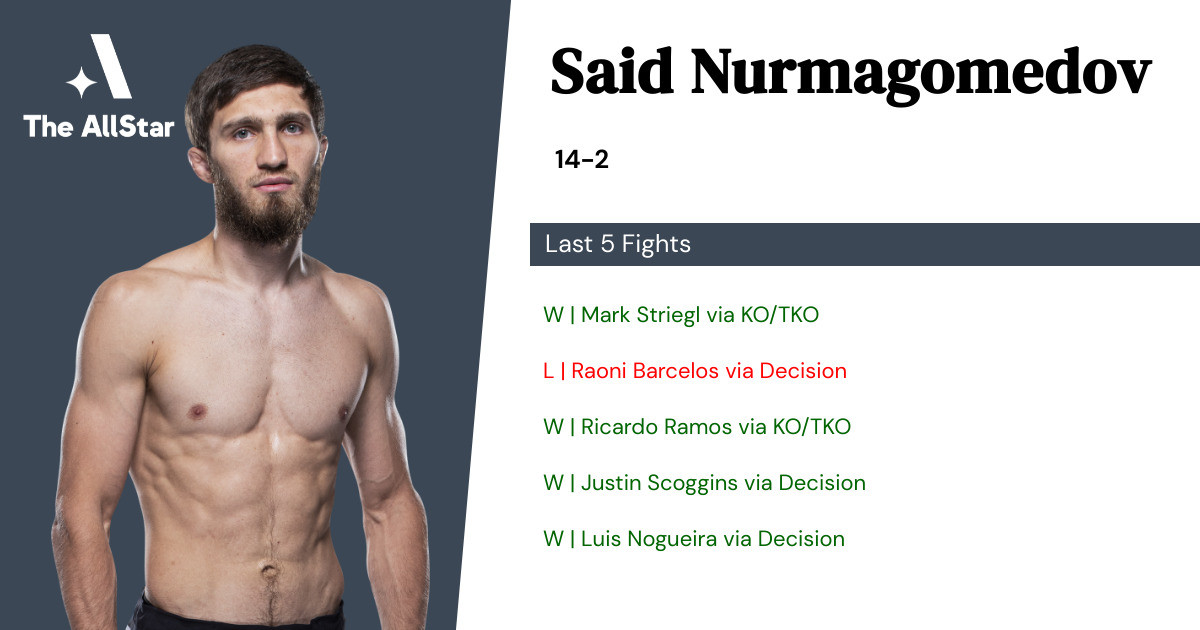 Said Nurmagomedov has gone 4-1 in the last 5 professional MMA fights.
Win vs Mark Striegl • KO/TKO R1 0:51 • 2020-10-17
Loss vs Raoni Barcelos • Decision R3 5:00 • 2019-12-21
Win vs Ricardo Ramos • KO/TKO R1 2:28 • 2019-02-02
Win vs Justin Scoggins • Decision R3 5:00 • 2018-07-14
Win vs Luis Nogueira • Decision R3 5:00 • 2017-09-27
How to watch and bet on Cody Stamann vs Said Nurmagomedov
Keep track of all the latest odds and line-movements at our bout page for this matchup.