Jae Woong Kim is all about taking chances.
After knocking out Martin Nguyen in September, ONE Championship chief Chatri Sidyodtong virtually assured Kim of a featherweight title fight. The South Korean fighter could have just waited it out. Instead, he opted to fight Tang Kai at the end of the month.
Mounting Covid-19 cases in Singapore had caused the Thanh Le-Garry Tonon match-up in December to be postponed. Kim would've conceivably fought the winner.
With that delay, "ONE Championship knew that I had to wait for a longer period of time than initially expected," Kim told The AllStar. "What they did say was that 'Tang Kai will fight but he has other options, too. So it's up to you. We just want to give you an opportunity to decide if you want to take it or not because we don't want you to stay out for too long.'"
"They didn't force me to fight," he said. After the Nguyen fight, "Chatri, the CEO of ONE Championship, came up to me and told me right there I am the next challenger for the belt and I should just wait."
The 28-year-old does have an incentive to stay active, especially now with a clean bill of health and momentum behind him. Approaching his thirties, with the possibility of injury and the desire for financial stability, gives him the urgency to fight.
"ONE Championship gave me a very good deal, a new contract. Something that I really couldn't refuse so I took it."
In the co-main event of ONE: Only the Brave on Jan. 28, Kim will meet No. 4-ranked featherweight Tang Kai. The Chinese contender has relied on his boxing in his recent performances, leading Kim to expect a battle on the feet. It's a fight that Kim expects to dominate.
"I believe that I am well-rounded in every area of striking," Kim said. "I'm confident that I'll show that I am at a different level than my opponent.
"Nowadays, I don't really go in there looking for a knockout because I did that before earlier in my career and I have a really bad memory doing it. It didn't work out very well looking for that knockout so I don't do that anymore.
"One thing I can say is that if Tang Kai comes in and if he gets caught with my shots even if it touches him a bit, I think he's going to go down. I believe in my punching power and I believe that I do have that knockout power. So even if it touches him, he is going down. As long as he comes in [aggressively] it's going to be a finish."
Watch this interview on The AllStar's Youtube channel.
---
Fighter profile
Jae Woong "The Fighting God" Kim is a 28 year old male fighter from South Korea with 12 pro wins and 4 losses.
Recent form coming into this matchup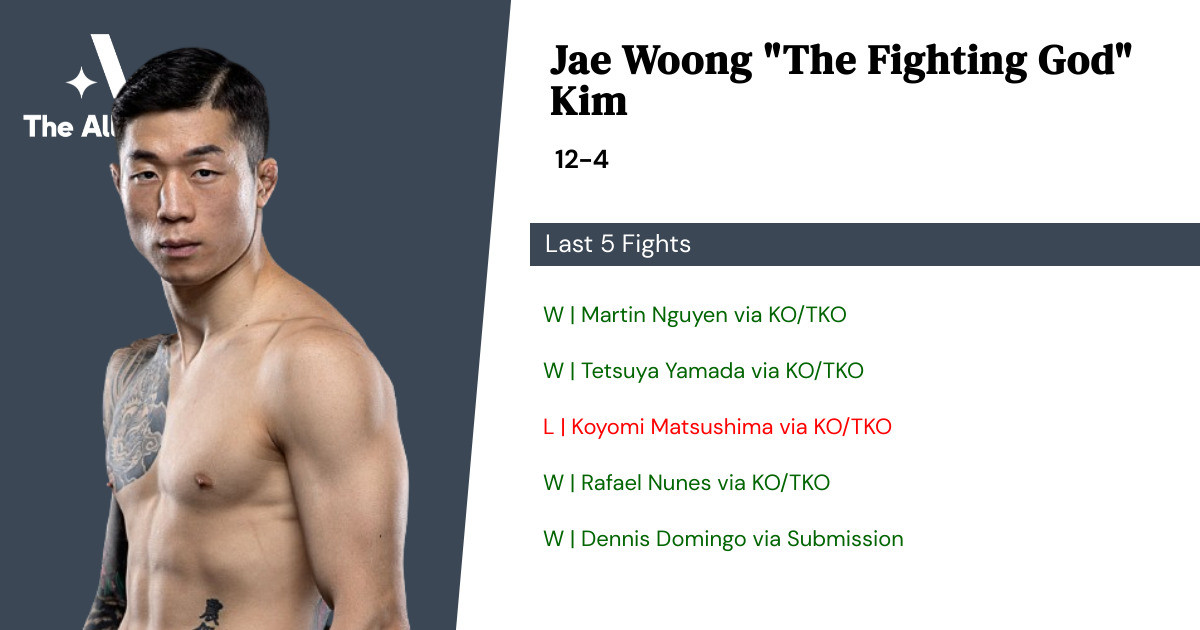 Jae Woong Kim has gone 4-1 in the last 5 professional MMA fights.
Win vs Martin Nguyen • KO/TKO R1 3:15 • 2021-09-24
Win vs Tetsuya Yamada • KO/TKO R2 4:39 • 2020-12-11
Loss vs Koyomi Matsushima • KO/TKO R3 0:24 • 2020-02-07
Win vs Rafael Nunes • KO/TKO R3 0:38 • 2019-11-08
Win vs Dennis Domingo • Submission R1 1:48 • 2019-04-14