After a UFC 269 card that saw non-stop action, we can't help but think ahead to what might be next for some of the fighters. Some let their intentions be known, others left more to the imagination. Either way, we try to do Mick Maynard's job for him and tell you what is up next for some of the biggest names on this past card.
Charles Oliveira
On deck: Justin Gaethje
Despite running into a little trouble in the UFC 269 headliner, Charles Oliveira made quite the statement. The Brazilian not only was able to beat Dustin Poirier, but picked up a standing rear-naked choke for the finish. He continues to add to his list of records and now adds a title defense.
The next pick feels pretty obvious. Although Islam Makhachev is likely close, he's already booked with Beneil Dariush in what should be a number one contender's fight. That leaves Justin Gaethje as the clear-cut contender. There should be no hesitation in booking that fight and enjoying the violence that ensues.
Dustin Poirier
On deck: Michael Chandler
After falling to 0-2 in undisputed title fights, Dustin Poirier indicated that he may not have much more left in him. While some may take that as a comment reflective of his disappointment after losing, this wasn't the first time he had expressed the sentiment. He had even said that had he won the title, a move to welterweight or retirement could be in the cards as well. I, personally, don't think he's going to walk away from the lightweight division.
If he does choose to stay, it's because he wants one more chance at the belt. The best way to get him there is by booking him with Michael Chandler. The Bellator-export may not exactly be on a great roll, but he does have the name value and ranking to stay relevant. In addition to all of that, Chandler has made it pretty clear that he would also like a booking with Poirier. So ultimately it just depends on what Poirier is looking to do.
Julianna Pena
On deck: Amanda Nunes
In one of the wildest upsets in UFC history, Julianna Pena shocked the world and became the new bantamweight champion. While it was all Amanda Nunes early on, "The Lioness" seemed to tire in the second round. Pena picked up momentum landing a number of jabs before finishing the fight with a rear-naked choke.
It would seem like there are some options for the next move for these two. On one hand, Nunes still has the featherweight title. She could simply move up and defend that against whatever newcomers they find for that division. She could seemingly defend it against Pena, should Pena want to try her hand there as well. However, the right move is to give Nunes an immediate rematch. She is a legendary champion who did not look herself in there at UFC 269 – she should get a chance to remedy that.
Kai Kara-France
On deck: Askar Askarov
There seemed to be a wild array of requests for what should be next for Kai Kara-France after UFC 269. Following a starching of former bantamweight champ, Cody Garbrandt, some suggested a middle-of-the-road flyweight with a bit more experience in the division. Some went to the other end of the spectrum and suggested that this win may already be enough for him to get a title shot.
I fall somewhere in the middle on Kara-France. While I don't think he's quite earned the title shot just yet, I do think the win does wonders for his stock. I think it's time to put him up in a title eliminator fight of sorts. With Deiveson Figueiredo and Alexandre Pantoja both having a claim to their own title shots, Kara-France should go to the next best thing. Askar Askarov likely won't be able to wait on his shot anymore. Pitting these two against each other would keep them both busy and get a much-needed win for one of them.
Sean O'Malley
On deck: Marlon Vera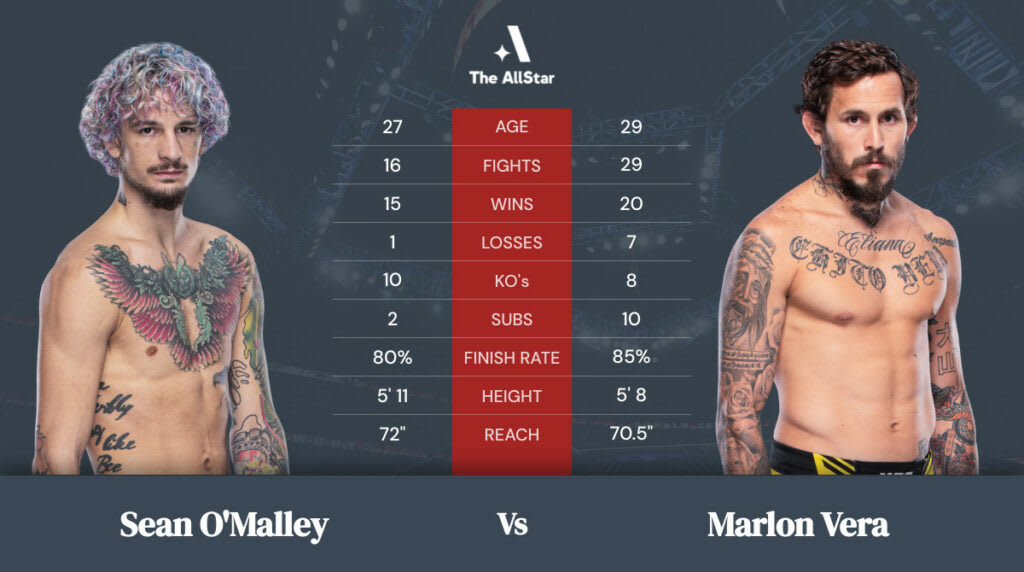 Sean O'Malley again was one of the biggest highlights of UFC 269. Whether or not he was the main event didn't seem to matter. Whether or not he was fighting a ranked opponent didn't seem to matter, and whether or not he was actually undefeated like he claims, doesn't seem to matter. The guy is can't-miss television in the cage and an expert marketer outside of the cage.
Judging by comments from Dana White saying that O'Malley "isn't ready" for top competition, I'd assume the brass is trying to goad O'Malley into harder fights. O'Malley seems content with beating up unranked fighters for the pay he's receiving. I think a good compromise would be to run it back with Marlon Vera. It satisfies the UFC with being able to push O'Malley up the rankings a bit. It also allows O'Malley to avenge his loss.
Tai Tuivasa
On deck: Jairzinho Rozenstruik
Even disregarding the celebrations, Tai Tuivasa had one of the very best performances of UFC 269. The fan-favorite walked away with his fourth straight knockout at UFC 269, and more than a couple of beverages. He's completely turned his career around from the three-fight losing streak he went on in late 2018 and early 2019. At only twenty-eight years old, the Aussie is now one of the brighter heavyweight prospects.
Having just beaten the number eleven ranked fighter in Augusto Sakai, I fully expect Tuivasa to be ranked on Tuesday. As a result, I think it's time to test him further up the ladder and see if he can stand toe-to-toe with the big guns of the division. Jairzinho Rozenstruik is on a bit of a skid at the moment. He likely needs a step back to see where he stands. Not only would a matchup with Tuivasa help us see if Tuivasa is ready for the big time, but it would show just exactly where Rozenstruik sits.
Do you agree with these bookings? Did Gumby miss something obvious? Hit us up on Twitter (@TheAllStarSport) and give him the business, or comment down below.