After a UFC Vegas 43 card that saw non-stop action, we can't help but think ahead to what might be next for some of the fighters. Some let their intentions be known, others left more to the imagination. Either way, we try to do Mick Maynard's job for him and tell you what is up next for some of the biggest names on this past card.
Ketlen Vieira
On deck: Norma Dumont
Although Ketlen Vieira picked up a victory over a former champion in the UFC Vegas 43 main event, the fight didn't do a ton for her stock. At times in the fight, she was complacent and unwilling to initiate exchanges. She also took plenty of flack from her head coach, Andre Pederneiras, for her failure to follow the game plan. If that wasn't enough, she also took the time out of her post-fight speech to ask Miesha Tate to train with her, rather than demand an opponent. None of those things help Vieira come out looking like a potential title challenger.
In order to see if she is actually closing in on that goal, let's book her with another woman who recently won in a headliner. Norma Dumont recently defeated Aspen Ladd in a lackluster headliner. Although Dumont has been fighting up at featherweight, she has made it clear that she'd like to give bantamweight another go. These two could also meet at featherweight as that would be an even easier path to the belt for Vieira, who is large for 135lbs anyways.
Miesha Tate
On deck: Aspen Ladd
Although Miesha 2.0 didn't pick up her second straight victory, she did look like she belonged in there. Her aggression and ability to make any round in the UFC Vegas 43 headliner close showed that she has plenty left before retirement 2.0. However, while all the rounds were close, notably missing from the performance was her signature grappling. She spent hardly any time with Vieira on the mat, which is alarming for someone who once won the UFC title on the back of her grappling. If that part of her game is starting to fade, then we have to wonder if her chances at a title shot are as well.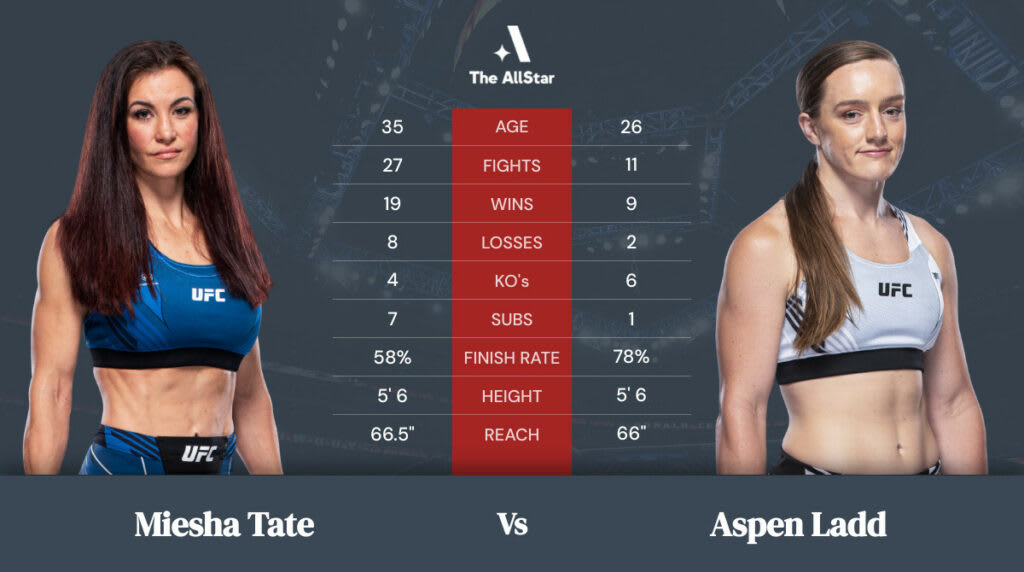 So to get a good grip on where Tate is, I say book her with another fighter who would be willing to mix it up on the mat with her. Aspen Ladd is coming off of the aforementioned lackluster fight with Norma Dumont. In it, she had some real difficulties coming forward and letting loose. Tate had none of those in her recent fight. Pairing these two together would help answer that question for Ladd, as well as the grappling one for Tate.
Sean Brady
On deck: Vicente Luque
Heading into UFC Vegas 43, a lot of people questioned if Sean Brady's wrestling would hold up against a fellow wrestler. Would he be able to get his customary top control time? Would he be forced to duke it out on the feet? Brady mostly answered those questions with about two and a half rounds of dominant wrestling. In those rounds, he not only took Chiesa down more than anybody ever had, but he also took his back for long stretches of time. While the grappling was not in question at any point, he did get tagged with some striking at the end. This could have been from exhaustion or just getting too comfortable. Either way, it leaves us with a couple of questions.
To answer those questions about his striking, he should be paired with someone who not only can tag him on the feet, but has some solid wrestling as well. Vicente Luque seemed poised to cash in on a title shot thanks to a Jorge Masvidal pull out and Leon Edwards claiming he was going to wait. However, Luque himself missed weight as a replacement, which can't look good in the bosses' eyes. Pitting him against Brady would give him another chance to make the title fight limit. It would also test Brady's striking even further.
Taila Santos
On deck: Lauren Murphy
If you hadn't believed that Taila Santos had arrived after beating Roxanne Modafferi, you'll have to get behind that notion now. Not only did she go out and beat Joanne Wood, but she did so handily. On the feet, she proved to be too fast for Wood, who is regularly seen as a top striker in the division. But it wasn't just the speed that caused issues for the Scot. Santos threw heavy shots that hurt Wood on more than one occasion. She then followed it up with a submission victory.
After UFC Vegas 43, a lot of people already have the 28-year old Brazilian prospect pegged as Valentina Shevchenko's next contender, or at least her biggest threat currently. Before putting her into the lion's den and seeing what she can do, I think it would make a lot of sense to have her fight one of the slew of women at the top of the division who have fought the champ. Lauren Murphy may lack the speed on the feet, but makes every fight gritty. Seeing how Santos responds to that kind of opponent might tell us a bit more about how ready she is or isn't.
Adrian Yanez
On deck: Marlon Vera
Adrian Yanez put on another striking clinic at UFC Vegas 43. Despite getting one of the odder split decisions we've seen recently (Tony Weeks scored the fight 30-27 in favor of Davey Grant), Yanez looked his usual self. His technical boxing skills are undeniable. He not only shows flashes of brilliance with his hands, but his defensive head movement is also a sight to behold. It's hard to imagine that this man would be in a boring fight at any point – and his four fight-night bonuses in as many fights seem to back that up.
Although he called out Sean O'Malley, I can't imagine that's the type of fight O'Malley seems to be looking for. Furthermore, O'Malley is booked for an upcoming fight with Raulian Paiva. Instead, I'd like to get Yanez in there would another young, fun striker. I'd also like to get him in there with a ranked opponent. Marlon Vera fits all that script and with a recent win over Frankie Edgar. Also, the timeline for each getting back in there matches up too.
Pat Sabatini
On deck: Lerone Murphy
Sabatini got UFC Vegas 43 started right for Team Renzo Gracie Philly. Sabatini came out with some powerful grappling and dominated Tucker Lutz. The win marked his third straight since joining the UFC. In a stacked featherweight division, that's likely not enough for a ranked opponent. However, there are a ton of names, like him, just on that fringe as well.
One of the names I like for him is Lerone Murphy. Murphy is undefeated in four bouts in the UFC, with one being a draw. In his last fight, he showed a bit of a takedown weakness against Makwan Amirkhani. Sabatini would definitely test that and we can see if Murphy's striking bails him out again.
Do you agree with these bookings? Did Gumby miss something obvious? Hit us up on Twitter (@TheAllStarSport) and give him the business, or comment down below.