Newly crowned pound-for-pound king, Alexander Volkanovski, isn't too proud to play alternate.
The Australian featherweight champion has forgone an ego-trip after hitting a career milestone this week and instead doubled down on his intentions to assume the role of backup fighter for the vacant lightweight title bout at UFC 280. Should either Charles Oliveira or Islam Makhachev not make it to the Octagon on October 22nd, Volkanovski says he'll be ready.
At the end of the day, the goal is to wrap the 155-pound belt around his waist; the manner in which the aspiring two-division champ gets to that point is irrelevant, regardless of his current status in the sport.
"I want that lightweight title and I'm the type of guy that I'll do what I have to do to make sure I'm next in line," Volkanovski told The AllStar. "Do I need to do that? Can I talk to the UFC and go 'hey make sure I'm next'? Yeah, probably. But do you know how I can set that in concrete? Maybe by going [to Abu Dhabi] and being a backup."
"Imagine having the pound for pound ready to back up in case something happens. That's what people are gonna talk about, people are gonna lap that up, people are gonna love that. It will be good for me, good for the UFC and it'll be good for that event."
The odds that a ring-in will be needed for that main event, by Volkanovski's estimation, are high. Why? he says he 'just has a feeling'.
"It's a good idea for me to be there just in case, not only because someone might get injured. Look, again, both these guys cut a lot of weight. Both these guys, I guarantee you, train very hard. Let's be real, Charles Oliveira just had a problem last time he stepped on the scale – I know there's a bit of controversy around it but still. There's definitely a chance of something going wrong; and mate, I don't care if I'm pound-for-pound number one. I'm happy to be a backup and come to the rescue mate. You know what I mean, ' Woo, here I come,' it's all good. That's just the type of guy I am."
The hand injury 'Volk' sustained in his last title defense saw the UFC try and slow his roll during a meeting in Dallas earlier this year; however, he insisted the setback won't stifle his plans. The 145-pound champ was sporting a thumb brace in the interview but gave assurances that he's remained in the gym doing what work he can, and is confident he'll be back to 100% soon.
"I'm in good nick, and it's looking good. Everything's good. I had X-rays and – sometimes I might push things a little bit too far, but I haven't done any serious damage so it's healing very good. If I get 5-6 weeks of 100% training – do you know how fit I can get in 5 or 6 weeks? Do you know how fit I can get in two weeks? I'll be fight fit in a few weeks, so it's definitely doable."
"I'll get a couple of clear answers very very soon with my specialist and all that and then that gives us a better idea."
As for how the champ plans to celebrate his new status as the greatest fighter alive? He's admitted 'it's cool', but he's not letting it get to his head.
"It's something that, it's a goal of mine. It was always a goal of mine. But, I don't know; it's something, you know, I'll probably have a couple drinks and celebrate it 'cause I'm still proud of it, but at the same time it's not gonna change me, man. I'm still the same guy. I'm gonna forget about it next week."
---
Fighter profile
Alexander "The Great" Volkanovski is a 33-year-old male fighter from Australia with 25 pro wins and 1 loss. Volkanovski most recently fought Max Holloway at UFC 276: Adesanya vs. Cannonier on Saturday, July 2, 2022.
Alexander Volkanovski's recent form coming into this matchup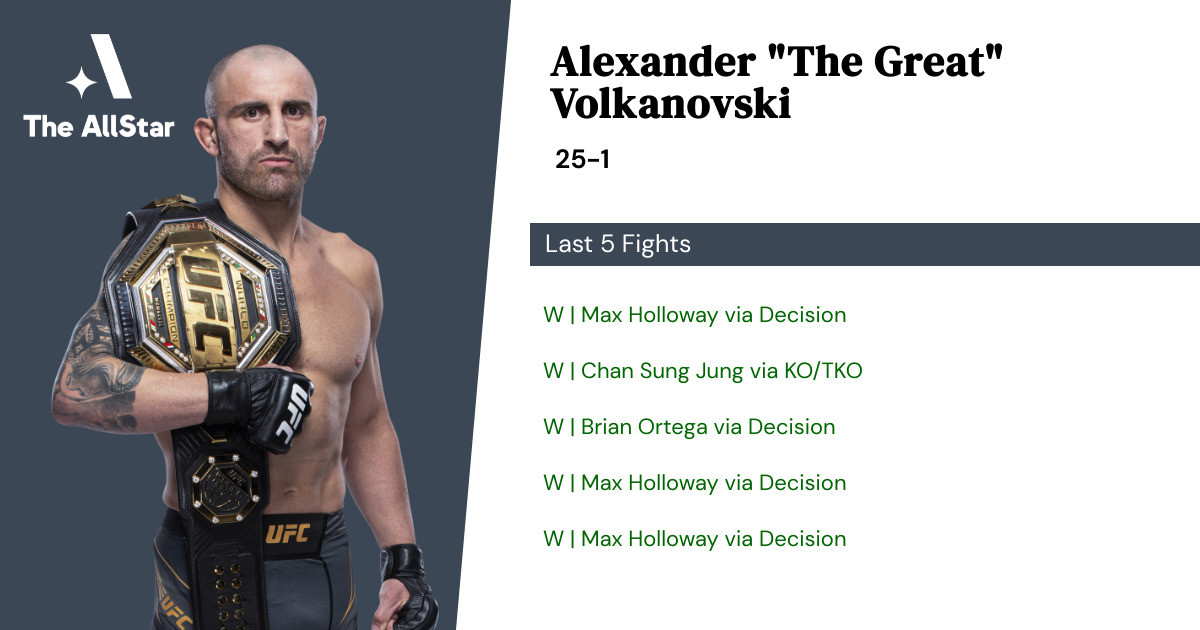 Alexander Volkanovski has gone 5-0 in the last 5 professional MMA fights.
Win vs Max Holloway • Decision R5 5:00 • 2022-07-02
Win vs Chan Sung Jung • KO/TKO R4 0:45 • 2022-04-09
Win vs Brian Ortega • Decision R5 5:00 • 2021-09-25
Win vs Max Holloway • Decision R5 5:00 • 2020-07-11
Win vs Max Holloway • Decision R5 5:00 • 2019-12-14