On seven days' notice, Ramona Pascual replaces Jennifer Gonzalez Araneda and take on Josiane Nunes at UFC Vegas 49. Not only will she be making her promotional debut but Pascual will also make history by being the first-ever female fighter from Hong Kong to compete inside the Octagon.
She has become a trailblazer for all the young martial artists inside every dojo in the city of seven million people on the southeast corner of China.
"That was kinda like somewhat of a goal of mine," Pascual told The AllStar about getting signed by the UFC. "I kinda knew that there was a big probability it would happen but I never really sat to think of how many other people potentially from Hong Kong would be trying to pursue this as well in the future. It's definitely very cool.
"It wasn't set up for me when I started MMA like six years ago. It wasn't really in the cards. It wasn't like anyone had done it before with the resources available in the MMA community over there. Just less interest. More focused on other sports. Less support and opportunities so kinda like an against all odds kind of thing."
After training and competing locally for a couple of years, Pascual was in search of the most optimal team and coaches to hone her skills with. This journey took her to multiple countries throughout Asia. From taking part in a reality TV show in South Korea to becoming an inaugural member of the UFC Academy at the Performance Institute in Shanghai, China.
After the pandemic hit in 2020, Pascual packed her bags and moved to Las Vegas. She hit the ground running with the crew at Syndicate MMA and picked up two first-round finishes under the iKon Fighting Federation and Invicta FC banners.
"I definitely relocated a whole bunch of times," Pascual said. "Really tried to figure out the environment that would work best for me. Try to chase every opportunity and stay open-minded."
Even though this opportunity is short notice, the 33-year-old Pascual was preparing to get back into the cage in March, therefore, she is in great shape heading into the fight.
Nunes is coming off a spectacular first-round knockout win over Bea Malecki last August at UFC Vegas 34. Pascual is fully aware of what makes her Brazilian opponent dangerous and is ready to shock everyone that is watching her for the first time.
"I'm really excited because I know she's tough," Pascual said. "I know she's a gamer. I know she's aggressive. And that excites me because I can't wait to test myself against high-level competition and use her as a measuring stick. I think potentially because I'm coming in on a week's notice people might not expect much from me which is fine but I have a lot to express and a lot to show.
"I'm probably going to surprise a lot of people. You assume people are going to be good when they come into the UFC but also the sport evolves so much that I've moved [to] so many different places just to get the level of training that I need. There's not a very strong Asian representation, especially in the female divisions.
"There are a few Asian females that are there so I will be one of the few which is awesome. I'm sure people think of Hong Kong MMA as like anything so it will be nice to have an opportunity to surprise everyone and make my mark."
---
Fighter profile
Ramona Pascual is a 33 year old female fighter from Hong Kong with 6 pro wins and 2 losses. Pascual most recently fought Shamir Peshewa at Invicta FC 45: Zappitella vs. Delboni 2 on Wednesday January 12, 2022.
Ramona Pascual's recent form coming into this matchup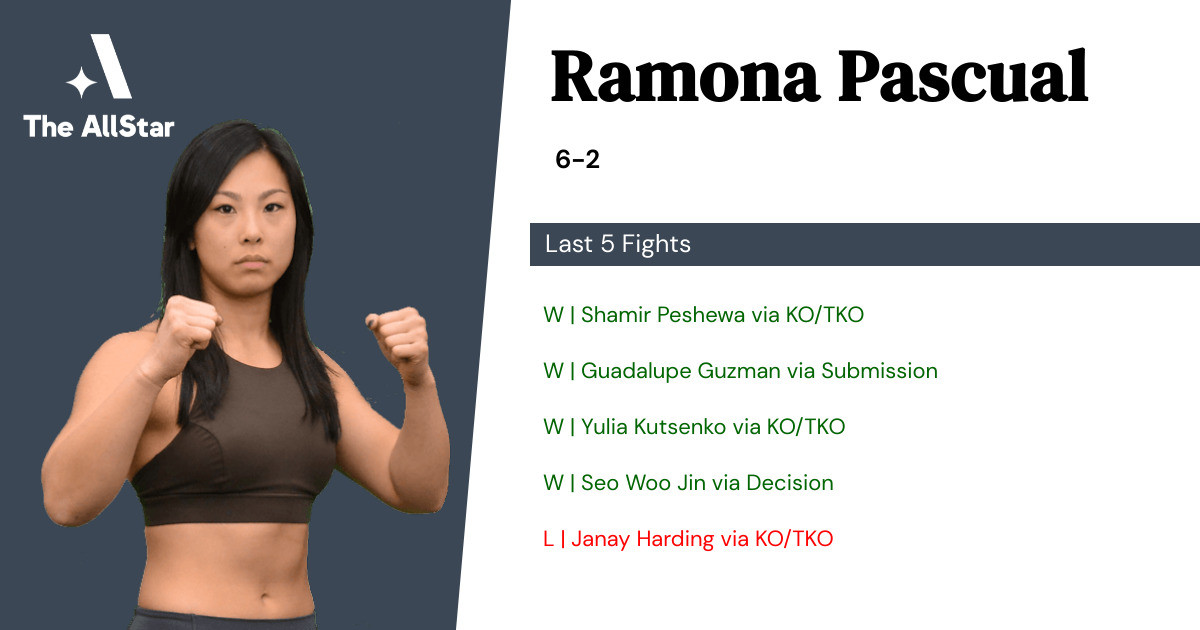 Ramona Pascual has gone 4-1 in the last 5 professional MMA fights.
Win vs Shamir Peshewa • KO/TKO R1 1:00 • 2022-01-12
Win vs Guadalupe Guzman • Submission R1 2:50 • 2021-06-11
Win vs Yulia Kutsenko • KO/TKO R1 0:26 • 2019-11-15
Win vs Seo Woo Jin • Decision R2 5:00 • 2017-12-23
Loss vs Janay Harding • KO/TKO R2 1:43 • 2017-05-31